• GlutenFree • GrainFreeBaking • Keto • KetoRecipes • XanthanGum
It's not just for baking. Xanthan gum as a flour substitute is genius and can be made into a gel to make incorporating easy. What is xanthan gum? Xanthan gum is used as a binder, stabilizer, and emulsifier.I t's found in many products such as cream cheese and some salad dressings and is often used in gluten free and keto baking.  Xanthan gum is sold in a powdered form and is made from corn when glucose, sucrose, or lactose is fermented by bacteria. The carbs cannot be digested, and is used often for gluten and keto baking.  For this reason,...
---
• DairyFree • Dinner • GlutenFree • Lunch • Vegetarian
If you're looking for a low carb pizza option, this is it! Cauliflower pizza crust is the kind of recipe that sounds a little... "meh", unless you've tried it before. If you've ever had cauliflower crust, you know it's so delicious. I was very skeptical the first time I tried it. But, to my surprise, this crust tasted delicious, and didn't leave me feeling bloated or overly full, the way traditional crust sometimes can. See, I first created cauliflower crust for my Whole30 pizza recipe, but I wanted to make a separate post for the crust should you want to...
---
• Diet • FOOD • GlutenFree • MealPlans • RecipeRoundUps
This plant based diet meal plan is full of healthy, gluten free and vegan recipes for you. Many of them use shelf stable pantry foods! Making these recipes will give you delicious replacements for dairy, eggs, gluten, and refined sugar. Disclosure – We are grateful to be partnering with Bob's Red Mill on this post. Thank you for supporting the brands that allow me to create plant based gluten free meal plans and recipes  Alright my friends, I asked, you responded. The time for more plant based recipes with shelf stable items is NOW! I'll also be showing you a few ways you...
---
• ConsciouslyNutritious • DairyFree • GlutenFree • Keto • Life101 • Recipe • Vegan • Vego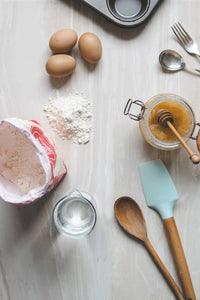 In quarantine so you decide to do a little cooking – you're in the groove but dammit there is something missing…sigh!  What can you substitute?  Yup, I totally understand & have been in this situation a few times too.  Some substitutions take a little more thinking than a simple sultana for raisin swap out.  FYI my bench doesn't look this tidy when I cook! Photo by Calum Lewis on Unsplash Truthfully, I also find these substitutes pretty useful when adapting recipes (dairy free, egg free, gluten free).  Here are some of my favs plus I've provided some extra info for some. 👉 Butter...
---
• Dinner • GlutenFree • PaleoRecipes • Recipes
These gluten-free meatballs are great for meal prep, and can even be baked. Gluten-free and Whole30, this recipe will be a crowd favorite. Now that it is officially fall, I'm really starting to get in the mood for fall foods. You know how when the weather starts to change, you start to crave hearty, delicious meals that really stick to your ribs and make you feel warm and cozy? These paleo meatballs are perfect for just that. Really, they're great any time of the year, but for some reason, these really hit the spot for fall. Trying New Foods Can...