• GroundBeef • MealPlanning • Potatoes • Salad • Tips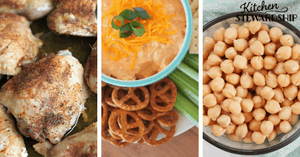 When my fellow Pinterest junkies and I think of weekly meal prepping, we think of cute, glass rectangular containers with snap-on lids and neat rows of fitness-friendly clean eating food, like rice, diced sweet potatoes, perfectly sliced chicken breast, and steamed vegetables. While this is a super fun way to eat, and I will never hate those of us organized enough to pull off cute meal prepping, for most of us, this isn't practical. First, we're feeding a lot of people, and at least some of them are picky eaters (or selective eaters, as Katie likes to say!) who make...
---
• Cheese • Cheesy • ComfortFood • GroundBeef • HashBrowns • Kid • MainDishes • Meatloaf • One • OnePan • Recipes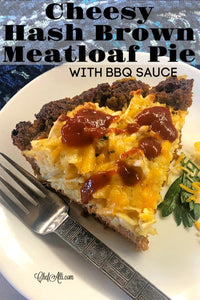 Made from basic on-hand ingredients, this Cheesy Hash Brown Meatloaf Pie comes together in a flash to make a nice big batch of delicious comfort food.  #Meatloaf #HashBrowns #Cheese #OnePan #ComfortFood #GroundBeef Note: We do use referral and affiliate links here for products and services that Chef Alli loves and recommends. Howdy! Chef Alli Here. I found this recipe in an old recipe box that belonged to my husband's Grandmother, Louise Sharp.  We discovered it when we moved my mother-in-law to a retirement community and I immediately had to pull all the recipes out of the box to see what...