• abraskitchen • BakedGoods • Blog • Dessert • Paleo • Vegetarian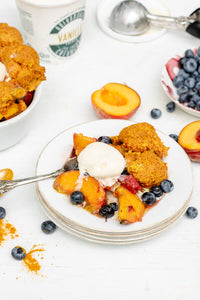 This easy to make gluten-free peach berry cobbler can be made with fresh or frozen fruit and is delicious all year long! This post contains step by step instructions and detailed tips PLUS fun nutrition tips so you can make gluten-free peach berry cobbler perfect every time and feel super good eating it! Summer desserts require 2 essential ingredients: Seasonal fruit  Minimum effort  Do you agree? I turned up the volume on this summer cobbler by creating a delicious golden milk biscuit. Turmeric, cardamom, and cinnamon, the warming spices in golden milk, pair beautifully with seasonal fruit!  Serve with vanilla...
---
• Academics • Blog • Comprehension • Organization • Vocabulary
Having an organized, predictable routine can make all the difference! I have been getting lots of questions about Simple Comprehension! I will be trying to answer as many as I can in blog posts to get you all started on the right foot! Many of you requested pictures… so here they are! This post will contain affiliate links. You don't pay any more, but if you purchase from my link I get a small commission. This allows me to try everything out that I recommend to you and keep my blog running smoothly (and providing you free resources like this...