• 1 • 2 • 3 • 4 • 5 • 6 • ChocolateChip • cleancuisine • Cookies • HealthyCookies • Recipes • Vegetarian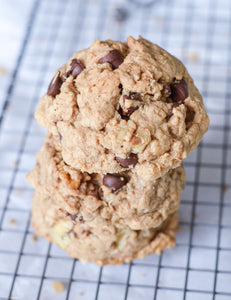 s. If you loved chewy-on-the-inside but crispy-on-the-outside oatmeal cookies as a child, then these cookies are for you. The Perfect Outdoor Companion: Healthy Chocolate Chip Oatmeal Cookies I came up with the recipe for these healthy chocolate chip oatmeal cookies as a make-ahead treat I could take on our outdoor excursions. You don't need to be into clean eating to fall in love with them either. They are everything any good oatmeal cookie should be. They are perfectly chewy, sweet and soft. And there's no reason not to have seconds. How to Make Healthy Chocolate Chip Oatmeal Cookies Oatmeal aside, can these healthy Chocolate...
---
• ChristmasFavorites • Cookies • LaborDayBarbecueIdeas • SummerFavorites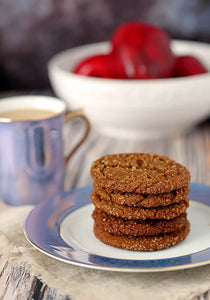 s I love these Molasses Cookies! Some might call them Gingersnaps but they aren't…the molasses is distinct in their flavor and the ginger is one of the spices that complement it. Molasses cookies are normally something we make in the fall and serve with apples but are also a staple in our Christmas cookie jar. So why now you ask? Well I didn't get any made over the holidays but I had the ingredients and when it snowed, well, they happened. And I discovered something…they were sure good a few days before Easter too. I used to make these all...
---
• AllRecipes • Cookies
EVERYONE ALWAYS CLAIMING THEY HAVE THE BEST CHOCOLATE CHIP COOKIE RECIPE! Believe me I get it But you haven't tried mine. I've struck the balance between perfectly chewy insides and crisp crunchy outsides With chocolate chunks that go on for days So what sets mine apart you may ask? Oh I don't know, endless hours of tweaking and testing and eating and tweaking and testing again and then eating more again. Originally I was using a proprietary blend egg replacer for the binder Which resulted in a very good cookie out of the oven But upon sitting for a day...
---
• Christmas • Cookies • Desserts • Mothers • Valentine
These festive treats are perfect for any holiday or special occasion. These are perfect for the sharing during a cookie exchange! Serve along with other festive cookies such as Grinch Cookies, Perfect Gingerbread Cookies and Best Ever Molasses Cookies for a delicious cookie smorgasbord. Linzer Cookie Recipe These elegant cookies are so joyful just to look at, with their top centers cut out in a fun shape to show through the colorful jam. The dusting of powdered sugar adds the perfect touch creating a fancy touch to these morsels of joy. Perfect for gift giving, cookie exchanges, parties or just...
---
• AlmondButter • Cookies • Dairy • Egg • MapleSyrup
Topped with a layer of chocolate, oat crumble, and sea salt, these bars are suitable for breakfast, snack, or dessert! Gluten-free and vegan. This recipe was inspired by a serious staring contest with my pantry.  I wanted to make something sweet. And a little salty. With chocolate. But also kind of healthy.  Too much to ask? The answer to that question was, thankfully, no.  Plus, bonus points because this almond butter bars recipe is also no-bake! Gluten-Free Almond Butter Oat Bars Ingredients These easy oatmeal bars are pretty pantry friendly. Here's what you'll need: Gluten-free oats Maple syrup Almond butter...