• Baking • Bread • marierayner5530 • ProductReviews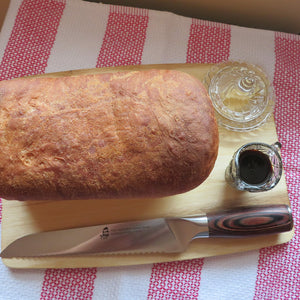 I do so love white bread.  Getting older means that I eat whole wheat bread most of the time, but every once in a while I like to indulge myself in a nice loaf of white bread.  Especially Amish farmhouse white bread.  What is it about Amish food that gets all of our tastebuds tingling?  I think its because we all know that they are a simple folk that make simple food, that is always delicious. And our hearts long for simplicity. Am I right or not?  I received a new knife this week from Tuo Cutlery.  This is the...
---
• Bread • Egg • Fluffy • Pantry • sweetsimplevegan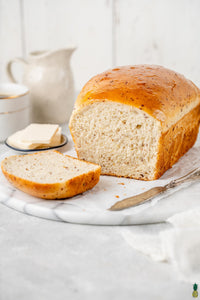 It's not only a breeze to make, but this bread packs a delicious flavor the whole family will love. You may be asking yourself, "how do you make egg bread vegan?" The truth is, this is way simpler than you may think. Instead of using eggs from a chicken, we are using a "flax egg," which is essentially just ground flaxseeds mixed with water. This creates a viscous mixture that binds the dough just like an egg would. The beauty of this fluffy vegan egg bread recipe is that it does not require a bread maker, or any other fancy...