• Beef • Fall • Favorites • Spring • Summer • thekitchenwhisperer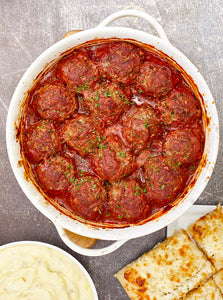 A multi-generation meatball recipe from my family to yours. When it comes to creating recipes, I much rather prefer to make foods that I grew up on and ones that I can connect with than the lastest insane trend out there. For me, food not only revolves around flavor but also around memories and moments in time. I'm a sentimentalist no doubt. Food, cooking/baking, and creating recipes have to have more than just an awesome taste. They have to have a meaning, purpose, or spark/create a memory. This recipe has been in my family for generations. I did tweak it...
---
• Beef • BigBlueBinder • Braising • EnglishKitchen • Meat
Back in the late 1970's when I was a very young Bride with two small children we lived in Calgary, Alberta for a while, and the later on near Edmonton in a small town called Stony Plain.  We were friends with a lovely family, the McNevins.  Their son had been a soldier in my ex husband's Infantry Platoon, having gone through basic training together.    These people were the salt of the earth and so very kind to me.  I was thousands of miles away from my own family, with little or no support, with a husband who was often...
---
• Beef • Ghost • Halloween • Meatloaf • Potatoes
The addition of mashed potato ghosts makes for a very festive meal! Bacon Wrapped Meatloaf When you combine bacon and beef you get one unforgettable abomination of flavors. I feel like the fat in the pork makes the beef extra moist.  The bacon becomes caramelized and perfectly cooked. When you lattice it around the meatloaf, you not only get a delicious tasting dish but also a very eye catching one as well.   I love to serve it up with this vibrant red cabbage salad with, you guessed it…more bacon! Our gluten-free biscuits are also a great side to this...