• 1 • 3 • 4 • 6 • 7 • AllAboutBudgets • Budget • BudgetBootcamp • OurFamilyBudget • PandemicPlanning
The most compelling evidence of spending too much money will show up in the actual budget numbers. If you've been affected financially by the Covid-19 pandemic making changes has to happen. Budget Bootcamp is not just about spending less it's changing the way you think about your financial safety net. During Covid-19, I've been fortunate to work from home and continue to earn my salary. Both Mrs. CBB and I have also had time to discuss our budget and whether we were ready for the next pandemic. Better to be safe then sorry and if that doesn't scare you I...
---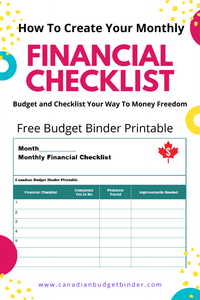 Consider this to be an extension of your monthly budget. Wouldn't it be nice to be free of debt and living a life without money stress? A little while back I wrote about the importance of creating a retirement checklist which is still very relevant. However, now more than ever Canadians must work on how to live comfortably before retirement. It's kind of like having the best of both worlds. Live for today and tomorrow type of mindset. By doing so you create the life you want to live now and what you want in the future. Isn't that really...
---
• AllAboutBudgets • Debt • OurNetWorth • Overspending
According to an RBC Economics report, Canadians will be borrowing and spending more in 2021. I don't know if you check your net worth monthly as we do but that's our motivation. How many of you have those moments of making a purchase out of curiosity? It looks good on the model, maybe it will look even better on me. Those Nike runners are cool, I need to buy them. When shopping online perhaps customer reviews make the decision for you? Twelve thousand reviews and a 4.8 star rating you can't go wrong, right? Whether shopping brick and mortar or...
---
• AllAboutBudgets • C • EmergencySavings • HealthCanada • Savings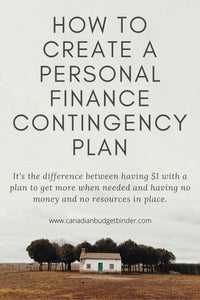 Know Your Options Ahead Of An Emergency That Can Change Your Life A personal contingency plan reduces panic, stress, and confusion while committing you to a better place than those who leave their finances to chance. What does that mean for you and me? It's the difference between having $1 with a plan to get more when needed and having no money and no resources in place. When Mrs. CBB finally decided to buy our home we didn't know it at the time but we had created a financial contingency plan, just in case. We bought our first home together...
---
• AllAboutBudgets • CanadianEmergencyResponseBenefit • FinancialCrash • FinancialStress • Virus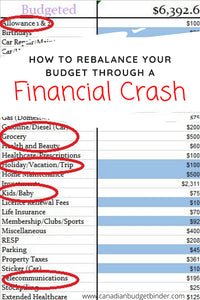 Balancing Your Budget Through A Crisis Is Part Of The Process A world financial crash is happening and we're all suffering mentally, physically and emotionally as this 2020 virus pandemic sweeps the nation. A financial alarm had set Canadians into a panic not knowing how they will pay rent/mortgage or put food on the table. Consumers were rushing to the grocery stores clearing shelves and spending far beyond what they could afford in panic. We've since been assured that grocery stores will be fully stocked and operating through this pandemic. For some of you who went overboard, this may come...