• AlmondFlour • Dairy • MapleSyrup • UnsweetenedCocoaPowder • Vegan
Vegan. There should never be a shortage of chocolate peanut butter dessert options. The same goes for cookies! Luckily, this cookie recipe does not disappoint. With two simple cookie dough bases, they combine for one delicious treat. Chocolate Peanut Butter Swirl Cookies Ingredients Grab a jar of peanut butter and get ready for some cookie making. The ingredient list is short (and sweet!). Here's what you'll need: Natural peanut butter Maple syrup Almond flour Unsweetened cocoa powder Vanilla extract Dairy-free chocolate chips Should I use salted or unsalted peanut butter? Salted peanut butter is recommended, but unsalted will work just fine. Add...
---
• acouplecooks • Brunch • Dairy • Gluten • Recipes • Vegan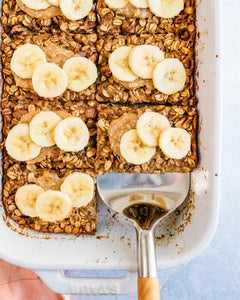 Here's the ideal healthy breakfast recipe, easy and full of irresistible flavor. In fact, we're head over heels for it: Banana baked oatmeal! This incredible recipe is wholesome and filling, and it's made with good-for-you ingredients: mostly oats and bananas. It happens to be a vegan baked oatmeal, but it pleases absolutely everyone. Serve it for guests or even better, make up a big pan and eat off of it all week! You can cut it into "bars" for quick snacks, too. Topped with a little nut butter and banana slices, it's a decadently wholesome treat. Ingredients in banana baked...
---
• AlmondButter • Cookies • Dairy • Egg • MapleSyrup
Topped with a layer of chocolate, oat crumble, and sea salt, these bars are suitable for breakfast, snack, or dessert! Gluten-free and vegan. This recipe was inspired by a serious staring contest with my pantry.  I wanted to make something sweet. And a little salty. With chocolate. But also kind of healthy.  Too much to ask? The answer to that question was, thankfully, no.  Plus, bonus points because this almond butter bars recipe is also no-bake! Gluten-Free Almond Butter Oat Bars Ingredients These easy oatmeal bars are pretty pantry friendly. Here's what you'll need: Gluten-free oats Maple syrup Almond butter...
---
• acouplecooks • Baked • Dairy • Homemade • Plant • Vegetarian
We're here with another baking tutorial: this time a homemade crackers recipe! Alex and I got out of the habit of making crackers…but are happy to report we're back on the train. These homemade crackers are full of big, real flavor: nothing like the store-bought kind. They're perfectly seasoned and crispy. Even better: they're so fun to make at home! And they're very easy: no yeast, no proofing, no special equipment to order (like our bread recipes). Here's how to make crackers at home! For a gluten free variation, go to Almond Cashew Crackers. Ingredients for this crackers recipe You...
---
• Breakfast • Dairy • Dessert • Gluten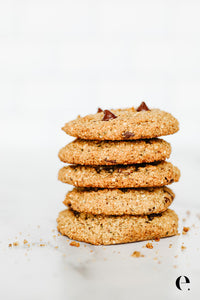 Lemme guess: you need a snack for some energy. You want to be healthy, but you also want a cookie. Enter: Healthy Power Cookies I wrote this recipe with both health and flavor in mind. They're a twist on a classic chocolate chip cookie mixed with an oatmeal cookie, but with healthier ingredients and a few surprises. They're so fluffy that they're almost bread-like! I call these Healthy Power Cookies because of the powerhouse combo of ingredients: almond flour satiates you and stabilizes your blood sugar oats give you sustained energy and boost your fiber intake extra virgin olive oil...