• DairyFree • Dinner • GlutenFree • Lunch • Vegetarian
If you're looking for a low carb pizza option, this is it! Cauliflower pizza crust is the kind of recipe that sounds a little... "meh", unless you've tried it before. If you've ever had cauliflower crust, you know it's so delicious. I was very skeptical the first time I tried it. But, to my surprise, this crust tasted delicious, and didn't leave me feeling bloated or overly full, the way traditional crust sometimes can. See, I first created cauliflower crust for my Whole30 pizza recipe, but I wanted to make a separate post for the crust should you want to...
---
• BeyondMeatMealoafRecipe • ComfortFood • Dinner • FoodBlogger • ShutterbeanBlog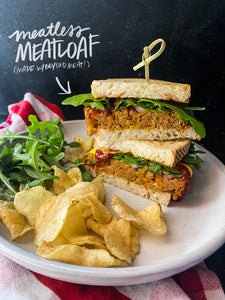 She served it with salad & roasted potaotes. I always fought for an end piece because that's where the crispiest part was. I am sure if she found a good meat replacement, she would have happily made this meatless meatloaf version for my vegan brother while we were growing up.  Now I can make it for him and my niece who is vegetarian and we can all remember my Mom fondly!  I remember sitting in the kitchen watching her take off her rings and mixing the meatloaf by hand in her grandmother's giant ceramic bowl.  She always loved the leftovers...
---
• Dinner • GlutenFree • PaleoRecipes • Recipes
These gluten-free meatballs are great for meal prep, and can even be baked. Gluten-free and Whole30, this recipe will be a crowd favorite. Now that it is officially fall, I'm really starting to get in the mood for fall foods. You know how when the weather starts to change, you start to crave hearty, delicious meals that really stick to your ribs and make you feel warm and cozy? These paleo meatballs are perfect for just that. Really, they're great any time of the year, but for some reason, these really hit the spot for fall. Trying New Foods Can...