• acouplecooks • CannedSalmon • Gluten • Mayo • Recipes • SalmonCakes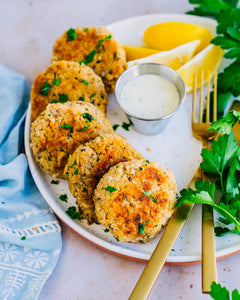 Here's how to make the BEST salmon patties recipe, aka salmon cakes! Canned salmon makes them fast and easy. Serve with tartar dipping sauce. Here's a delicious lunch or dinner idea that's worked its way into our regular rotation: Salmon Patties! Otherwise known as Salmon Cakes, these babies are just like crab cakes but they use canned salmon instead. Using canned makes them fast and easy to make — and cheaper than using fresh salmon (like our Salmon Burgers). Pair them with tartar sauce or remoulade sauce, and the contrast of the crisp, herb-scented patties against the creamy dipping sauce...
---
• acouplecooks • Brunch • Dairy • Gluten • Recipes • Vegan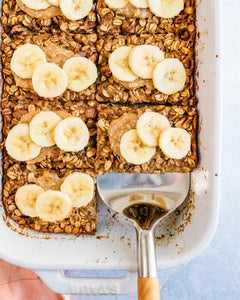 Here's the ideal healthy breakfast recipe, easy and full of irresistible flavor. In fact, we're head over heels for it: Banana baked oatmeal! This incredible recipe is wholesome and filling, and it's made with good-for-you ingredients: mostly oats and bananas. It happens to be a vegan baked oatmeal, but it pleases absolutely everyone. Serve it for guests or even better, make up a big pan and eat off of it all week! You can cut it into "bars" for quick snacks, too. Topped with a little nut butter and banana slices, it's a decadently wholesome treat. Ingredients in banana baked...
---
• Breakfast • Dairy • Dessert • Gluten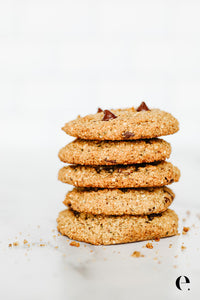 Lemme guess: you need a snack for some energy. You want to be healthy, but you also want a cookie. Enter: Healthy Power Cookies I wrote this recipe with both health and flavor in mind. They're a twist on a classic chocolate chip cookie mixed with an oatmeal cookie, but with healthier ingredients and a few surprises. They're so fluffy that they're almost bread-like! I call these Healthy Power Cookies because of the powerhouse combo of ingredients: almond flour satiates you and stabilizes your blood sugar oats give you sustained energy and boost your fiber intake extra virgin olive oil...