• Brownies • Chocolate • CoconutSugar • Grain • texanerin • Vegan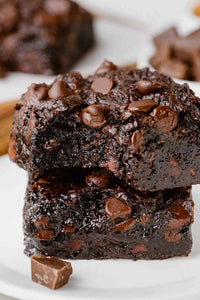 If you chill them, they become fudge-like! The texture is absolutely perfect and sure to please the pickiest of brownie connoisseurs. I'm SO happy that after 9 years of blogging, I finally have an amazing vegan brownie recipe to share! They're every bit as delicious as traditional brownies and nobody will miss the grains, eggs or dairy. I promised something special after posting the non-gluten-free vegan tortillas last week and these brownies are definitely it! Ingredients Almond flour – more on this below! Also, make sure to use finely ground almond flour. Otherwise, your brownies will be greasy and there...
---
• Buttermilk • Chocolate • CocoaPowder • LayerCakes • PowderedSugar
Are you a box mix yellow cake person? Or a from-scratch yellow cake person? Truth be told, it's REALLY hard to replicate that always-moist-and-fluffy texture that everyone loves about a box cake mix, but at the same time, we also love homemade, right?! It took me a LONG time to find a homemade yellow cake that I really, really loved. Box cake mixes seem to always bake up perfectly fluffy and moist yellow cakes, and the ones I've had from bakeries have been great as well, but I just couldn't seem to replicate it at home no matter how many...