• Business • Organization
DISCLAIMER: This post is sponsored by H&R Block Online. All reviews and opinions expressed in this post are based on my personal view. I am not a tax professional and you should always consult a tax professional for all your tax questions and concerns. Getting a jump on tax planning and preparation will save you time and money in the long run. The current tax filing extension due to COVID-19 allows us to get the most out of our tax preparation. Although the tax filing deadline has been extended, it's best to still file and get your refund faster, as...
---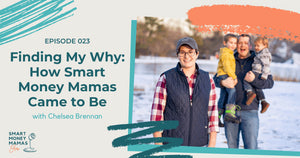 In today's episode, I'm going to be getting pretty vulnerable with you. While it's a time for celebration (it's my birthday!), it's also time I shared with you the backstory of Smart Money Mamas, how it came to life, and my vision for the future.  I'm sharing some of my life before starting Smart Money Mamas, how I took a leap of faith to leave my high-paying job, as well as Maslow's Hierarchy of Needs and how it applies to the way we make decisions surrounding money.  I'm so excited to share this episode with you so you can have...