• COLLEGE • Dorm • LIFESTYLE • Organization
OUR TOP BEST PLANNERS: Best Overall:  Day Designer "The Day Designer changed my life. I don't know what I would do without this planner; it legit has everything I would ever need. One of the best planners ever." Best Under $15:  Kodexlode Weekly & Monthly Planner "I was looking for something inexpensive and was so happy when I found this planner. Love it!" Best Design:  Kit Agar Femme Planner "This planner is stunning. I feel like I'm carrying expensive artwork around with me!" Most Popular: Papier "The Jag" Planner "Cannot say enough good things about this planner. Simple, stunning, just the best." Best for Productivity: Full...
---
• AllPostsOnCollege • COLLEGE • DormRoomCleaningTips • DormRoomDecoratingIdeas • DormRoomOrganizationTips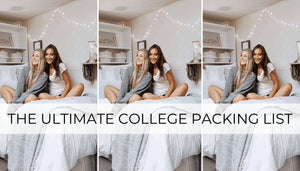 When I went off to college, I used the college packing list my school provided and seriously forgot so many things.  After many frustrating trips to Target, I decided to make the ultimate college packing list for my readers so they didn't have to go through the same stress I did.  This checklist has literally everything you will ever need when you're moving into the college dorms.  If you want specific products, check out my College Essentials post where I lay out all of my favorite products that I couldn't live without throughout college. Want to print this college packing list...