• Asian • China • Chinese • DesignsByStyle • Minimalist
Modern minimalism is moving into Chinese markets faster than ever. The growth of this movement offers a unique chance to see two very distinct styles intersect – vibrant design traditions interpreted through the keen lens of contemporary frameworks. This post explores three home interior concepts by prolific designers based in China, each one blending subtle traditional elements across a chic minimalist canvas. All three homes demonstrate a different approach, some with clear roots in Chinese design and others with the most understated of influences. Which one is your favorite? Designer: Gray Vision    Visualizer: Gray Vision    The first home...
---
• Asian • DesignsByStyle • Minimalist • Modern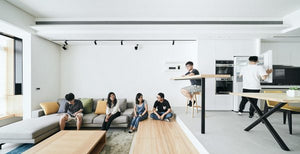 We visit two unique and unconventional home layouts today, each created by Indot Design. An initial minimalist aesthetic is apparent, but there is much more to these two interiors than simply serene decor. We're met with a creative split level living room in home number one, which achieves a feeling of extra space, before a floating concrete staircase gives rise to an airy master suite with a glass wall bathroom. Home number two has a fluid layout that disguises all borders, and has hidden elements such as a cat wall camouflaged as a shelving arrangement. The rise and fall of...