• AllPosts • AllRecipes • Life • SchoolLunches • Snacks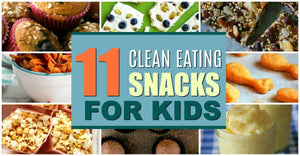 Are your kids constantly sniffing out food to snack on? Looking for some Clean eating snacks? When you have kids, your kitchen sees more traffic than a busy train station. Kids eat. All the time. Three meals a day? pffft. As far as my kids are concerned, the fun is the snacking. Thing is, if it were available, they would be reaching for a bag of crisps not an apple. An apple just isn't going to suffice every time. Having a stash of clean eating snacks (and not another apple) makes clean eating as a family easy.  I can guarantee even...
---
• AllRecipes • Cookies
EVERYONE ALWAYS CLAIMING THEY HAVE THE BEST CHOCOLATE CHIP COOKIE RECIPE! Believe me I get it But you haven't tried mine. I've struck the balance between perfectly chewy insides and crisp crunchy outsides With chocolate chunks that go on for days So what sets mine apart you may ask? Oh I don't know, endless hours of tweaking and testing and eating and tweaking and testing again and then eating more again. Originally I was using a proprietary blend egg replacer for the binder Which resulted in a very good cookie out of the oven But upon sitting for a day...
---
• AllRecipes • Dessert • Recipe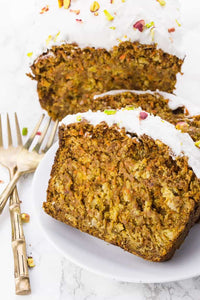 Why This Recipe Works  I've always loved carrot cake! However, it took me a while to make a version without eggs and milk after I became vegan. This vegan carrot cake with applesauce and quick oats is by far my favorite! I usually serve this carrot cake with some coconut cream, coconut flakes, and pistachios on top. It's such a great treat for spring days and Easter. Or of course the whole year round!  It's super moist, insanely delicious, budget-friendly, and very easy to make. From start to finish you need 50 minutes, but the actual active preparation time...
---
• AllRecipes • GlutenFreeVeganRecipes • HealthyVeganRecipes • IndianVeganRecipes • VeganKidFriendlyRecipes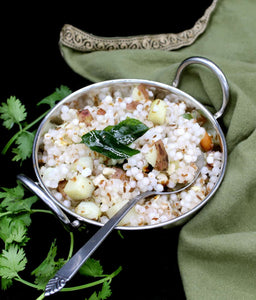 Learn how to make a fool-proof, non-sticky version of this popular Indian breakfast/snack with just a handful of ingredients. A vegan, gluten-free, soy-free recipe, can be nut-free. For me, a Sabudana Khichdi was the highlight of the days when my parents--both or either--were on a fast. And if you know anything about Indians, you know that would be pretty often. Long ago, someone in India discovered the fastest way to the almighty's ear was through an empty stomach--your empty stomach. As a result, religious fasting, done ostensibly to invoke the gods and goddesses into granting you wishes, caught on like...