• BreakfastAndBrunch • Cake • Desserts
Simply whip up a deliciously tender crumb cake batter and top with a generous layer of homemade crumb topping – this sweet treat is perfect as breakfast or dessert! Though I live in sunny Massachusetts now, I'm a Jersey girl at heart. Every trip back east wouldn't be complete without a coffee and a piece of my favorite New York-style crumb cake. New York crumb cake (sometimes also called New Jersey crumb cake) is all about the crumb topping. Forget a big cake with a thin layer of crumbles – New York crumb cakes have crumb toppings that are just...
---
• Almond • Christmas • Desserts • Holiday • Mothers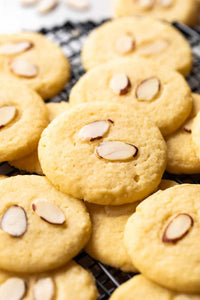 These cookies are quick and easy to make and are perfect for gifting to others or putting onto a dessert platter for the holidays! Serve alongside some Traditional Italian Christmas Cookies, Linzer Cookies, and Homemade Butter Cookies for a festive plate! Almond Cookies These almond cookies are always a huge hit around Christmas time! If you're a fan of almond then these cookies are for you! They're buttery and soft, while not being overly sweet. And they are a fun and easy cookie recipe to bake up for the family. They're also a perfect cookie for gifting to others...
---
• Almond • Christmas • Cinnamon • Desserts • Family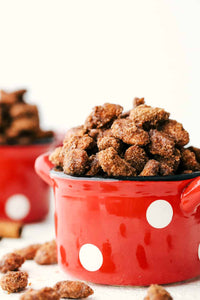 s. Watch these cinnamon almonds disappear where ever you take them. Almonds are so yummy, I love using them in my baking. Try them in this Insanely Good Homemade Granola, Almond Roca Cookie Bars or this Almond Joy Poke Cake. Cinnamon Almonds Do you know those delicious cinnamon almonds at the mall? Well these are SO much better! And you can make them for about the same price you pay for one of those tiny bags. I LOVED the way this made my house smell! It seriously makes me want to make a batch daily. The brown sugar and cinnamon...
---
• Christmas • Cookies • Desserts • Mothers • Valentine
These festive treats are perfect for any holiday or special occasion. These are perfect for the sharing during a cookie exchange! Serve along with other festive cookies such as Grinch Cookies, Perfect Gingerbread Cookies and Best Ever Molasses Cookies for a delicious cookie smorgasbord. Linzer Cookie Recipe These elegant cookies are so joyful just to look at, with their top centers cut out in a fun shape to show through the colorful jam. The dusting of powdered sugar adds the perfect touch creating a fancy touch to these morsels of joy. Perfect for gift giving, cookie exchanges, parties or just...
---
• ChocolateCookie • Cookie • Cookies • Desserts • Recipes
Try it out––you will you fall in love.  The post Double Chocolate Chip Cookies [Vegan] appeared first on One Green Planet. #Desserts #ChocolateCookie #Cookie #Cookies #Recipes