• AllPosts • AllRecipes • Life • SchoolLunches • Snacks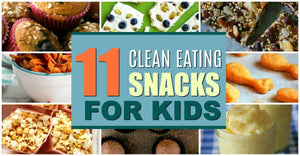 Are your kids constantly sniffing out food to snack on? Looking for some Clean eating snacks? When you have kids, your kitchen sees more traffic than a busy train station. Kids eat. All the time. Three meals a day? pffft. As far as my kids are concerned, the fun is the snacking. Thing is, if it were available, they would be reaching for a bag of crisps not an apple. An apple just isn't going to suffice every time. Having a stash of clean eating snacks (and not another apple) makes clean eating as a family easy.  I can guarantee even...
---
• 4 • 5 • AllPosts • Clean • Life
I don't have any proof of this, but I feel it in my Mom-heart. There is just no way that any one woman could possibly be that organised – all the time. Surely not. These 5 Clever Dinner Tricks are for dis-Organized Moms – and Martha on a toast and cheese kind of day.  No matter how regularly Dinner time swings round, I still manage to get caught out. Tonight, I should be prepping my chicken lasagna but instead I opted to cut 40 minutes and one dirty pot off the to do list – and have time to write...