• Bread • Egg • Fluffy • Pantry • sweetsimplevegan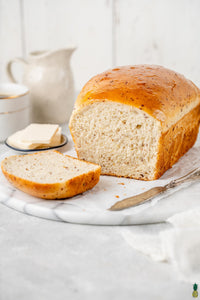 It's not only a breeze to make, but this bread packs a delicious flavor the whole family will love. You may be asking yourself, "how do you make egg bread vegan?" The truth is, this is way simpler than you may think. Instead of using eggs from a chicken, we are using a "flax egg," which is essentially just ground flaxseeds mixed with water. This creates a viscous mixture that binds the dough just like an egg would. The beauty of this fluffy vegan egg bread recipe is that it does not require a bread maker, or any other fancy...
---
• AlmondButter • Cookies • Dairy • Egg • MapleSyrup
Topped with a layer of chocolate, oat crumble, and sea salt, these bars are suitable for breakfast, snack, or dessert! Gluten-free and vegan. This recipe was inspired by a serious staring contest with my pantry.  I wanted to make something sweet. And a little salty. With chocolate. But also kind of healthy.  Too much to ask? The answer to that question was, thankfully, no.  Plus, bonus points because this almond butter bars recipe is also no-bake! Gluten-Free Almond Butter Oat Bars Ingredients These easy oatmeal bars are pretty pantry friendly. Here's what you'll need: Gluten-free oats Maple syrup Almond butter...