• acouplecooks • BakedGoods • Baking • BananaBread • BananaNut • Recipes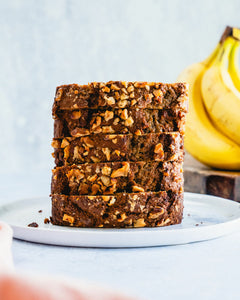 Do you like your banana bread…nutty? A few dark brown bananas are an ordinary sight on our counter (yours too?). Usually our go-to banana recipes are healthy muffins or banana oatmeal pancakes, but this time we wanted something new. Meet this ultra Classic Banana Nut Bread! This one is just like Grandma's: moist and cinnamon-scented, with bursts of crunchy walnuts throughout. To take it over the top, toast the nuts in a skillet to bring out their nutty undertones before gently folding them into the batter. Ingredients in this banana nut bread This banana nut bread is a straightforward take...
---
• abraskitchen • BakedGoods • Blog • Dessert • Paleo • Vegetarian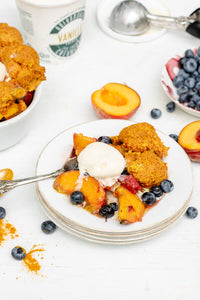 This easy to make gluten-free peach berry cobbler can be made with fresh or frozen fruit and is delicious all year long! This post contains step by step instructions and detailed tips PLUS fun nutrition tips so you can make gluten-free peach berry cobbler perfect every time and feel super good eating it! Summer desserts require 2 essential ingredients: Seasonal fruit  Minimum effort  Do you agree? I turned up the volume on this summer cobbler by creating a delicious golden milk biscuit. Turmeric, cardamom, and cinnamon, the warming spices in golden milk, pair beautifully with seasonal fruit!  Serve with vanilla...