News — EmergencyPreparedness
• CriticalDocuments • Documents • EmergencyPreparedness
We may have some new readers who haven't thought about doing this. You may have the binder and the dividers but you haven't had the time to put it together. As unfortunate as it may be, most natural disasters and emergencies tend to show up unexpectedly, or at the least, with very little notice. I have a link at the bottom of this post for my FREE emergency binder contents. That's why it's so critical for your family to be prepared for these situations far ahead of time, especially if tornadoes, wildfires, earthquakes, and hurricanes play a factor in your...
---
• EmergencyPreparedness • MyLifePacket • ToolsForGatheringImportantPapers • Uncategorized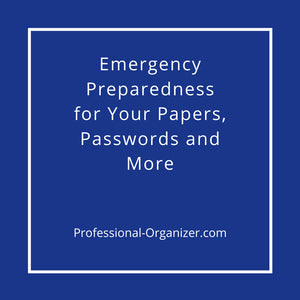 Emergency preparedness goes beyond organizing your stuff. It starts with a will, durable power of attorney and legal documents and moves to online passwords and your digital life.  We all have important documents that we need access to during our lifetime and that our loved ones might need access to in the future. With the time we have, it's a great time to organize these papers and more.   Tools to get organized In an emergency, the last thing that should be an obstacle is locating paperwork. We need easy access to health insurance details, medical information, and...
---
• 1 • 10 • 11 • 12 • 2 • 3 • 4 • 5 • 6 • 7 • 8 • 9 • Disasters • Drought • Earthquakes • EmergencyPreparedness • Fires
It is crucial that you have a planned response whether you are at work, at home, or on vacation. However, not all-natural disasters are the same. In fact, you may not even think of all the different disasters that could happen. Below, are 12 types of natural disasters you should prepare for.  12 Types of Natural Disasters Most of us know about certain disasters such as tornadoes, hurricanes, and snowstorms. However, we tend to overlook other natural disasters that plague the United States. Here are 12 types of natural disasters to prepare for: #1 HeatWaves Did you know a heatwave...
---
• 1 • 2 • 3 • 4 • 5 • 6 • 7 • EmergencyPreparedness • Hurricane • Hurricanes • Storms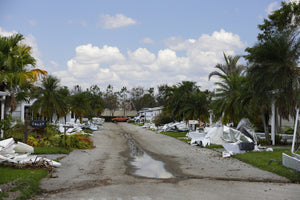 As I write this, hurricane Dorian hit the Bahamas at a category 5 before scaling the Florida coast and causing quite a mess there. Many people were not prepared for a hurricane, let alone a category 5 hurricane. When it comes to a hurricane, you need to make sure you are stocked to bunker down, as well as stocked to get out of town. You never know when a category 1 could turn into a life-threatening category 5 hurricane. Below, you will find things to stock up on before a hurricane that will get you through the mild or severe! ...