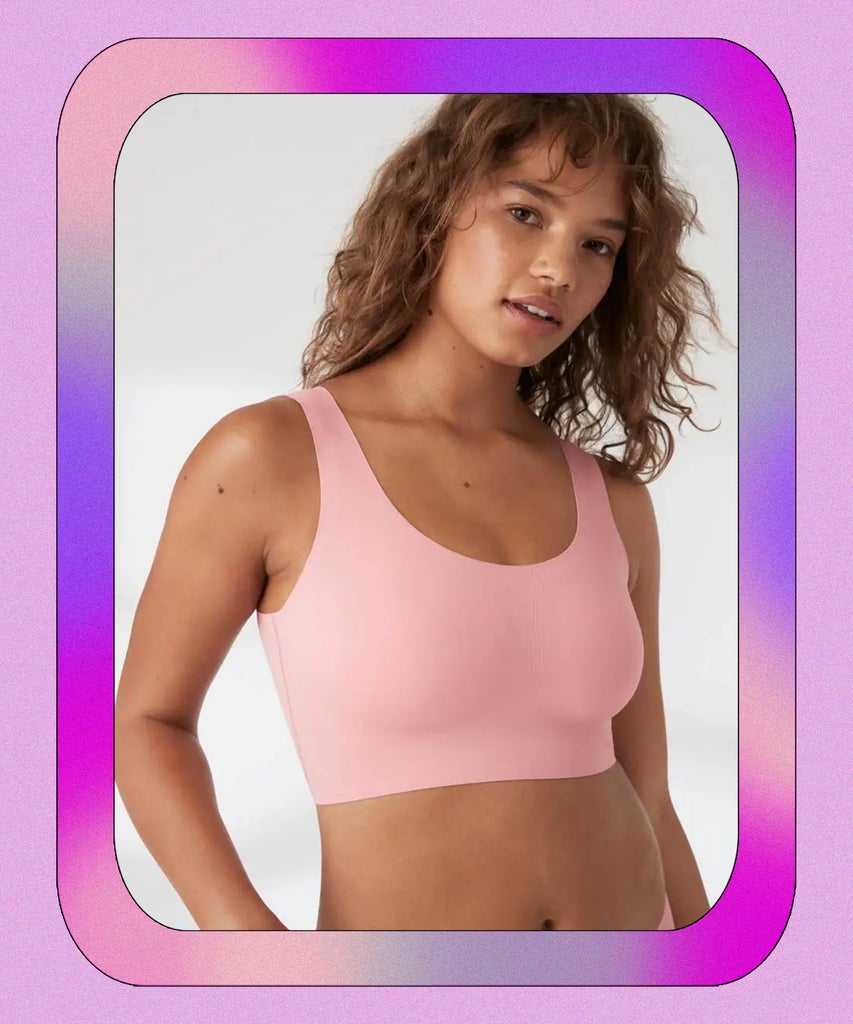 The hunt for the most comfortable bra is officially over. Yep. You heard that right. True & Co, famous for its super-soft fabrics and completely wireless bras, managed the impossible. And for someone like me —who's cursed with a 38H cup size — a comfortable and supportive bra with no wires was seemingly impossible. I need to wear a bra even when I'm home and not planning to go anywhere, if only for my back's sake. Relatable? That's why I decided to test the hypothesis myself and try out the highly-rated bras for a month. While I already spoiled the experiment's conclusion in the first sentence, keep on reading to see why you need these actually comfy bras in your life — trust me, your boobies will thank you.
The bras run from sizes XS-XL, or up to a 42DDD/F, and, per Nordstrom's size charts, aren't technically designed to fit a G or H cup. Because of the stretchy and soft fabric, however, many of the bras fit bigger sizes than stated in its size guide. I decided to try an XL and hope for the best, but I was skeptical. I lived in too-small Aerie bralettes for years before committing to a larger size. So, right off the bat… I thought they weren't going to work for me. I was both right and wrong. If you have a bigger cup size like I do, stick to the scoop-neck bras instead of the v-neck ones. These offer more coverage and you won't be spilling on the sides (like I was in the v-neck).
They're not kidding when they say these bras are soft. They're ultra-buttery, soft soft. I forget I'm wearing a bra — and I cannot emphasize enough how impossible that is when you're my size. They're the perfect stay-at-home bra, but they're also supportive enough to wear outside. It's the best of both worlds.
As you can see by my outfit, they're not supportive in the same way a wired bra would be (duh). I took out the pads, but you can leave them on if you want that extra support. That's not what I want when I wear a bralette like this. Sometimes they have a minimizing effect, which is great if you've been looking for some binder alternatives that aren't sports bras. They also wash and dry very well; obviously, they suggest handwashing but I just put them in a mesh bag on the gentle cycle and left it to air dry. They dry very quickly because of how thin the material is — not thin enough that you can see your nipples through your shirt but if you're worried about that, that's where the pad inserts come in handy.
And have I mentioned how soft they are? I've been screaming about how impossibly soft these are since I first put one on. Obsessed.
At Refinery29, we're here to help you navigate this overwhelming world of stuff. All of our market picks are independently selected and curated by the editorial team. All product details reflect the price and availability at the time of publication. If you buy or click on something we link to on our site, Refinery29 may earn commission.
Like what you see? How about some more R29 goodness, right here?
A Guide To Buying Your Perfect Bra Online
ThirdLove Now Offers 78(!) Different Bra Sizes