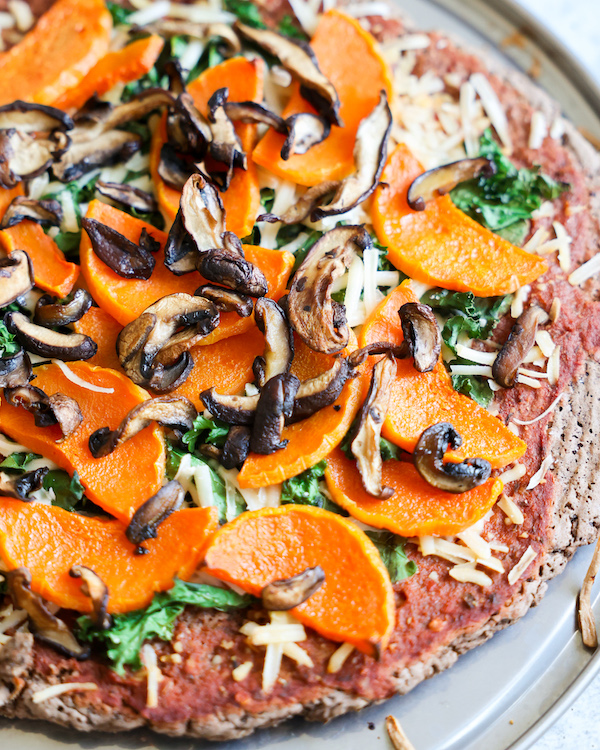 This gluten-free and vegan Black Bean Crust Pizza is bursting with savory flavor, texture, and healthy goodness. It's easy to make, and perfect for the whole family. Add all of your favorite vegan pizza toppings, and bake to perfection. Get ready to meet your new favorite recipe!

What to expect | Black Bean Crust Pizza
As you'll see in the video below, this recipe takes a while to make (unless you buy the sauce pre-made, and the veggies pre-cooked––which I don't recommend), but it is well worth every minute. This is the ultimate comfort food. Sure, it's a vegan gluten-free pizza that happens to also be guilt-free and healthy, but it's honestly delicious. I love topping it with vegan cheese, seasonal vegetables, greens, and marinara sauce. My favorite toppings: roasted butternut squash or sweet potato!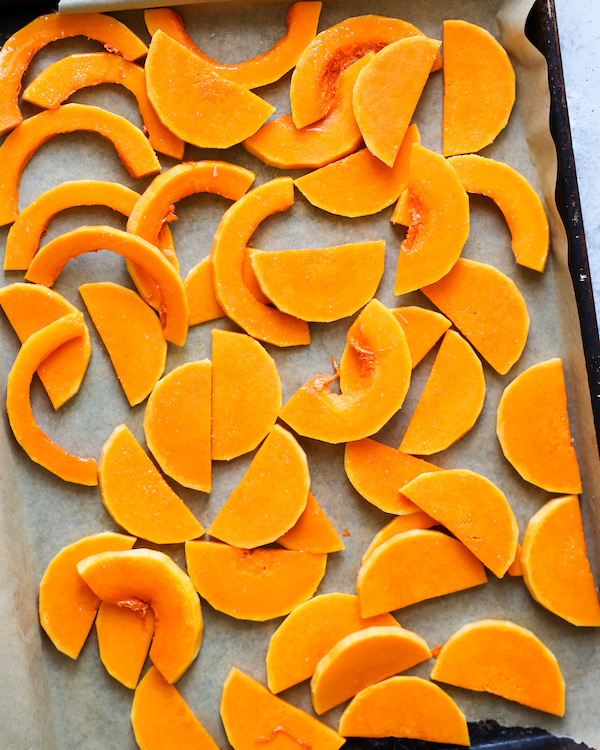 Black Bean Crust?
Totally! I know it sounds strange, but with a few ingredients beans become the best gluten-free pizza crust alternative.
Flax Seed: Though black beans are the star ingredient, this pizza crust won't hold together without flax––ground flax seeds to be exact. Ground flax seeds mixed with water create a "flax egg". Flax egg is as good a binder as any egg.
Nutritional Yeast: The best pizza has amazing crust ,and nutritional yeast adds amazing savory flavor to your pizza crust. This essential vegan spice is also high in protein and fortified with B12.
Food Processor: You'll need a food processor for this recipe to make the bean crust. A blender will work, but it isn't ideal because the crust mixture is very low in liquid––thus difficult for a blender to handle.
Tips for cooking
Watch the video to see step-by-step how this black bean crust pizza is made. It's really easy, but you'll want to take certain steps to make sure it hold together.
Spread the batter about 1/3 thick. Use a spatula coated in oil or dipped in water to prevent excess sticking.
Use parchment paper. Aluminum foil is not a suitable swap; the crust will stick. I haven't tried it on a silicone baking mat.
Bake until the crust dries out and easily peels off of the parchment paper.
Flip the crust onto another baking sheet lined with parchment paper. Gently peel the first layer off the underside of the crust. It should come off easily.
Don't overload the center of the pizza with toppings.
Allow it to cool for at least 10 minutes before cutting. The crust will firm as it cools.
While this pizza crust won't be as pliable as a wheat crust (sorry NYers, you can't fold it), it should hold together pretty well.
Great for kids
This Black Bean Crust Pizza is included in my roundup of Vegan Recipes for Kids. It's high in protein, fiber, and important vitamins and minerals like iron, magnesium, and b vitamins. Kids will have a great time topping this black bean crust pizza. Get them involved in the whole process, and they'll enjoy it even more.
Perfect Recipe Pairings
Print
Butternut Squash Black Bean Crust Pizza
This gluten-free and vegan Black Bean Crust Pizza is bursting with savory flavor, texture, and healthy goodness.
Total Time
1
hour
35
minutes
Ingredients
2

cans black beans

rinsed & drained well

3

tbsp

flax seed +⅓ cup water

mix the two together to create flax "egg"

3

tbsp

nutritional yeast

2

cloves

of garlic

minced

1 ½

tsp

sea salt

only 1 tsp if your beans had salt in the can

½

tsp

cayenne pepper

2

cups

butternut squash

thinly sliced & roasted

2

cups

shiitake mushrooms

sliced

1

onion

thinly sliced

3

cups

kale, spinach, or arugula

chopped

½

cup

tomato pizza sauce

1

cup

vegan mozzarella cheese
Instructions
Preheat oven to 400° and line a baking sheet or cookie sheet with parchment paper.

Place beans, flax egg, nutritional yeast, garlic, salt and cayenne in the food processor. Blend until smooth.

Spread the mixture onto the parchment paper in the shape of a pizza crust, about 1/3 inch thick. You'll fill most of the width of the baking sheet.

Bake for 20 minutes, then carefully flip the crust to bake on the other side 15-20 minutes. NOTE: To flip, I place another sheet of parchment and another baking sheet over the one the crust has been on, and using oven mitts I flip the sheets together. Then the crust will be on the new baking sheet. Slowly and carefully peel the original parchment off of the crust. Careful not to break Bake 5-10 minutes longer.

While the crust bakes, sauté the shiitake mushrooms and onions in a bit of olive oil. If you haven't already, you can roast the squash now (toss with olive oil, and roast slices for 30 minutes at 350°F)

When the crust is finished, top with the tomato sauce, vegan cheese, greens, squash, mushrooms and onions. Bake for 10 more minutes then serve.
Video
The post Vegan Black Bean Crust Pizza appeared first on Sweet Potato Soul by Jenné Claiborne.