These protein brownies are ultra fudgy and taste just like regular brownies – no funny aftertaste or grittiness! They're also gluten-free and dairy-free and have a paleo option.
First of all, these brownies are much fudgier than they look! The brownies in the photos were refrigerated so you could see their fudgy texture, but instead, they look a bit odd and perhaps… rubbery?
They are not at all rubbery. ;) Just fudgy!
This recipe is adapted from my Almond Flour Brownies, which were adapted from my Gluten-free Brownies.
I added chocolate protein powder, and then reduced the amount of cocoa powder, almond flour and sugar in the recipe.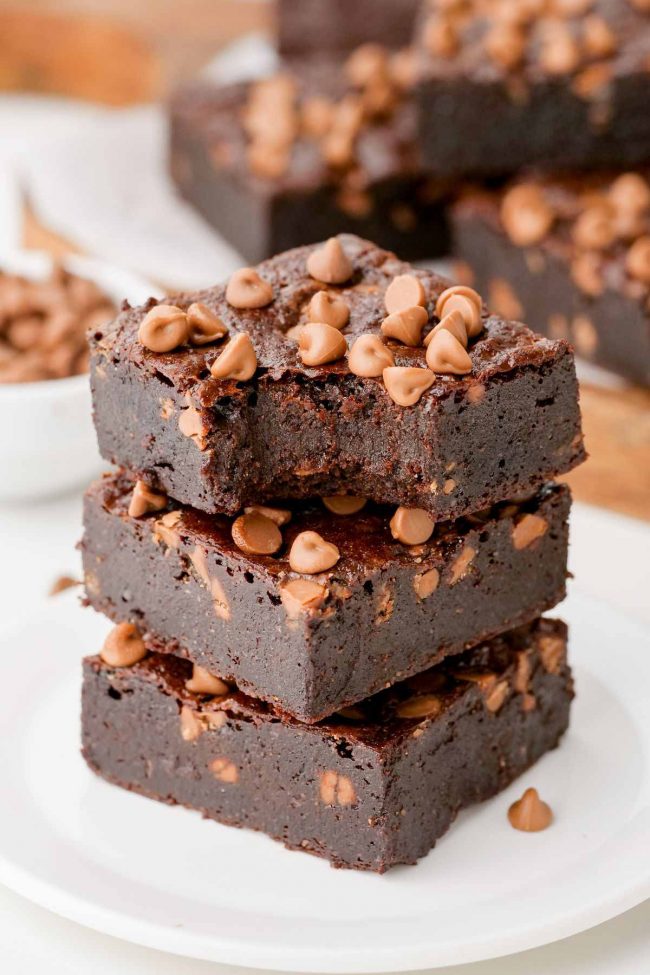 I wanted to make my protein brownies have as much protein as possible without negatively affecting the taste and texture, so I thought almond flour was the way to go. Using almond flour adds 25 grams of protein to the whole batch, versus 8 grams that using regular flour would have added.
It's not a huge amount of protein, but it's still triple. And almond flour is definitely healthier than regular flour, so that's another bonus. :)
Using chocolate protein powder adds another 25 grams of protein. That amount will vary a little depending on what kind of protein powder you use.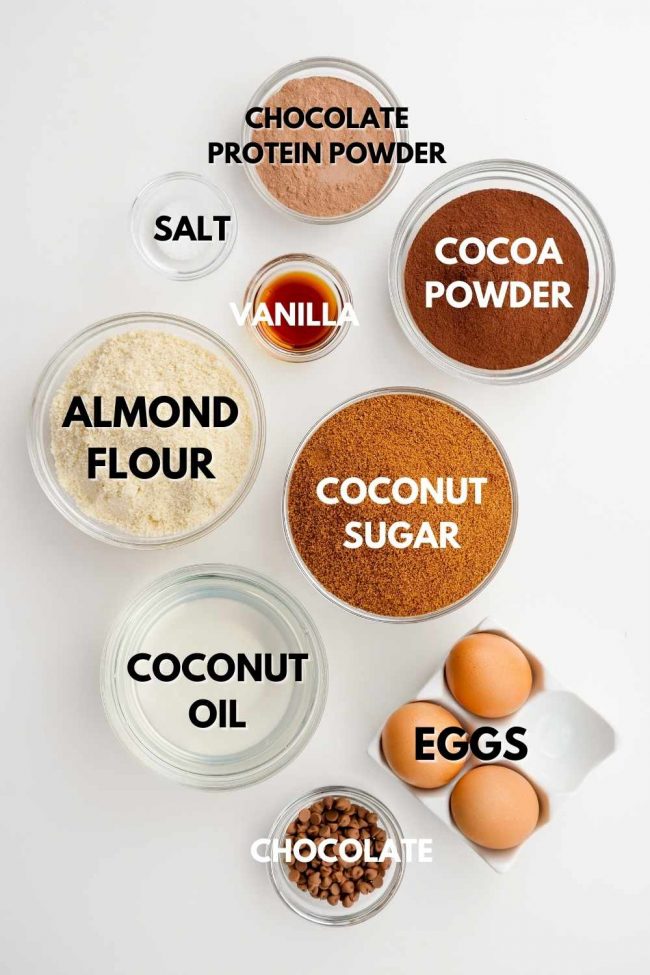 Chocolate protein powder
I think most brands of protein powder are pretty nasty, and I usually don't like or can't have the ingredients. The one that works for me is Paleo Thin Grass-Fed Beef Protein Double Chocolate.
The results were amazing! You absolutely can't tell that there's anything different about these brownies.
They taste amazing and have a fantastically fudgy texture. And if you use that brand, then these brownies are paleo.
When I read "beef protein," I thought that it sounded horrendous, but bought some anyway. It absolutely doesn't taste beefy. Mix it with some banana and yogurt, and you've got a super satisfying milkshake.
But I know that beef protein is a big fat no to some of you, so I found a vegan option – Dr. Murray Super Foods Chocolate Flavored Protein Powder. The brownies aren't vegan because of the eggs, but the protein powder is vegan.
The results were just as tasty! I'm quite surprised.
I bought both of these from iHerb.com. It's where I can buy US brands and have them shipped over here to Germany (for free, even, if I order over 35 euros!). I would buy locally if I could, but when I develop recipes for a US audience, I need to use US brands for certain things.
I just looked on US Amazon and they, unfortunately, don't have either product. Amazon has a lot of products from Julian Bakery, including a chocolate pea protein powder, but the reviews aren't nearly as positive as the ones on iHerb for the beef protein.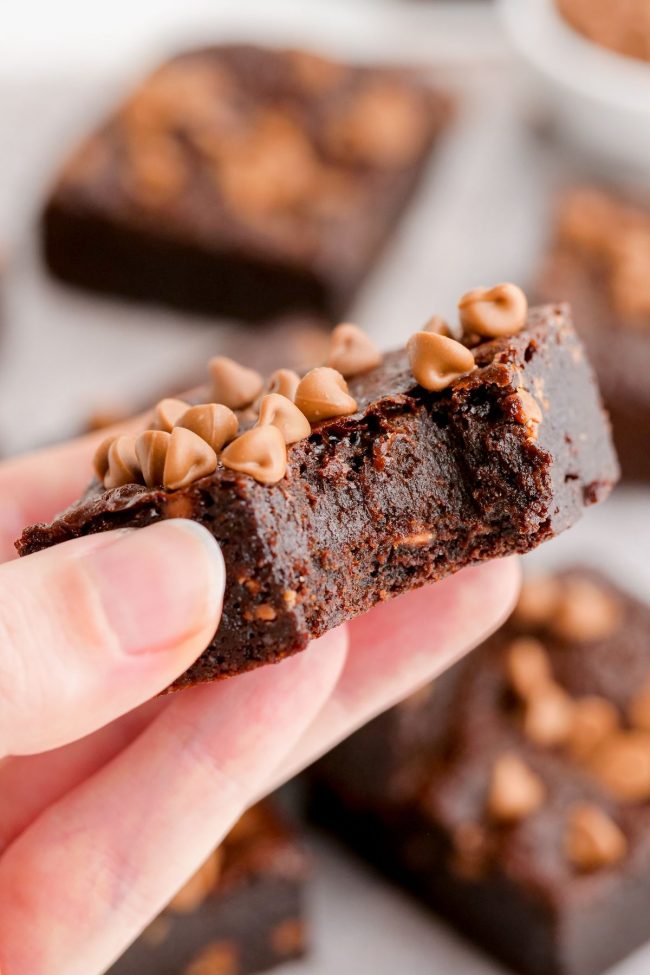 Baking with protein powder
If you use a different brand than the ones I mentioned above, your brownies might come out chalky. Or just plain bad. It's impossible for me to say without trying it myself.
But these are some of the top-rated protein powders to bake with.
Whey protein powders
Whey protein powder is mild in flavor and works best in cakes, muffins, bars and ice cream. It is denser than some of the other protein powders.
As for brands, Naked keeps popping up. I like their mission of "with nothing to hide", so you know exactly what is inside. It contains 25 grams of protein, zero sugar and 1 gram of carbs. But it doesn't have chocolate for this type, and you definitely want that for this recipe.
Bluebonnet Nutrition Dual Action Protein Powder – Whey + Casein Chocolate Flavor might do the trick. The website I looked at had zero reviews, so if you try and it works, then you should definitely give them some feedback.
Pea protein powder
For those incorporating plant-based protein into your baked goods, pea protein is optimal. Pea protein sets itself apart from other protein powders because it doesn't contain potential allergens such as wheat, dairy or egg.
It has a stronger flavor and is good for brownies, muffins and bars. It might, depending on what you're baking, have a more chalky texture. It's usually gluten-free, soy-free and vegan. But always pay attention to additives when you're shopping around.
Soy protein powder
This one is a great vegetable source of complete protein in a condensed powdered form. It tastes a bit nutty, it's mild in texture and great for brownies, muffins and bars.
Now Sports Soy Isolate, Creamy Chocolate Powder and is a good choice for baked goods. It's vegan, non-GMO, nut-free and gluten-free. You can find it online at iHerb, Amazon or the Now foods website. It can also be found at Walmart.
This is by no means a comprehensive list as there are many manufacturers producing protein powders.
When searching for the right one for you, be sure to read the labels on the manufacturer's website to ensure you're getting the right product for your baking and dietary needs.
Tips for baking with protein powder?
With each type of protein powder, there are different textures, and results will vary depending on the brand.
If you're new to baking with protein, this guide from Avatarnutrition will help. They've broken down useful baking tips for each of the proteins mentioned above. I would definitely check it out.
Can I use vanilla or unflavored protein powder?
Nope. You need to use chocolate protein powder for the brownies to have the right flavor. If you use vanilla protein powder, then you'd be missing cocoa powder.
Unflavored protein powder wouldn't work because you'd be missing sweetness and cocoa powder.
I don't recommend experimenting unless you're okay with the brownies not coming out very well. I made 32 individual brownies to get the recipe perfect before making a whole batch. It takes a lot of fiddling!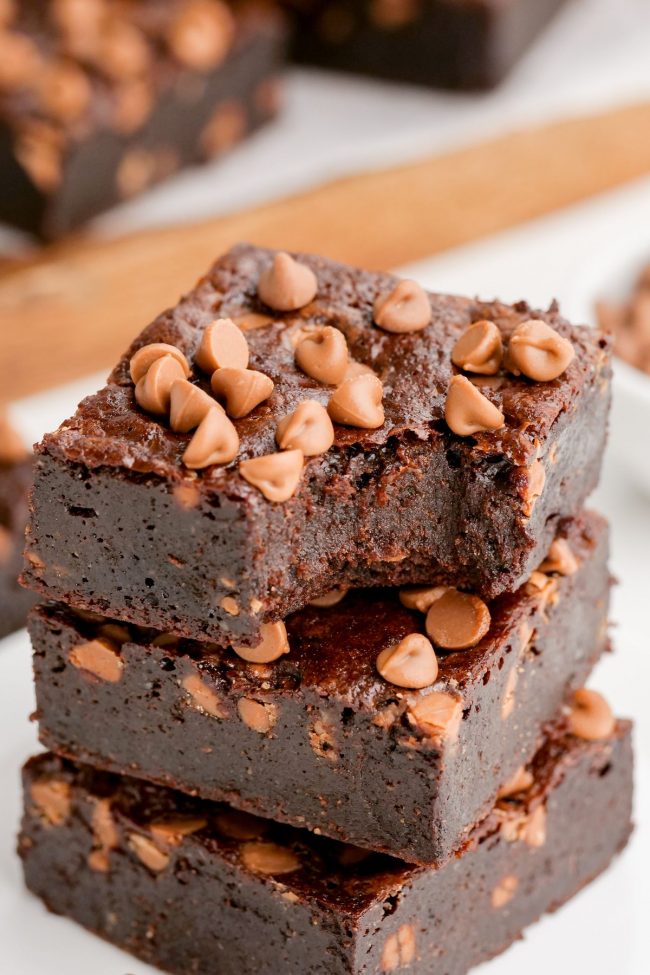 Questions about these protein brownies?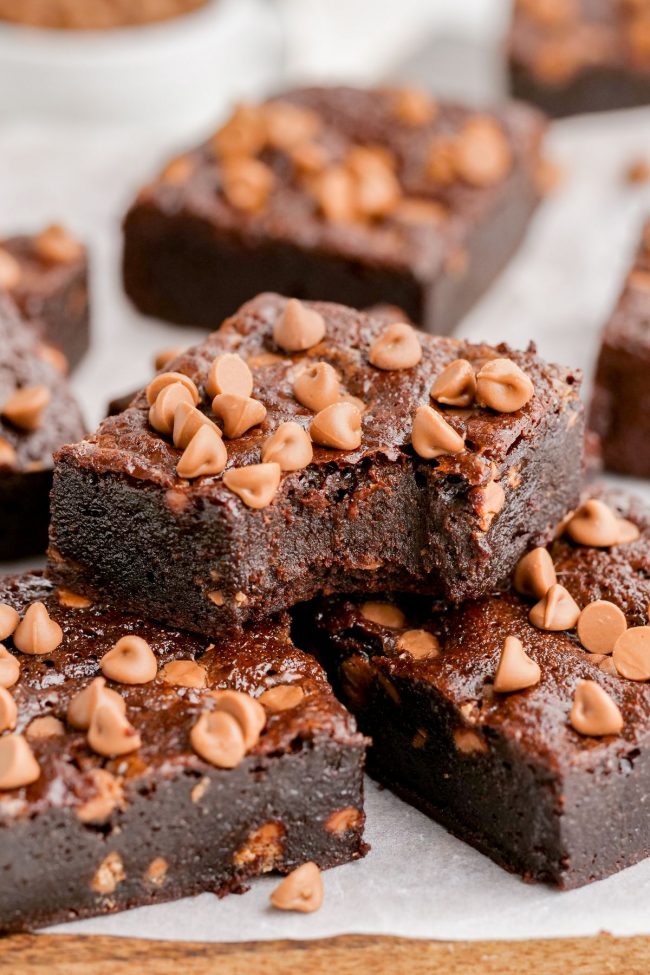 Easy high protein snacks
I have lots of brownie recipes, but if you're looking to add plant protein into your diet, these sweet treats can help.
That's it for today! I hope you enjoy these Protein Brownies. If you make them, leave a comment and let me know how they turned out!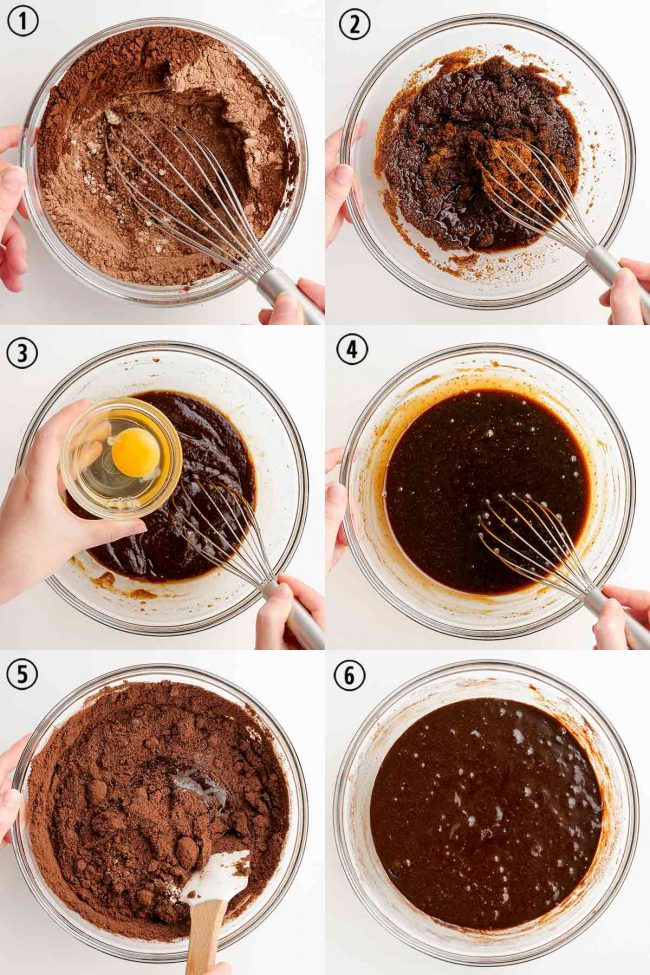 ❀
Protein Brownies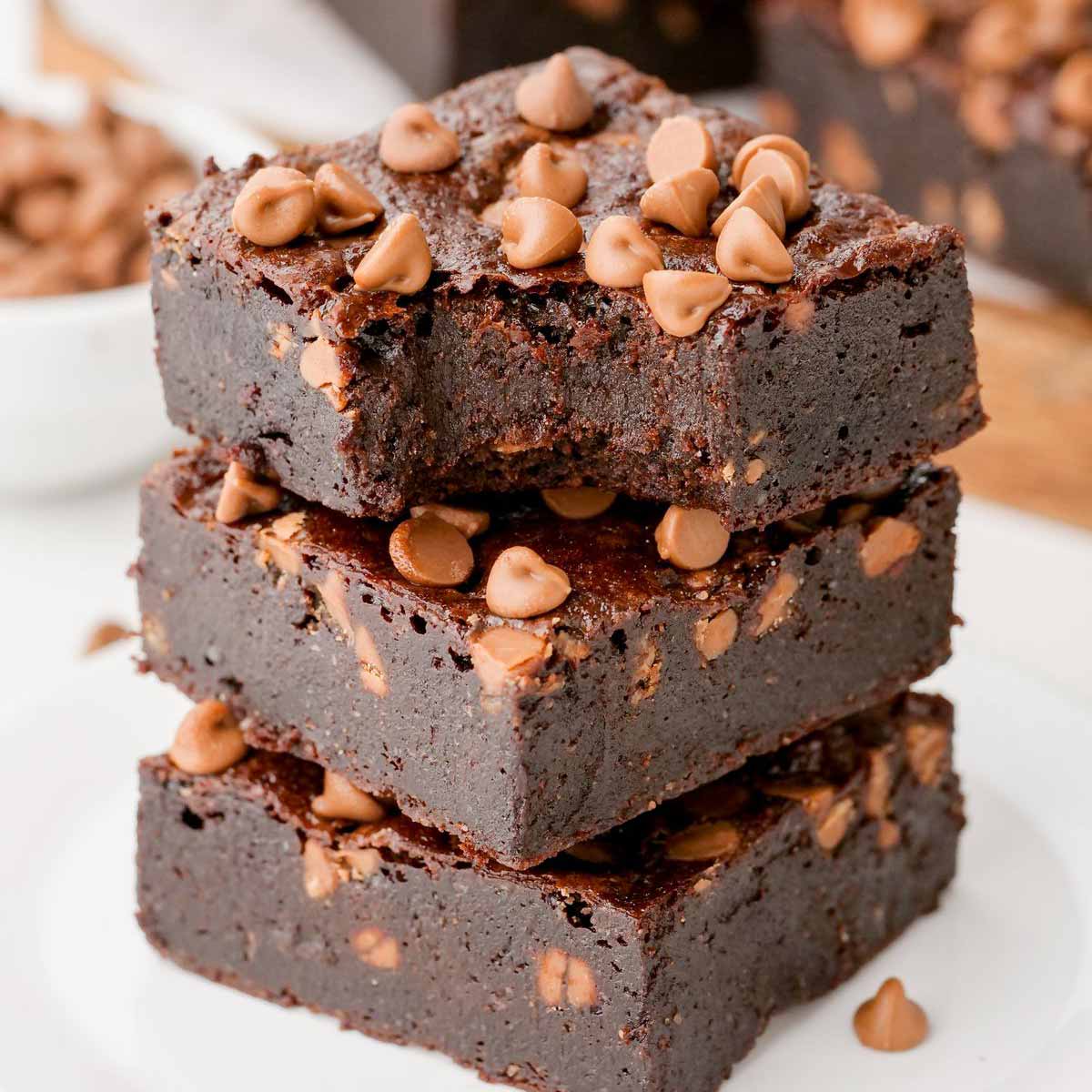 Prep Time:
Cook Time:
Ready in:
Yield:

16 brownies
Ingredients
1 1/4 cups (125 grams) finely blanched almond flour
1/2 cup (57 grams) Dutch-process cocoa powder
1/3 cup (29 grams) chocolate protein powder (see post for recommendations)
1/4 teaspoon salt
3/4 cup + 2 tablespoons (196 grams) refined coconut oil, melted
1 1/4 cups (250 grams) coconut sugar or granulated sugar
1 tablespoon vanilla extract
3 large (50 grams each, out of shell) eggs, room temperature
optional: mini chocolate chips to sprinkle on top
Directions
Preheat the oven to 350 °F (175 °C) and line an 8"×8" (20cmx20cm) pan with parchment paper.
In a medium mixing bowl, stir together the almond flour, cocoa powder, protein powder and salt. Set aside.
In a large mixing bowl, stir together the coconut oil, sugar, and vanilla extract. Once combined, add the eggs one at a time, and stir just until combined.
Add the dry mixture to the wet and stir just until almost no streaks of flour remain. Do not overmix!
Pour the batter into the prepared pan and sprinkle mini chocolate chips on top.
Bake for 18 minutes. The brownies will puff up a little bit and may crack a little bit around the edges and the top will appear dry and crisp (not at all wet). When you remove it from the oven and tilt the pan, it may appear to move a little but shouldn't look super jiggly. A toothpick inserted into the center will come out wet. A toothpick inserted into the sides will come out with some moist crumbs on it, but not totally raw batter. The brownies will continue to bake as they sit in the pan and will firm up as they cool.
Let cool completely and refrigerate for at least 2 hours until fudgy.
Refrigerate for up to 5 days or freeze up to 3 months.
Notes
If dairy-free, make sure to use dairy-free protein powder and use dairy-free chocolate chips.
If paleo, use Paleo Thin Grass-Fed Beef Protein Double Chocolate protein powder and paleo chocolate chips.
Recipe by Texanerin Baking | www.texanerin.com