Remember the days before Pinterest, when we had to print out recipes if we wanted to remember them for the future? I had a slightly better/more time-consuming version where I printed recipes I wanted to save on index cards and put them in a binder with clear plastic photo sleeves. It was pretty awesome until we got a different printer and I couldnt print the cards as easily for some reason (probably not wanting to learn this new thing because #effort). I kept stuffing the binder full of recipes I tore out of magazines and printed on 8.5 x 11 pieces of paper.
This is one of those index card recipes, but re-done because the original called for pearl onions, and I honest-to-God cannot find them anywhere. Not frozen, not fresh. Not at Wal-mart, not at Whole Foods,or even the fancy new Publix Greenwise Market in town! I always made it with chopped onions anyways, and when my index card got doused in RAID this summer when a stray roach was in the kitchen, I decided it was time to throw away the index card and commit this recipe to blog. So in the spirit of not accidentally poisoning myself with bug spray after touching a tainted index card, lets get on to this recipe, which makes a really nice elevated side dish.
Its getting your greens in with the peas, plus a more complex flavor from the caramelized onions that have a nice little douse of sherry or white wine in them. Then you have the almonds for a satisfying little crunch in each bite. If you like peas, youll really like this one, especially beside a blander additional side, like mashed potatoes or rice.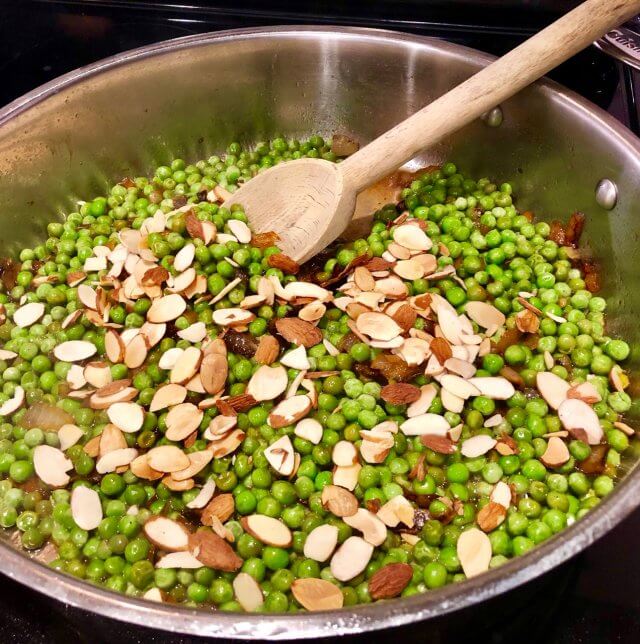 I enjoyed this with mashed potatoes and gravy and some Field Roast Celebration Roast (I cant help myself, I love the flavor of this thing and always stock up and freeze a few when they appear in stores around Thanksgiving!).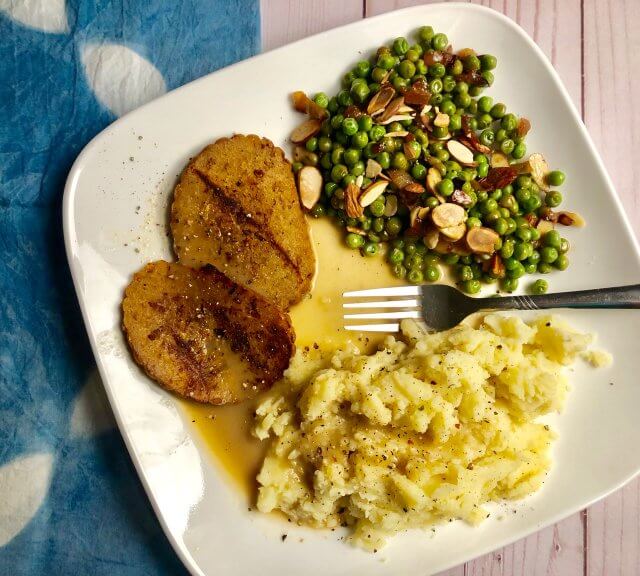 Peas and Onions with Toasted Almonds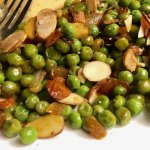 3 tbsp unsalted butter
8-12 ounces diced white onion
1/2 cup sherry or dry white wine
16 ounces frozen petite peas
1/2 cup sliced or slivered almonds
Put the almonds on a small baking sheet or aluminum foil fashioned into a baking tray, and toast for 10-12 minutes at 400 degrees. Don't let them burn, keep an eye on them.

In a medium saute pan over medium heat, melt the butter.

Add onions and stir to coat with butter. Sprinkle with salt and let cook for 10 minutes until browning nicely. Stir occasionally.

Add the sherry or wine and scrape up the delicious brown bits from the bottom of the pan (the fond, if you want to use cooking lingo). Stir in the frozen peas and cook for 3-5 more minutes.

Once the peas are all heated through, remove pan from heat and stir in toasted almonds. Season with salt and pepper to taste.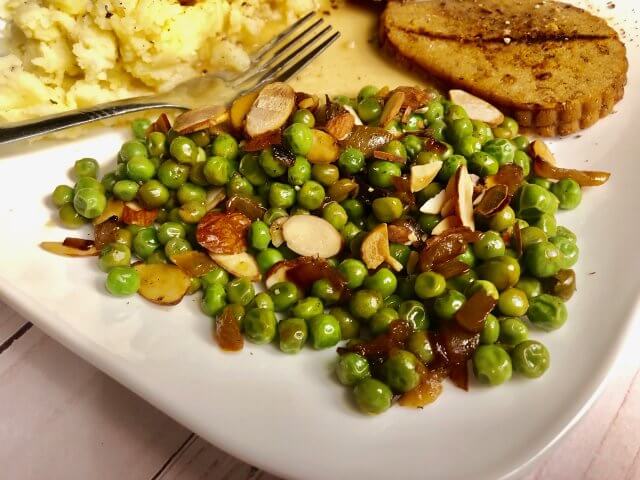 Lets talk about the folded edge aluminum foil pan though. I dont know why but it makes me feel like Im a college student when I whip out this little trick. Oh wait, I know why. Its because Im avoiding doing the adult thing of buying a small baking sheet to go in my convection oven, and am instead relying on cheap tricks to advance my avoidance of doing the right thing. Thats it. But I still do it here and there, usually when I need to toast nuts. Does anyone else do it too? I just want some solidarity in not doing the grownup thing from time to time.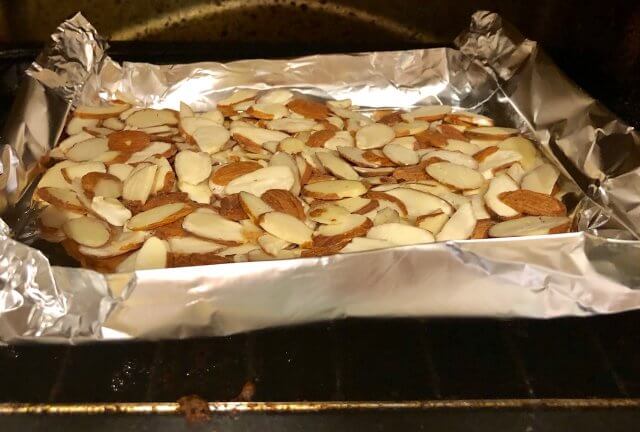 Find more side dishes in my recipes index!
The post Peas and Onions with Toasted Almonds appeared first on The April Blake.