Last week, I blogged about my love for my Bullet Journal. When I decided to start using this method, I did a little research on supplies and how to organize them so they're handy for daily use. This is what I settled on. It's working out well!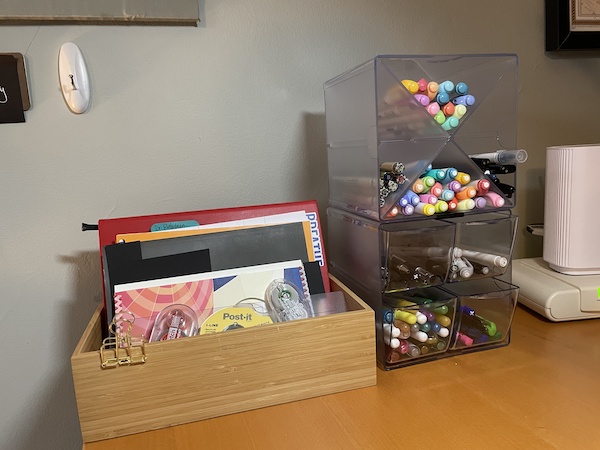 I have a little wooden box where I store my Bullet Journal and non-pen supplies. Next to it is a cube system that stores my pens in eight different categories.
I saw a YouTube video from Lauren Fairweather describing how she stores her pens. She recommended the Deflect-O Stackable Cubes. I was drawn to the compact footprint and the ability to create categories while storing a lot of pens. I ordered it from Amazon and it's been great. (Deflect-O Stackable Cube with 4 Drawers and Deflect-O Stackable CubeDeflecto with X Divider.)
Here are pens in their cubes (I opened the drawers a little so you could see the pens better):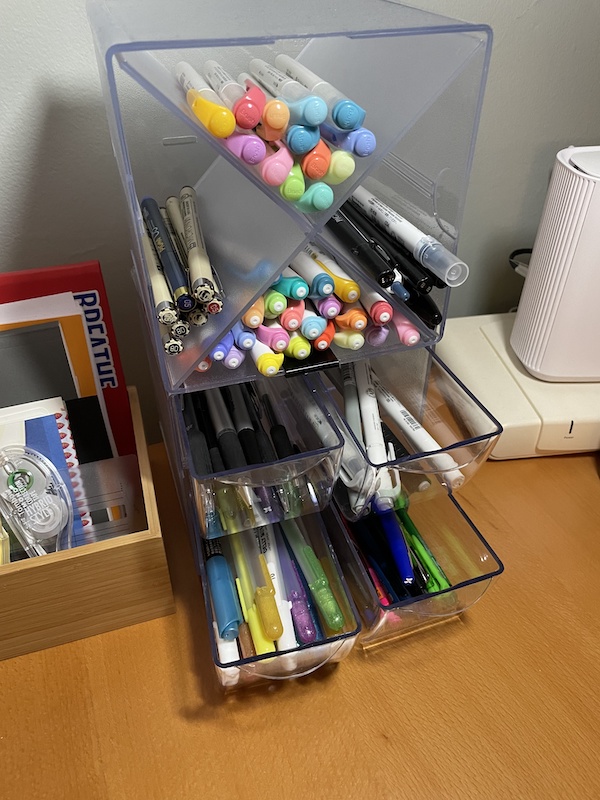 In case you're interested, my pen categories are:
Mildliner brush tip
Mildliner chisel tip
Pigma Micron pens (my preferred pens for writing in my journal)
Black brush pens
And in the drawers:
Other fine line black pens
Neutral markers
Metallic and white gel pens
Extra fine pens in colors
By far, the ones I use the most are the Mildliners and Micron pens. Every day I pick an accent color for the day and use both the brush and chisel pens to write the date and highlight what needs to be highlighted. That allows me to tell the days apart easily when I'm leafing through my journal. And it makes it pretty!
In that little wooden box to the left of my pens I store the non-pen components of my Bullet Journaling. I love that everything fits neatly in this open box and that's easy for me to get stuff out and put it away. In the box I store my Bullet Journal when I'm not using it, as well as the previous BuJo, some stencils that I had (and, frankly, haven't used much), a couple of straight edges and four handy little things: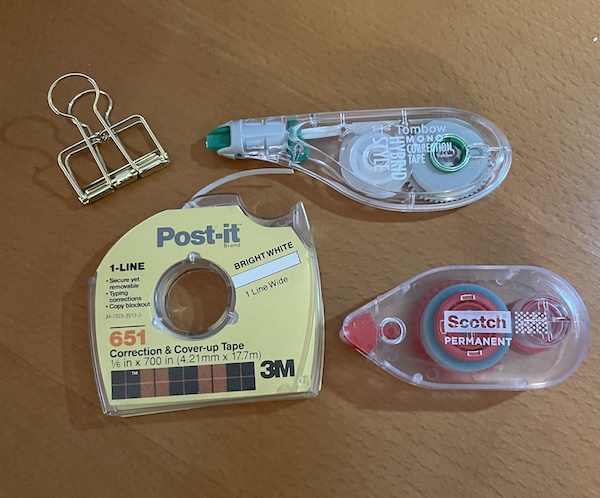 I try to embrace imperfection in my Bullet Journal, but sometimes I make mistakes that I want to correct. The Post-it® tape is great for small one-line corrections. It's easy to write over and easy to remove. But for bigger corrections or ones that are a different shape, the Tombow correction tape is excellent.
I use the Scotch® double-sided adhesive roller if I get a little crafty and want to tape some things into the journal. Here's an example from my January tasks page.

It allows me to be a little bit fanciful without going crazy.
I love to acquire and organize office (and art) supplies. I'm glad I have a compact system for organizing my Bullet Journal supplies that keeps everything within easy reach. These two organizers take up a footprint of only 6 inches by 16 inches on desk. And they make it easy for me to make my Bullet Journal a little decorative with little effort.