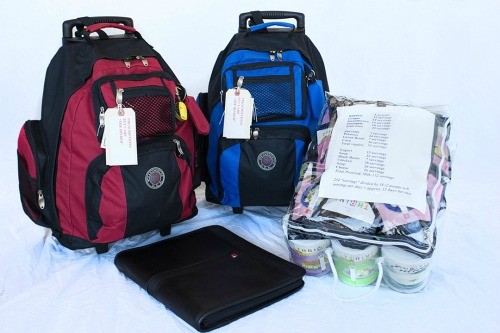 This post is all about how to make 72-hour kits that will last for a very long time. The food will be in a separate bag because as you know it goes bad, as in rancid. I keep my OTC medications separate as well. Boy does my FoodSaver work great for making bags that I can actually see through.
Please be careful where you store your 72-hour kits/bug-out bags. Heat is not kind to storing things in garages or your cars. Of course, if you live in cold areas, you will be just fine. These pictures are from when I lived in the desert.
In case you missed this post, Urban Survival Class: How to Make a Bug Out Lanyard
Jan reminded me in a comment that things can go bad in the heat. She is so right, I have been a chick who has always been prepared, but I realize some people are new to storing things for the long haul, as in preparing for an unforeseen emergency.
Please be careful where you store your emergency preparedness items, heat can destroy so many things. Please get in the habit of checking your "stuff" every six months in the house, the garage, and the car. Rotate is the name of the game. Check dates, and rotate, replace, or toss in the garbage.
I store my 72-hour kits in my garage with a list I keep in a clear zippered bag that I have put in my kit/storage bag and also in Mark's to keep everything dust-free. I have water stored right next to them with the water ready to grab and go.
My food storage is in my emergency food pantry in the house ready to pick up and load in the car if the roads are driveable. I store it in a zippered bag as well. I have some PRINTABLES for you below. I wrote this several years ago, so I'm updating it today.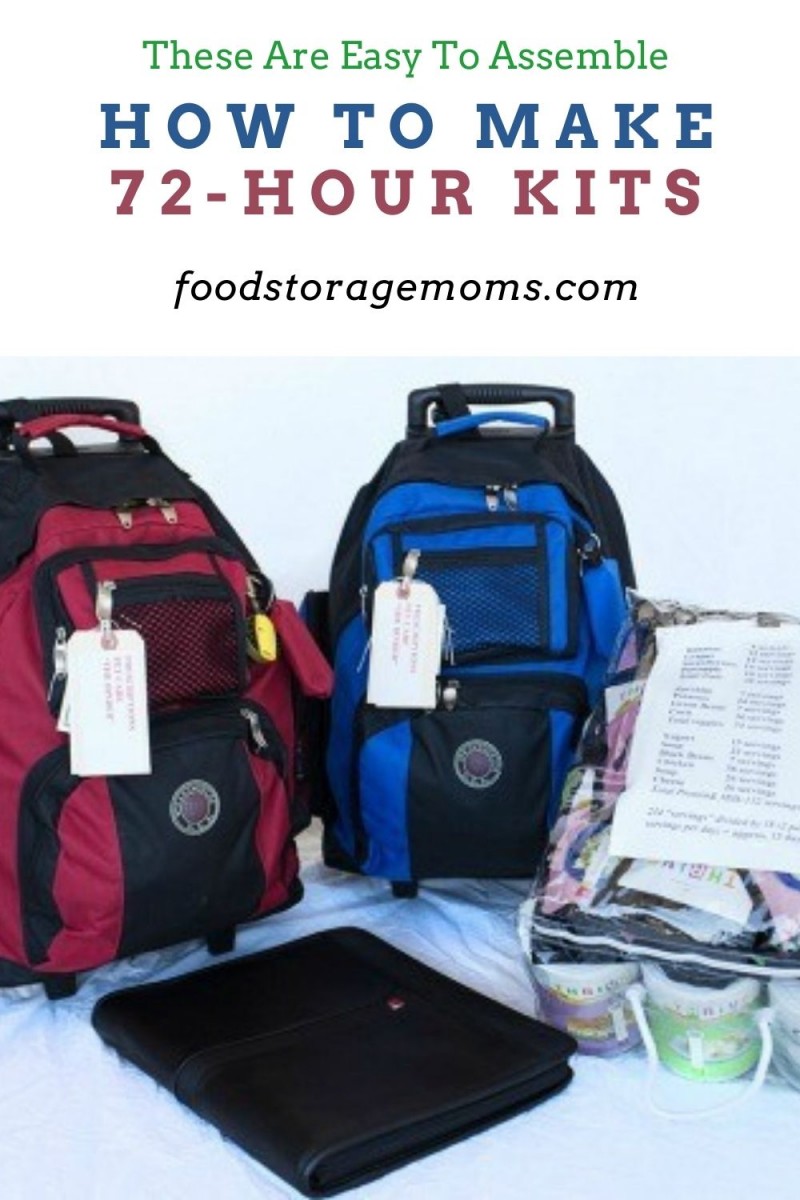 How To Make 72 Hour Kits
Stored in Bags
Water Storage
These are the water jugs I prefer. Water Bricks are my favorite because they have handles. I store these in clear sweater bags in my garage, ready to grab and go.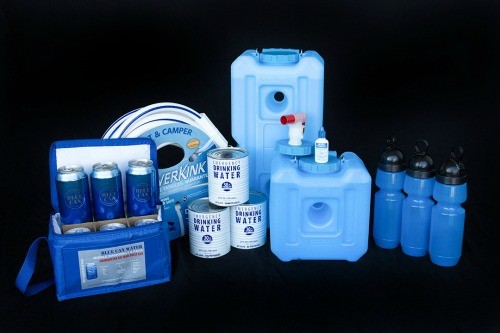 You can see the hose that is lead-free to fill my water containers with clean pure water. I add this Water Preserver because I only have to rotate the water every five years. I have the blue bottles: Berkey Sports Bottles in each 72-hour kit to purify our water if needed.
I also have cases of Blue Cans. Yes, they are expensive but they store for 50 years and they have a coating in each can so the water will never taste like metal.
Blue Can Water These are perfect for a college student or an elderly family member to have stored for emergencies. I found the cheapest place to buy these is at Brownells. If they are out of stock, sign up to be alerted when back in stock. I buy the 12-ounces 24 cans to a box. They stack so easily.
Trust me, they are worried about surviving if they can't leave their campus or care center. They come in 24 cans to a sturdy cardboard box. That's all I wanted for Christmas in 2016. Water in cases from Blue Can. I call them my "set and forget water."
I can picture myself enjoying sipping every last drop after a disaster. Yep, indeed it's the best tasting water. I ship these to my daughters for gifts. It's all about survival in my opinion.
Make 72-Hour Kits
I printed these on cardstock and placed them in page protectors. This way I never have to look again at what is in each of our 72-Hour Kits outer plastic bags (Mark and my kits) that keep our kits dust-free. Large Storage Bags and Medium Storage Bags
Make 72-Hour Kits Updated
Whistle
Compass
Blanket
Work gloves
Personal unit: shampoo, toothbrush, toothpaste, razor, shave gel, a bar of soap, liquid soap, sewing kit & lip balm
Basic unit: LED flashlight, batteries or a solar flashlight, poncho, paper, pencil, water purification tablets, garbage bags
First aid kit: safety pins, first aid book, 2 triple antibiotics, burn cream, non-latex gloves, gauze pads, butterfly bandages, aspirin, Ibuprofen, antacids, alcohol prep wipes, non-aspirin products, and any other products YOUR family requires for any special medical or other need. (*Please note, these I keep in a separate bag and I do rotate them to have fresh ones in my car, house, and 72-hour kit.)
Can opener
Toilet paper
Metal cups with silverware
N-95 masks
Matches
Goal Zero Solar flashlights
Safety Goggles
Latex-free gloves
Surgical kit with scissors
Bandanas
C.E.R.T. (Community Emergency Response Team) notebooks
Stethoscope kit and airway punch
Hand warmers
4-in-1 tool
Duct tape
Berkey sport bottle
Signal mirror
Headlamps
Multipurpose pocket knife
Cash: small bills like ones and fives
These are also printed in colors and attached to my sheets above to remind me again to grab these items:
FOOD
WATER
PRESCRIPTIONS
ESSENTIAL OILS
SILVER SOLUTION
CASH
FSM FREE Printable Emergency Binder Download  Please be patient for it to load and the PDF document should show up on your computer on the bottom left side of your laptop or computer monitor. Once the document finishes loading it will be ready to click and print. I prefer printing it on cardstock, and it's actually in color if you want to print with a color printer.
I hope I never have to leave my home for evacuation purposes, but Mark and I are prepared to grab and go. Please think of it this way when you make 72-hour kits. These are designed for 72-hours, but you may be gone for 2 weeks. Just giving you the heads up. You do not want to be a family that walks into a school, church facility, a Red Cross tent with nothing in your hands. If you do, you will be waiting to receive food and water. Keyword, waiting. I refuse to stand in line, I'm prepared. I hope you understand you must be prepared to take care of your own family.
The government may take days, weeks, or months to bring you a case of water if they can even get the water soon enough. Please do not depend on anyone but yourself. May God bless the civic clubs, churches, and schools to teach people to be prepared because they are not doing a very good job right now. If they are, people are not listening.
Thank you so much for those of you that get it, you are prepared, thank goodness. I love you for that. Linda
Here are the lists I designed years ago. You will pick, choose, and add what YOU and each family member need in their 72-hour kits.
How To Make One For-Small Pets
My Food Storage Bag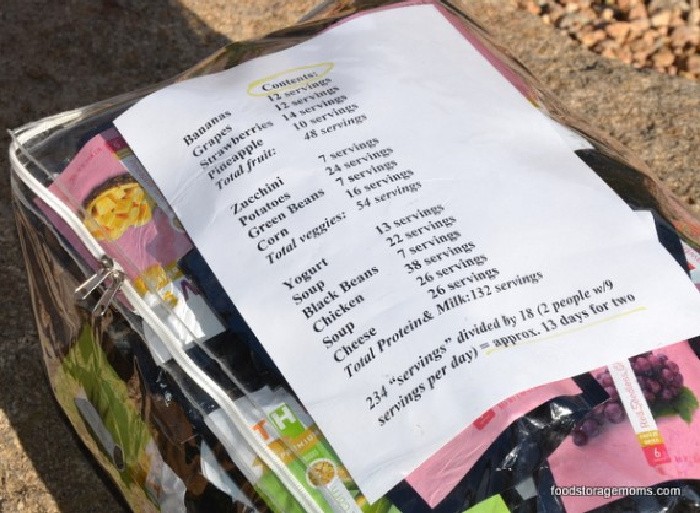 Contents In The Bag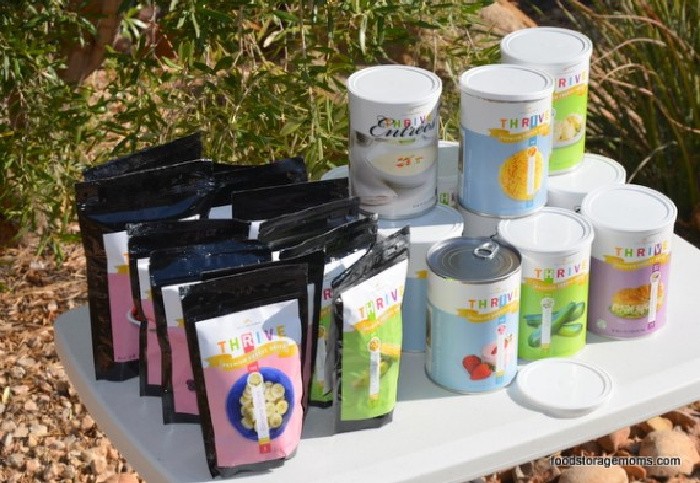 Because I have updated this post from many years ago, these products are probably no longer available. Here's the deal, I did not want to delete these food items, because you can add "cans' of these foods to a box or bag to grab and go. Just rotate them every year. I have seen short-term freeze-dried fruit in packets at Costco, that's a great option for one year.
You may have seen the tuna with crackers, those are great. You can see where I'm going with this, I'm sure. Substitute the food your family will eat.
My 72 Hour Kits-Fruits:
2 pineapple pouches-5 year shelf life
2 banana pouches-5 year shelf life
1 blackberry pouch-5 year shelf life
2 strawberry pouches-5 year shelf life
2 seedless grapes pouches-5 year shelf life
My 72 Hour Kits-Vegetables:
2 sweet corn pouches-5 year shelf life
1 green bean pouch-5 year shelf life- only the pantry can is available today
2 potato dices pantry cans-25 year shelf life
1 freeze-dried zucchini pantry can-25 year shelf life
My 72 Hour Kits-Protein & Milk Products:
2 baked potato cheese soup pantry cans-8 year shelf life-Only available in pouch size today
2 broccoli cheese soup pantry cans-8 year shelf life-out of stock-substituting baked potato soup today
1 strawberry yogurt bite pieces in a pantry can-25 year shelf life
2 cooked white chicken meat pantry cans-25 year shelf life
2 shredded Colby freeze-dried cheese pantry cans-shelf life 20 years
1 instant black beans-pantry can
The approximate total for these food items is $249.35 plus tax and shipping. (PRICES FROM 2015) Remember, this is 13 days worth of fabulous food. I wanted 13 days because I know there will be people who have not prepared for any disaster.
Final Word
If my neighborhood must evacuate and go to a shelter like a school, or a church, I will have a little extra to share. I must say, please be prepared because I cannot feed the whole neighborhood. I would need a semi to drive there. Just saying.
And do not count on the government to have water and food waiting for you at the school, church, or shelter. It might be days or weeks before anyone can deliver water, food, or anything else. We are responsible for ourselves and our families. No excuses.
With the exception of the soups and the yogurt bites, these are only vegetables, fruits, meat, and cheese. All you need is water. The advantage of freeze-dried products is that you can eat vegetables, fruit, yogurt bites, and meat right out of the can. Of course, the soup would taste better with hot water, cheese and veggies added. May God Bless this world, Linda
The post How To Make 72-Hour Kits appeared first on Food Storage Moms.