This whimsical and adorable DIY idea by Sea Lemon on YouTube is a great project to try your hands on this weekend. You can customize this owl to your preference and have it ready in just a few minutes. Try this craft now and put it on your bedroom wall or give this as a gift, either way, you'll surely love it.
Materials:
2 pieces of 3″ metal hoops
3mm x 2yds suede lace
Craft glue
Hot glue gun and glue sticks
Binder clips
Scissors
Craft thread
Sewing needle
Beads
Feathers
Directions:
Step 1
Add a drop of craft glue on the top center of the hoop, then start wrapping the lace around the, and hold it in place using a binder clip. Add more glue as you go around and continue wrapping the lace around adding more binder clips to hold it in place, then let it dry completely before removing all of the clips. Take that extra bit end and tie it around the hoop and knot, but do not cut the excess end of the lace yet. Repeat the same process on the other hoop, then set them both aside. To estimate how much thread you need to use, string your thread around the hoop three times and cut. Single thread a needle and tie the end in a knot in your hoop, then trim off the excess and loop the needle around the hoop and out of the loop that you made.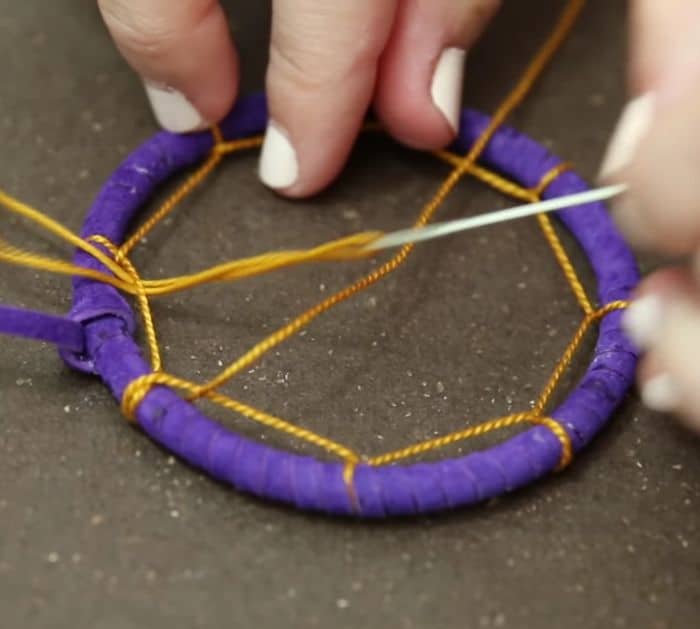 Step 2
Continue until you reach the 1st loop, then using the same motion, start looping around the pieces of thread that you made, and make sure to keep the loop in the center of the thread. Once at the middle and you want to stop looping, insert a bead and sew it in place then cut off the excess thread. Repeat this on the other hoop, then wrap a thread around both their middle to tie them together in place. Now, grab the excess lace of both hoops and knot the top together, and use this to hang your dreamcatcher on the wall. For the body of the owl, grab a 16″ long lace then fold it in half, and loop it around the bottom of the hoop. Repeat this and as much lace around the bottom of the hoop as you want, then insert the beads and knot them in place. Using hot glue, attach the feathers to the laces, then trim the lace if you want to shape the body of the owl better. Lastly, add some feathers at the top of the eyes for the eyebrows.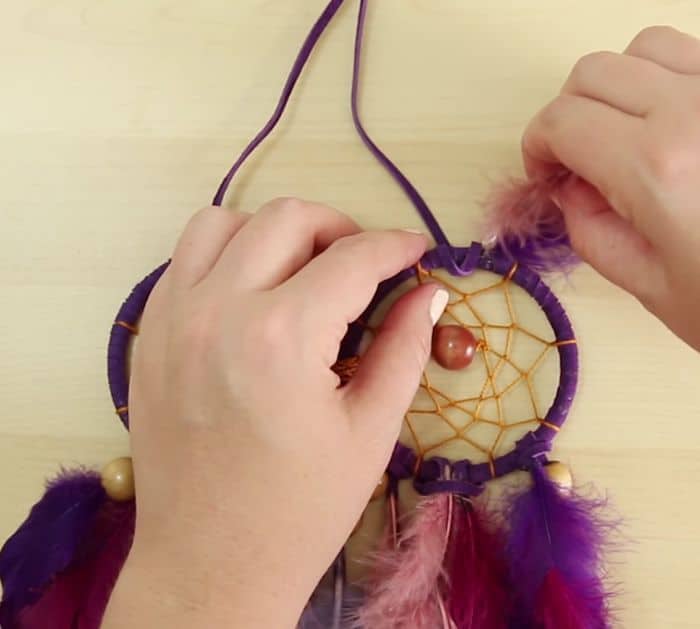 *All image credit belongs to Sea Lemon via YouTube. Follow and subscribe to her channel for more!
How To Make A Whimsical DIY Owl Dreamcatcher
The post How To Make A Whimsical DIY Owl Dreamcatcher appeared first on DIY Joy.