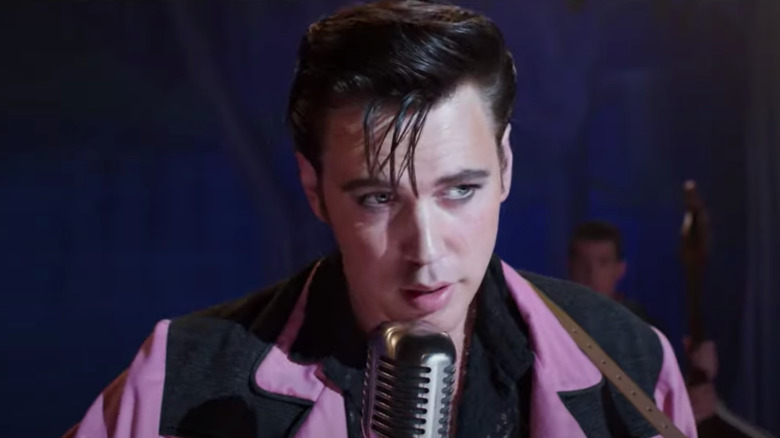 Baz Luhrmann is back! The Australian filmmaker is an artist that movie fans have extreme opinions about. Either you love Luhrmann's style, or you hate it. Luhrmann has been subverting expectations ever since he made his filmmaking debut with the 1992 romantic comedy "Strictly Ballroom." Luhrmann took a much different approach to the "dance comedy" than some movie fans were expecting.
Luhrmann's next films got even wilder. Even though Luhrmann's adaptation of William Shakespeare's "Romeo + Juliet" didn't change a word of the original text, the film was set in the modern day. Luhrmann's next film, "Moulin Rouge!" became one of the best movie musicals of the 21st Century. The eccentric musical takes place in Paris during the early 20th century but features songs from modern artists like Elton John, Madonna, Nat King Cole, The Police, Queen, and Phil Collins. It even inspired a stage adaptation of the same name. Luhrmann took a similar approach with his adaptation of "The Great Gatsby." Who says that the Roaring '20s can't have a little bit of Jay-Z?
Luhrmann's latest film, "Elvis," tells the story of the King of Rock 'n' Roll. Like all of Luhrmann's projects, "Elvis" has split critics down the middle. While Austin Butler's performance as the music icon has drawn the most attention, the film is stacked with an excellent cast. It's interesting to see how Luhrmann depicts the different figures in Elvis' life. Here is every main character in "Elvis," ranked from worst to best.
Scotty Moore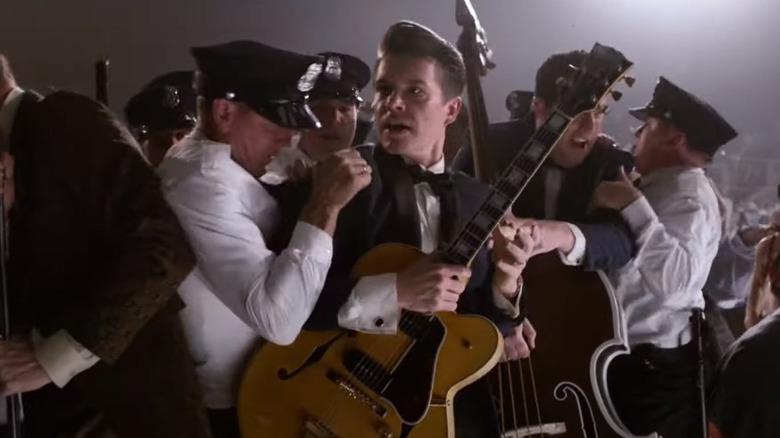 While Elvis was a singular voice in American music, he didn't single-handedly invigorate rock 'n' roll. Elvis was able to introduce American audiences to the emerging genre thanks to the hard work of his many collaborators. Even a casual Elvis fan can recognize the signature guitar riffs from songs like "Jailhouse Rock" or "Heartbreak Hotel." Ever wondered where those came from? Those groundbreaking chords were performed by Elvis' backing band, The Blue Moon Boys.
Scotty Moore was not just Elvis' guitarist." He was a very influential musician in his own right. In 2011, Rolling Stone Magazine ranked him as the 29th greatest guitarist of all time. Luhrmann samples many different artists in the soundtrack for "Elvis," but strangely, there's not a lot of attention paid to Moore and The Blue Moon Boys. They are depicted as one-note characters. In the film, Moore (played by Xavier Samuel) and the band seem to wholeheartedly support Elvis — no matter what.
Marion Keisker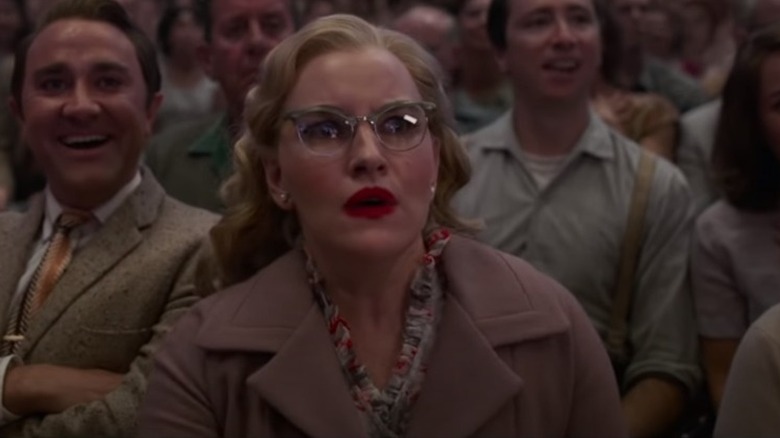 Marion Keisker isn't as well-known as some of the other famous figures on this list, but she played an important role in introducing the world to Elvis. Keisker was the first person to ever record Elvis performing. Although Keisker was interested in Elvis' music, she had no idea how the events of July 18, 1953, would go on to change American pop culture. Keisker was employed at Sun Records and presided over the Memphis Recording Service session during Elvis' first recordings of "That's When Your Heartache Begins" and "My Happiness."
Unfortunately, Keisker, portrayed by Kate Mulvany, is given little more than a cameo in "Elvis." While the film notes her importance, it doesn't spend a lot of time exploring Keisker's life beyond her role at Sun Records. In real life, Keisker went on to serve her country at the Ramstein U.S. Air Force base in Germany. She also worked in the Memphis division of the National Organization for Women.
Jimmie Rodgers Snow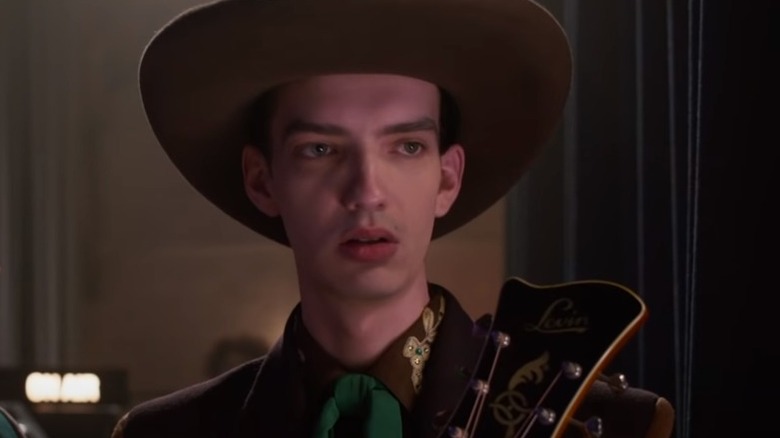 Elvis was unlike anything that the music industry had ever seen before. There weren't any white artists who did anything even remotely close to what Elvis was doing on stage. Colonel Tom Parker (played by Tom Hanks in the film) first becomes aware of Elvis after he is informed by one of his other performers, Jimmie Rodgers Snow (Kodi Smit-McPhee). Snow explains to Parker why Elvis has garnered a mixed-race fanbase. This inspires Parker to start taking Elvis more seriously.
While Snow's scenes in "Elvis" are mostly played for laughs, they are effective in showing the difference between Elvis and his contemporaries. It's a little amusing to see Kodi Smit-McPhee give such a silly performance, as he has recently earned acclaim for his more serious work in last year's "The Power of the Dog." While he doesn't have a whole lot of screen time in the film, Smit-McPhee makes his scenes memorable. It's funny when he begins trying to adopt an Elvis-esque persona for himself.
Priscilla Presley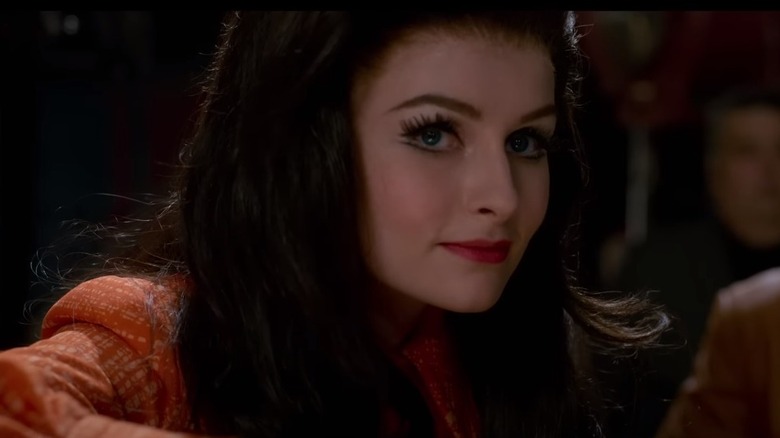 Elvis' relationship with his wife, Priscilla, is one of the most controversial aspects of his life. The couple met in 1959 when Elvis was serving in the Army. Priscilla was only 14 years old at the time. Elvis and Priscilla married in 1967. She would later give birth to Elvis' daughter, Lisa Marie, but the couple divorced in 1972.
Unfortunately, "Elvis" dreally spend that much time exploring Elvis and Priscilla's relationship. The scene when they first meet is played like a storybook romance. Considering how satirical some aspects of the film are, the more sincere moments feel odd. While Olivia DeJonge certainly gives a respectable performance, the film doesn't explore all of the hardships that the couple went through.
That being said, the real Priscilla Presley has praised Luhrmann's film. She wrote in a lengthy social media post that she "could feel how much work Baz and Austin put into trying to get it right." Presley admitted that she teared up during a screening of the film. Since the actual subject is happy, Priscilla Presley is saved from ranking any lower.
Jerry Schilling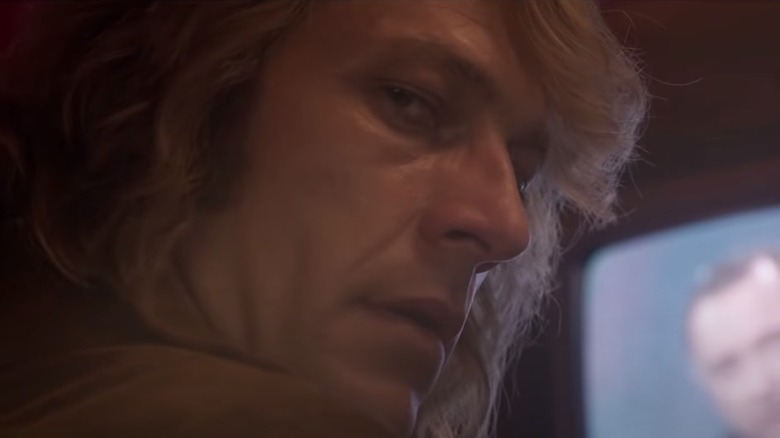 Elvis gained new collaborators at just the right moment in his career. After suffering through a period of creative disillusionment, Elvis was approached by the music producer Steve Binder and the talent manager Jerry Schilling. This is one of the most important moments in Luhrmann's film. He shows that after hearing feedback from someone who isn't Parker, Elvis is encouraged to improve his craft. He begins to shed the "family-friendly" persona that he had crafted and returns to the rebellious ways of his youth. Binder and Schilling allow Elvis to unlock his true potential.
However, Binder (Dacre Montgomery) is given more scenes in "Elvis." His influence on Elvis is clear from their interactions during the making of Elvis' comeback TV special. While Schilling's work isn't taken for granted, it's not something that Luhrmann chooses to emphasize. However, Luke Bracey still does a great job with the material that he is given. It's nice to see Bracey in a good movie. Although he is a very talented actor, his work in "GI. Joe: Retaliation," "The November Man," and 2015's "Point Break" do not showcase his range.
Vernon Presley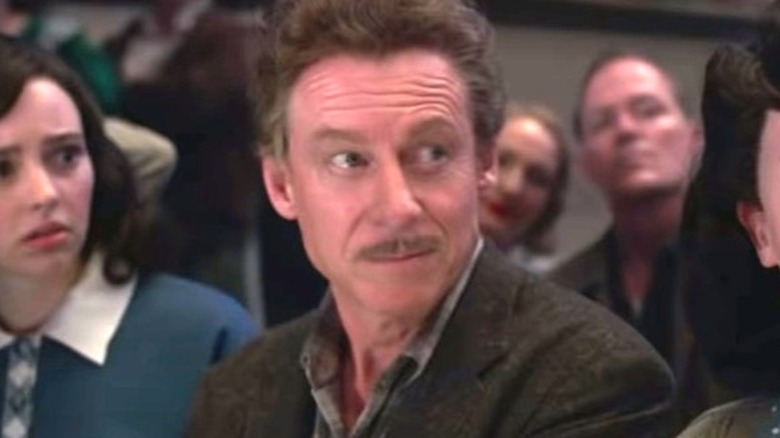 It's clear from most historical accounts that Elvis' most important familial relationship was with his mother, Gladys. Luhrmann chooses to emphasize Elvis' maternal relationship in the film. While he doesn't depict Elvis as being disrespectful towards his father, Vernon, it's clear that they were not quite as close. However, Vernon remains fiercely loyal to Elvis throughout his life. 
Although he is not given very much to do, Richard Roxburgh delivers a strong performance as Vernon. Roxborough was already familiar with Luhrmann's filmmaking style, as he had previously co-starred in "Moulin Rouge!" as the main villain, the Duke. Roxborough does a great job at showing how Vernon is deceived into signing away his son's future to Colonel Tom Parker. Parker overwhelms the Presley family with his deceptive promises. Vernon is helpless to resist his charisma. It's not an unimportant aspect of the film, but Vernon's smaller role results in a lower ranking.
Hank Snow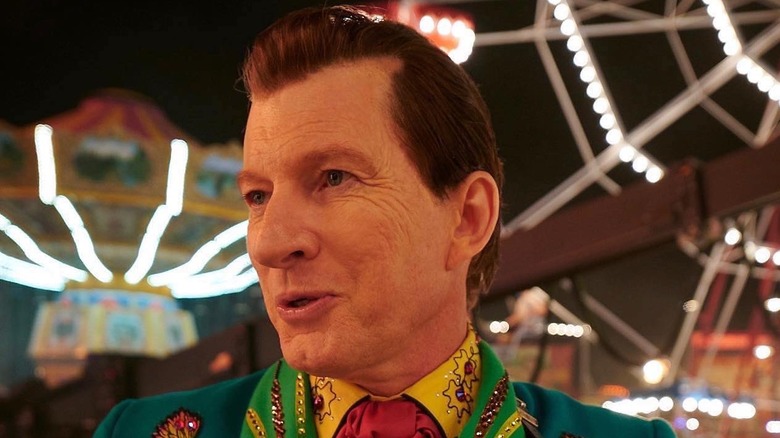 "Elvis" takes a moment to acknowledge how different the King's music was from any of the other artists of his generation. Elvis' rebellious, dynamic stage performances couldn't have been more distinct from the country and Western music that audiences were used to. Among those mainstream artists was Hank Snow, the popular country singer who helped spotlight Elvis during the Grand Ole Opry tour.
"Elvis" depicts Snow as an earnest, respectful elder musician. He's surprised by Elvis' stage presence but doesn't feel jealous of the young man's rise to success. The underrated character actor David Wenham gives a respectable performance during his brief scenes. Wenham has unfortunately not been given many great roles following his work in "The Lord of the Rings" trilogy. While it's clear that Snow was important to platforming Elvis, the film spends more time showing how Elvis' music drew inspiration from African-American artists, so Snow falls a little bit lower on the list.
Col. Tom Parker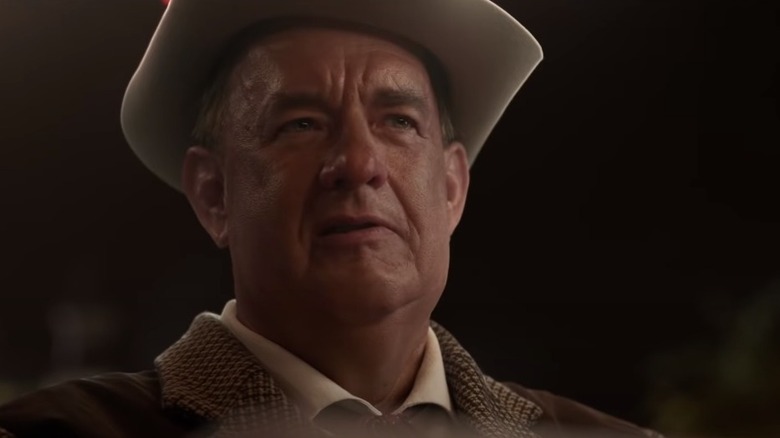 You can never doubt Tom Hanks' commitment. Hanks is one of the most versatile actors of his generation, and it's truly incredible to think of how much he has evolved since his early days. It's hard to believe that the goofy guy from "Splash," "You've Got Mail," and "Big" is the same man that gave such riveting dramatic performances in "Philadelphia," "Road to Perdition," "Saving Private Ryan," and "Captain Phillips." Given Hanks' unquestionably impressive track record, saying that his performance as Col. Tom Parker is his wildest swing yet is hardly a small statement.
That being said, Hanks takes a huge risk with his depiction of Elvis' manager. He dons layers of makeup and chews the scenery. Placing Parker in the middle of the list is completely appropriate. There are points in which Hanks' absurdity is genuinely hilarious and scenes where he is legitimately terrifying. However, there are also moments in which Hanks' performance is so silly that it takes all the momentum out of the story. He occasionally feels like he is trying to upstage Butler, which he should not be doing in a movie called "Elvis."
Luhrmann thinks that Elvis' dynamic with Parker was the defining relationship of his life. Does he get it right? Only somewhat.
B.B. King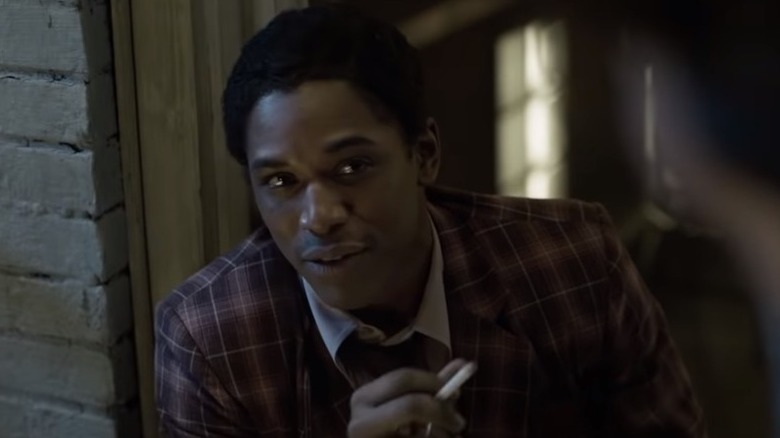 B.B. King was a singular artist in the music industry. It's about time that B.B. King received a biopic of his own, and thankfully, he's getting two. In addition to an official biopic that is being developed by B.B. King's estate, Wendell Pierce will be starring in the film "The Thrill Is On," which tells the story of King's friendship with the drummer Michael Zanetis. It will be exciting to see how both films chronicle King's tumultuous life. However, massive fans of the artist will be pleased to know that "Elvis" also does the late performer justice.
B.B. King only appears briefly in "Elvis," but Kelvin Harrison Jr. nails his depiction. If you've seen 2022's "Cyrano," you probably already know that Harrison has an incredible vocal range. His renditions of King's iconic songs are simply astounding. "Elvis" doesn't tell King's entire life story, but it's not trying to. It simply spends an adequate amount of time honoring how Elvis and King interacted. However, the other Black artists that were part of Elvis' journey play slightly larger roles in the film, so they rank ahead of King.
Little Richard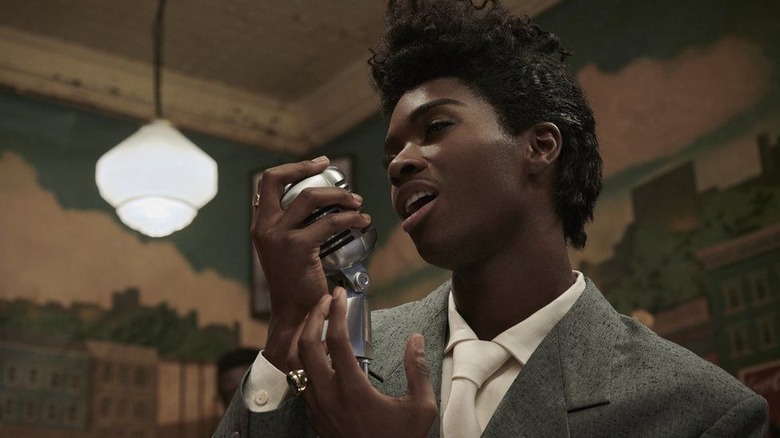 In 2020, the music industry lost an absolute titan. Little Richard, also known as the "Architect of Rock and Roll," tragically passed away at the age of 87. Little Richard essentially created the genre that Elvis would make world famous. "Tutti Frutti" changed the music industry when it debuted in 1955. Many famous musicians credit Little Richard's pioneering efforts for their success. Mick Jagger, Ringo Starr, Keith Richards, Quincy Jones, and Steven Van Zandt have all paid tribute to the lost legend.
Nailing the depiction of Little Richard came with a lot of responsibility. Any "Elvis" biopic would have to pay tribute to his legacy. Little Richard had complimented Elvis on how he introduced rock and roll to a large, mainstream audience. Thankfully, Luhrmann takes an appropriate amount of time to pay homage to Little Richard.
It's about time that a new Little Richard biopic is greenlit, and if it ever is, it would be great to see Alton Mason reprise the role. Even though he has only a few scenes with Elvis, Mason captures the essence of what made Little Richard so great. Amazingly, it is Mason's first feature film credit.
Willie Mae 'Big Mama' Thornton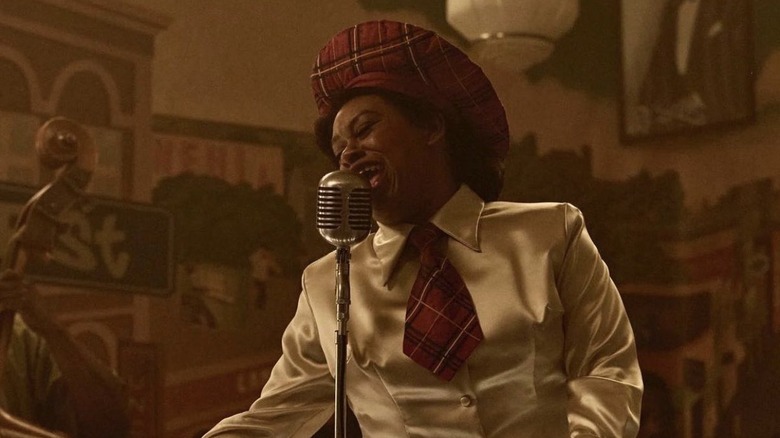 Elvis drew heavy inspiration from Black artists throughout his career. Both Baz Luhrmann and Austin Butler have expressed their desire to make "Elvis" a respectful tribute to the cultural legacy of the Black performers who shaped Elvis. Although the film dedicates a fair amount of time to the people that influenced "Elvis," it's also a multifaceted biopic that is tackling many aspects of the singer's career. There could be an entire movie or miniseries dedicated solely to the importance of African-American culture in Elvis' work. One subplot in a single film is hardly enough time to flesh out all of the details.
However, Luhrmann nails the depiction of Willie Mae Thornton, the iconic R&B artist that performed under the moniker "Big Mama." Thornton was one of the most groundbreaking Black performers of all time. She made a major impression on a young Elvis. Thornton was the first artist to record the iconic Leiber and Stoller song "Hound Dog." "Hound Dog" would go on to become one of Elvis' biggest hits.
Shonka Dukureh gives a breakout performance as Thornton. Her powerful rendition of "Hound Dog" is one of the most memorable moments in the film. The image of her performing remains etched in the mind of an adolescent Elvis. 
Steve Binder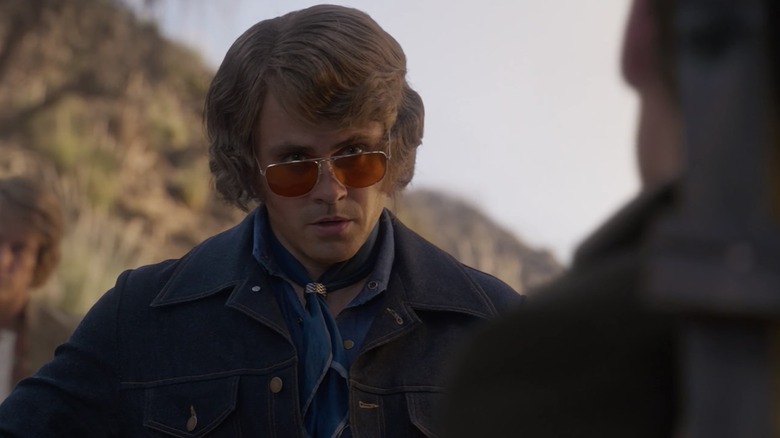 Are any "Stranger Things" fans out there? You may have seen that Billy Hargrove himself, Dacre Montgomery, pops up in "Elvis" as Steve Binder. It's a much different role than Billy. While Billy is a detestable bully, Binder is an important figure in Elvis' life who defined the latter half of his career. In the film, Elvis struggles to stay true to himself. Luhrmann shows how Col. Tom Parker tries to influence Elvis and turn him into a more "family-friendly" performer. Parker does not approve of the wild persona that Elvis is trying to craft. He even convinces Elvis to record a Christmas album, which is specifically designed to appeal to audiences of all ages.
Elvis became a legend by disrupting the status quo. When Elvis first meets Binder, his future collaborator tells him like it is. Binder does not hide the fact that he thinks that Elvis' new records have been disappointing. Being critical of one of the most famous musicians in the world to his face takes courage. However, Binder's honesty is exactly what Elvis needs to hear. Binder pushes Elvis to unlock his true potential.
Unlike Parker, Binder does not try to take advantage of Elvis. The scenes in which Binder helps create the '68 comeback special are some of the most entertaining moments in the film. If you want to be even more impressed with Montgomery, just watch any interview that he has done. You might be surprised to learn that he's British!
Gladys Presley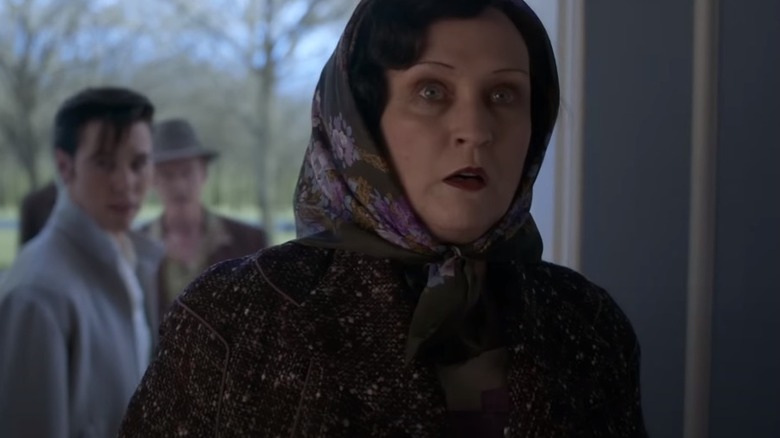 Elvis' life was defined by his relationship with his mother. Historians have noted that she was always the most important woman in his life. Although Elvis had many romantic relationships with different women, he remained loyal to Gladys. Nailing the depiction of Gladys is one of the most important things that any "Elvis" biopic must do. Thankfully, Helen Thomas delivers a fantastic performance. While some scenes in "Elvis" feel very melodramatic, all of the moments between Butler and Thomas feel completely sincere.
"Elvis" is a very long movie. At 159 minutes, the film could easily have become dull. Viewers are probably more interested in seeing Elvis performing on stage and not as invested in the slower moments during his childhood. However, the opening act of "Elvis" is effective because of how strong Thomas' performance is. She does a great job at showing where Elvis came from. He was raised in poverty and learned that hard work was the only way to improve his circumstances. Elvis' drive to keep pushing himself stems from the lessons that his mother taught him.
Elvis' parents are sidelined towards the end of the film. Luhrmann chooses to focus on Elvis' relationship with his manager, Colonel Tom Parker. While Vernon isn't given as much to do in the later scenes, Gladys remains just as important. 
Elvis Presley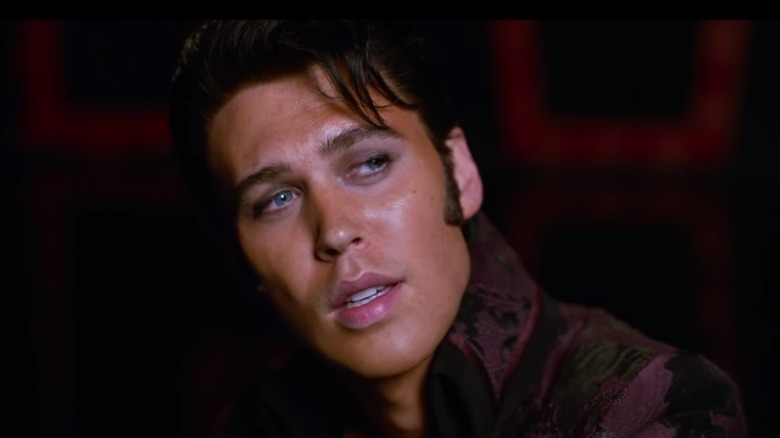 The No. 1 choice is rather obvious, but Austin Butler truly delivers a tour de force performance as Elvis Presley. It was a role that he fought hard to get. Butler beat out actors like Miles Teller, Ansel Elgort, Aaron Taylor-Johnson, and Harry Styles for the part. Given the tremendous expectations that come with playing one of the most famous performers in American history, it was no easy task.
Butler also had to compete against other depictions of Elvis. Kurt Russell had already given a pretty phenomenal performance as the King in John Carpenter's 1979 television film "Elvis," and Jonathan Rhys-Meyers earned praise for his nuanced take on the icon in the 2005 biographical CBS miniseries "Elvis: The Early Years." It's also worth noting that Elvis himself starred in many films during his lifetime, including "Blue Hawaii," "Jailhouse Rock," "King Creole," and "The Trouble With Girls." 
That being said, Butler still managed to take a unique spin on Elvis. He delves into Elvis' insecurities. He's haunted by the death of his brother and feels like he has not done enough to provide for his parents. Elvis struggles to define his image. When his fans accuse him of selling out, Elvis reverts to the rebellious persona that had made him so famous in the first place. Butler is utterly captivating when he is on stage. Although "Elvis" is hardly a perfect film, every note of Butler's performance is perfect. 
Read this next: The 14 Greatest Biopics Of The 21st Century
The post Every Main Character in Elvis Ranked Worst to Best appeared first on /Film.