The combination of grill roasted rich prunes and earthy ancho chilies mixed with grilled chicken is a winning combination! 
Before you say, "Whaaaaaa the? Prunes and chicken??" Just take a deep breath and trust me when I say this Grilled Chicken with Ancho Chilies and Prunes is an amazing combination.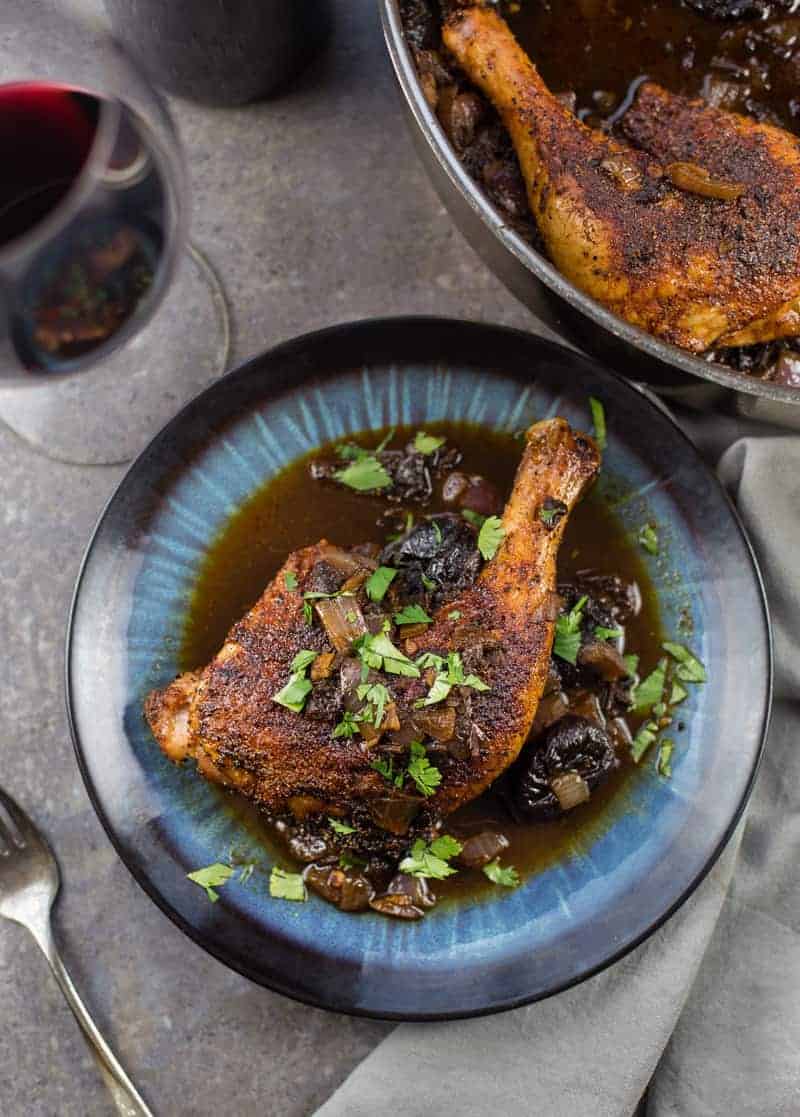 [feast_advanced_jump_to]
There's an awesome group of wine bloggers I'm friends with and we get together (virtually) a couple times a year to taste wines from Pedroncelli Winery out of Sonoma County. But instead of just tasting wines and talking about wine notes (which can often be a bit boring!), we all make a recipe chosen by the winery to pair with a specific wine and chat about the food pairing while talking to the winemaker. Every once in awhile they throw in a curveball ingredient, like prunes.
This particular dish was inspired by this New York Times recipe, which called for cooking the chicken over a large sauté pan, then creating a sauce with sherry, miso, prunes, and soaked dried ancho chilies.
But you guys know I never play by the rules. Why cook indoors when you have a grill?!
So we adapted the recipe for outdoor cooking.
Ingredients
We start with good chicken. Specifically we buy a whole roaster chicken at the grocery store and we quarter it. Or you can ask your butcher to do this.
Dried Ancho Chile: In the Mexican aisle of most grocery stores is the dried chile peppers. You want to get the ancho peppers versus others because it has a low heat level and is slightly sweet. We are going to rehydrate them. Fresh ancho is not a great alternative because they are too firm in texture.
Dried Prunes: We buy the dried prunes in a box to use. The raisin like flavor accentuates as we cook it.
Seasoning: We use your poultry, or chicken seasoning, to flavor the chicken before grilling and we use olive oil to coat the chicken with a binder.
Onions and Garlic: After a saute, the onions and garlic add a nice base flavor to the liquids.
Liquids: We use a dry white wine like chardonnay or pinot gris and chicken stock to form a liquid base. We reduce it to intensify the flavor.
Savory Flavor: We finish with some miso paste to add a rich savory flavor as well as cilantro for aromatics and to brighten the rich dish. Cumin adds an earthy flavor and the balsamic vinegar adds acidity.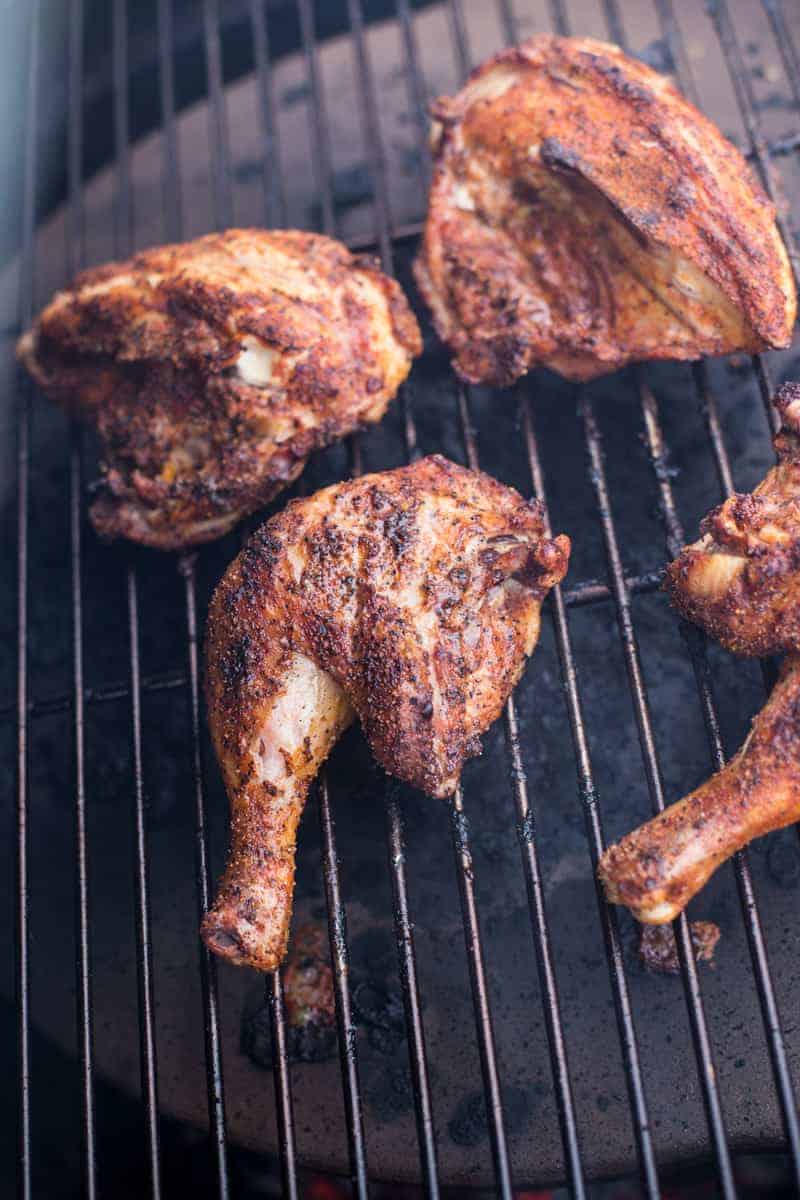 How to make Grilled Chicken with Ancho Chilies and Prune Sauce
Place dried chilies in a bowl and add near boiling water, and let it sit for at least 30 minutes or until the chilies are soft and rehydrated. We do this while the grill is warming up.
Start by grilling the chicken at 400 degrees F. We cooked on our Big Green Egg with a couple wood chunks mixed with the coals for extra smoky flavor, then increased the temperature to 400 degrees F towards the end to get some nice grill marks and a crispy crust.
Cook chicken until it reaches 160 degrees F using a good digital thermometer like the Thermoworks Thermapen One.
When chicken is done, remove it and set it aside, but keep the grill going if you plan to finish the prune sauce and chicken on the grill.
---
Related Article: Read our feature on the perfect chicken temperature. It's likely not the temperature you grew up on.
---
Big Green Egg or Kamado Set Up: Grill temperature at 400 degrees Fahrenheit with the convEGGTor plate on (legs up) for indirect heat.
For other grill set ups use two-zone grilling method and start indirect and finish direct.
Tools
Be sure you have long tongs, it makes it easier when grilling the chicken. Also a good instant read meat thermometer is important.
For the Ancho Chili and Prune Sauce:
Note: you can do this section on your stovetop, but we are giving instructions for cooking it on your grill (we're still using our Big Green Egg for this part). You can see the heat plate below that helps avoid scorching the pan if it was direct flame under, but inside the BGE it's plenty hot.
Place a large skillet directly on hot grill and add olive oil, onion, and garlic to sauté until soft.
Next add the seasonings, some white wine, chicken stock, and miso.
Next add the chicken pieces, the softened dried chilies (removed from the water), and the prunes. Stir together, close lid, then let those bad boys mingle and become good friends, around 15-20 mins.
Alternatively, you can do all of the steps (minus the chicken) on your stovetop while the chicken is grilling, and then transfer outside to add the chicken pieces to finish the cooking on the grill. If you feel like there isn't enough liquid, add more stock and miso and taste for flavor.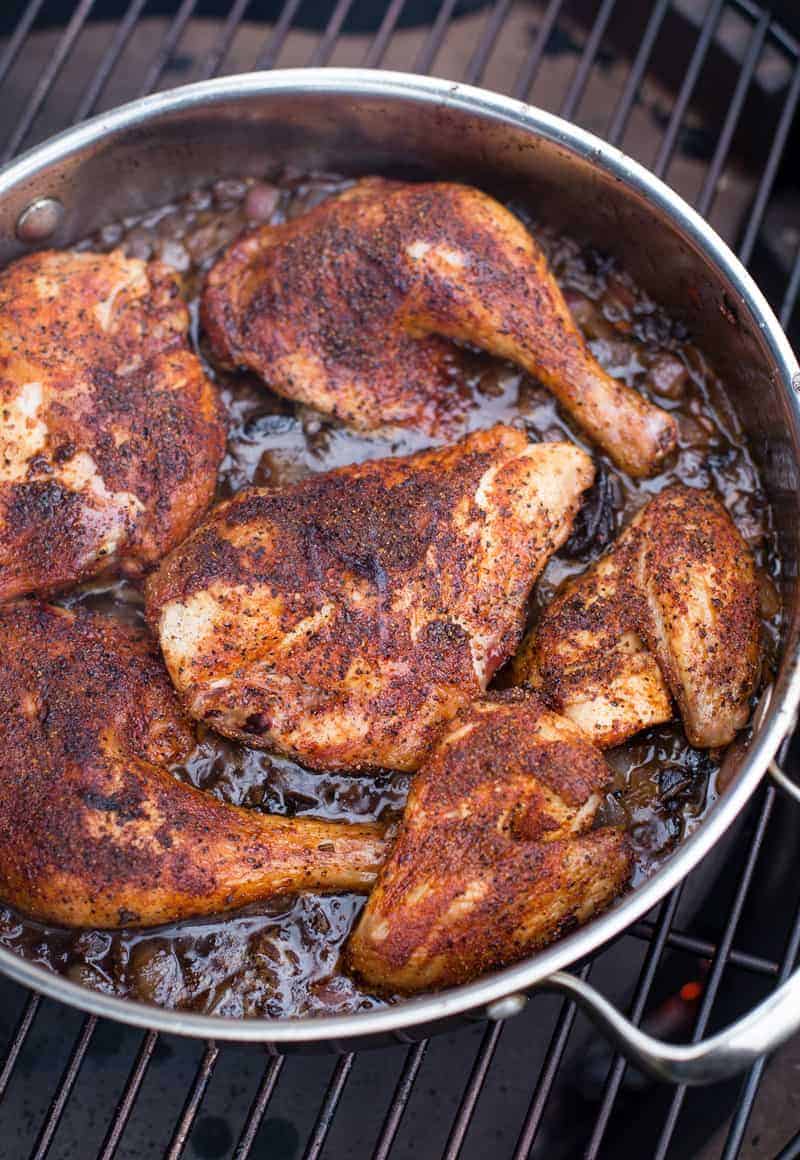 Just look at that crispy chicken and all of those flavorful juices! You know it's gonna be a good meal.
Wine Pairing
We've got a lot of flavors going on in this dish. The crispy grilled chicken, the earthy chiles soaked in that broth, and the slight sweetness from this rich prunes. I like to bring out those smoky and earthy flavors when we can. Some Syrahs will do, especially if they're well balanced and not too rich in textures.
Those from the Rhone Valley would work quite well with this. Cabernet Sauvignon can also be a surprising pick. Just make sure it's not a heavy or overly tannic Cab so it doesn't overpower the dish.
Other Grilled Chicken Recipes
Check out our round up grilled chicken recipes or browse from these awesome recipes. Or check out our complete guide on how to grill chicken.
This recipe was originally published in July of 2018 and updated with more details on ingredients and nutritional information in May of 2023.
Mary (a certified sommelier and recipe developer) and Sean (backyard pitmaster) are co-authors of the critically acclaimed cookbook, Fire + Wine, and have been creating content for the IACP nominated website Vindulge since 2009. They live in Oregon on a farm just outside Portland.
Tried this recipe? Give us a star rating and we would love to see! Mention @vindulge or use the hashtag #vindulge on all the social media handles. And consider subscribing to our newsletter where we drop all our favorite ideas and inspirations every week.
If you like this recipe we'd truly appreciate it if you would give this recipe a star review! And if you share any of your pics on Instagram use the hashtag #vindulge. We LOVE to see it when you cook our recipes.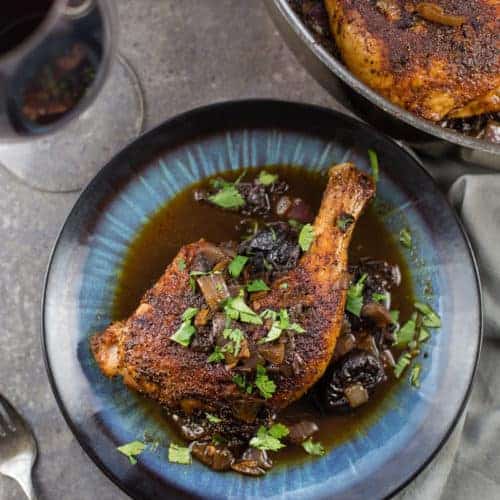 Ancho Grilled Chicken Recipe with Ancho and Prune Sauce
Combine grill roasted rich prunes and earthy ancho chilies mixed with grilled chicken for a unique and delicious chicken dinner. 
*Adapted from a New York Times recipe, provided by Pedroncelli Winery (link in notes below).
Print
Pin
Rate
Total Time:
1

hour
15

minutes
Ingredients
1

whole chicken, cut up into 6 pieces (buy pre cut or ask your butcher to cut a whole roaster chicken into pieces for you)

2

tablespoons

extra virgin olive oil

1 for the chicken, 1 for the sauce

¼

cup

chicken seasoning
Ancho Prune Sauce
12

dried ancho chilies

1

small

red onion, chopped

2

cloves

garlic, diced

1 ½

teaspoons

cumin

¼

cup

chicken stock

¼

cup

dry white wine

1

tablespoon

miso paste

12

pitted prunes, sliced in half

1

tablespoons

balsamic vinegar

1

tablespoon

cilantro, chopped

(for garnish)
Instructions
To Grill the Chicken
Preparation: Preheat your grill to 400 degrees. Coat the chicken with olive oil, then liberally coat the chicken with your favorite chicken seasoning. 

Place chicken on grill on indirect heat and cook about 30 – 45 minutes minutes. 

When the chicken gets to around 150 degrees internal temperature place on direct heat to get some char marks. 

Remove the chicken when the internal temperature of the chicken breast reaches 160 degrees F.
For the Ancho Chili and Prune Sauce
Hydrate: Place the ancho chilies in a small bowl, cover with near boiling water and set aside. (boiling is fine too, just pull it off right when the bubbles start)

Sauté: In a large saucepan set to medium heat (or directly on the hot grill) add 1 tablespoon olive oil and the onions. Let the onions soften (around 5 minutes), then add garlic, and mix together for one minute. Add the cumin, stock, wine, and miso.

Simmer: Drain the chilies and cut in half to remove seeds and core. Chop the chilies and add to the sauce. Next add the prunes and the grilled chicken pieces. Return the pot to the grill (or leave on the stovetop). Cover and simmer for 20 minutes, basting 1-2 times to get some of those delicious juices on the chicken. Remove from heat. 

Serve: Serve by placing a chicken piece on a plate and top with loads of that tasty sauce with the chilies and prunes. 
Notes
*For part 2, making the sauce, you can make it directly on the grill or on your stovetop. You may have more control over the process while doing it on your stovetop, and the timing and temperature will be more consistent. Doing it outside is certainly more fun, but the times may very as your temperature may fluctuate more if you keep your lid open too long. Cook by look, meaning cook the onions until they look like they have softened, and then add more liquids if the sauce looks like it's thinking out too much. 
*Adapted from this New York Times recipe, provided by Pedroncelli Winery (link in notes).
Find the perfect wine pairing at the Vindulge Wine Shop
Nutrition
Calories:
530
kcal
|
Carbohydrates:
101
g
|
Protein:
14
g
|
Fat:
14
g
|
Saturated Fat:
2
g
|
Polyunsaturated Fat:
4
g
|
Monounsaturated Fat:
6
g
|
Cholesterol:
1
mg
|
Sodium:
282
mg
|
Potassium:
2299
mg
|
Fiber:
33
g
|
Sugar:
57
g
|
Vitamin A:
28207
IU
|
Vitamin C:
36
mg
|
Calcium:
123
mg
|
Iron:
9
mg
The wines in this post were provided as samples for review. See my review policy here. 
The post Ancho Grilled Chicken with Prune Sauce appeared first on Vindulge.