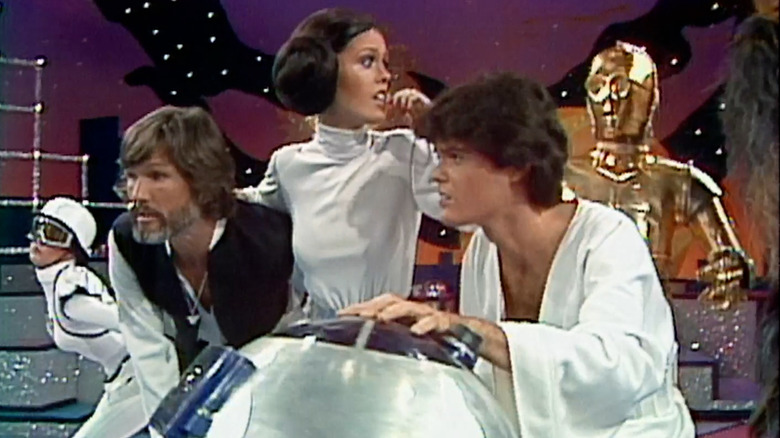 It is downright impossible for many of us to imagine a world without "Star Wars," but people who were born before 1977 did, indeed, live in that world. However, there is simply the world before George Lucas changed it with his brilliant sci-fi masterpiece, and the world after. The world after was unbelievably hungry for more, and that resulted in one of the most infamous trainwrecks in history known as "The Star Wars Holiday Special." Now, a new documentary is going to uncover the secrets behind this infamous disaster.
"A Disturbance in the Force" is directed by Jeremy Coon and Steve Kozak, with the filmmakers doing a deep dive to discover just how this special -- which aired once and only once -- managed to come about in the first place. The doc is set to premiere at SXSW in Austin, Texas, next week but, for now, we've got a trailer to offer a glimpse at what they've found. Let's have a look.
A Disturbance In The Force Trailer Unravels A Star Wars Mystery
The narration for the doc is done in the style of Darth Vader, naturally, and helps tee up the ball for the mysterious disaster that aired on CBS on that fateful November night in 1978. The doc is loaded with interviews from celebrity fans, with Seth Green, Weird Al Yankovic, Paul Scheer, Taran Killam, Donny Osmond, Gilbert Gottfried, Bonnie Burton, Bruce Vilanch, and the director of the special, Steve Binder, taking part. An official synopsis for the film reads as follows:
In 1977, "Star Wars" became a cultural phenomenon that single-handedly revitalized a stagnant film industry, and forever changed how films were sold, made, and marketed. Movies would never be the same again. A year later, neither would television. In 1978, CBS aired the two-hour "Star Wars Holiday Special" during the week of Thanksgiving and was watched by 13 million people. It never re-aired. While some fans of the franchise are aware of this dark secret, this bizarre two hours of television still remains relatively unknown among the general public. Simply put, we will answer how and why did the "Holiday Special" get made.
Lucasfilm, more specifically George Lucas, has pretty much buried the special, with no official VHS, DVD, or any sort of release to speak of. It's a fascinating relic of one of the biggest franchises in the world, and it looks like this doc will shed some much-needed light on the situation.
"A Disturbance in the Force" does not yet have a release date, but look for some initial reactions and possibly some news on that front following its premiere at SXSW next week.
Read this next: Star Wars Deleted Scenes That Could've Changed Everything
The post A Disturbance In The Force Trailer: New Doc Looks Back At The Maligned Star Wars Holiday Special appeared first on /Film.