Have fun with these awesome air dry clay ideas for your whole family!
Air dry clay is a crafting material that is super easy to use and perfect for adults and children!
Not only is air dry lay easy to use, but it's affordable and perfect for beginners.
It can be used to make so many things, opening the door for tons of amazing DIY handmade gift ideas!
If you're interested in getting started with air dry clay, or you already love this medium and need some inspiration, I've put together a list of easy air dry clay ideas that anyone can do.
Before I get into that, here is a quick explanation of what air dry clay is for those who don't know.
What is Air Dry Clay?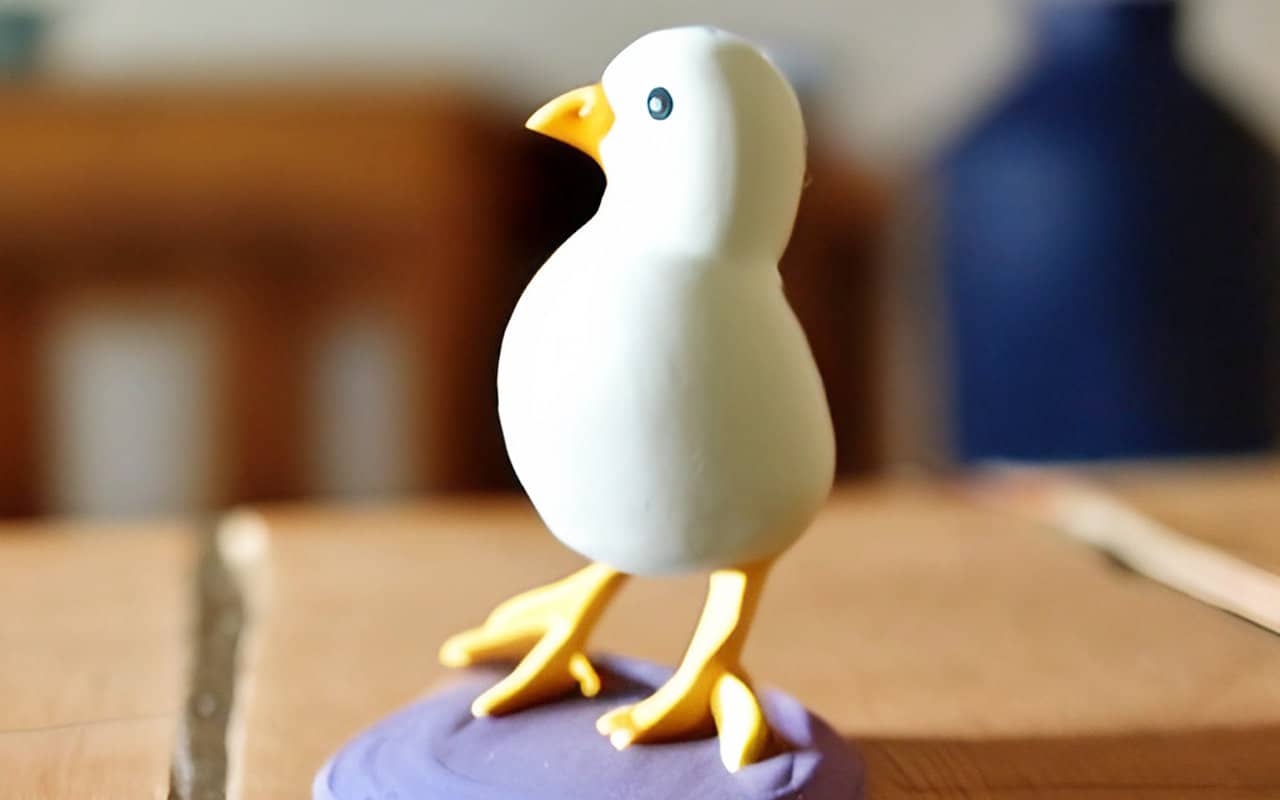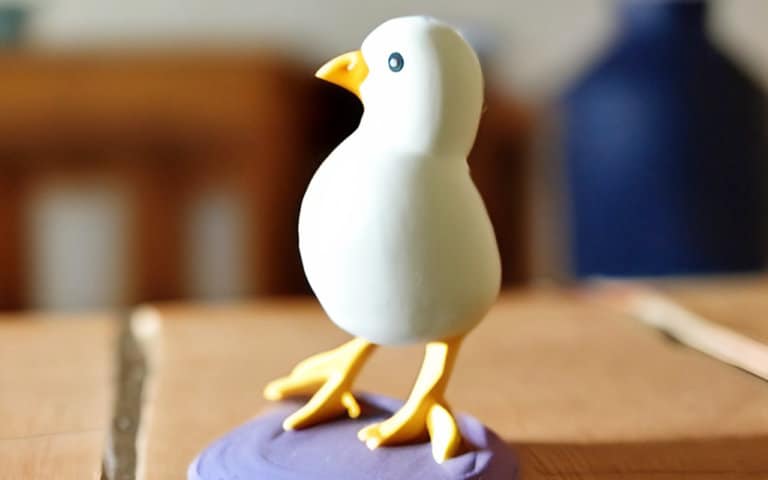 Air dry clay is a type of clay that does not need to be heated like traditional clays, such as polymer clay.
It hardens and cures at room temperature and can be painted and decorated once dry.
You can paint your dried projects with tempera and acrylic paints, but the clay can also be colored with pens and markers.
You don't need any special tools to create beautiful things with air dry clay! For all of these amazing air dry clay ideas, you only need the clay and your imagination.
However, having a craft knife and rolling pin comes in handy depending on the project you are working on.
There are also tons of things you can do to make your air dry clay projects unique!
Things you can do with air dry clay:
Add essential oils to create a diffuser.
Use coarse coffee grounds to create a speckled texture.
Use rubber stamps to create textures.
What is the Best Air Dry Clay to Use?
The type of air dry clay you choose can depend on your unique project.
However, Crayola Air Dry Clay is perfect for beginners!
Because it's a Crayola project, you can expect to clean up quickly and be easy to use.
Mont Marte air dry clay is also suitable for beginners and crafters of all levels.
You can purchase this clay in white or brown, depending on the look you are going for.
If you're just starting out, I would suggest sticking to affordable clays and upgrading as you expand your skills.
Super Easy Air Dry Clay Ideas to Try
1. Bowls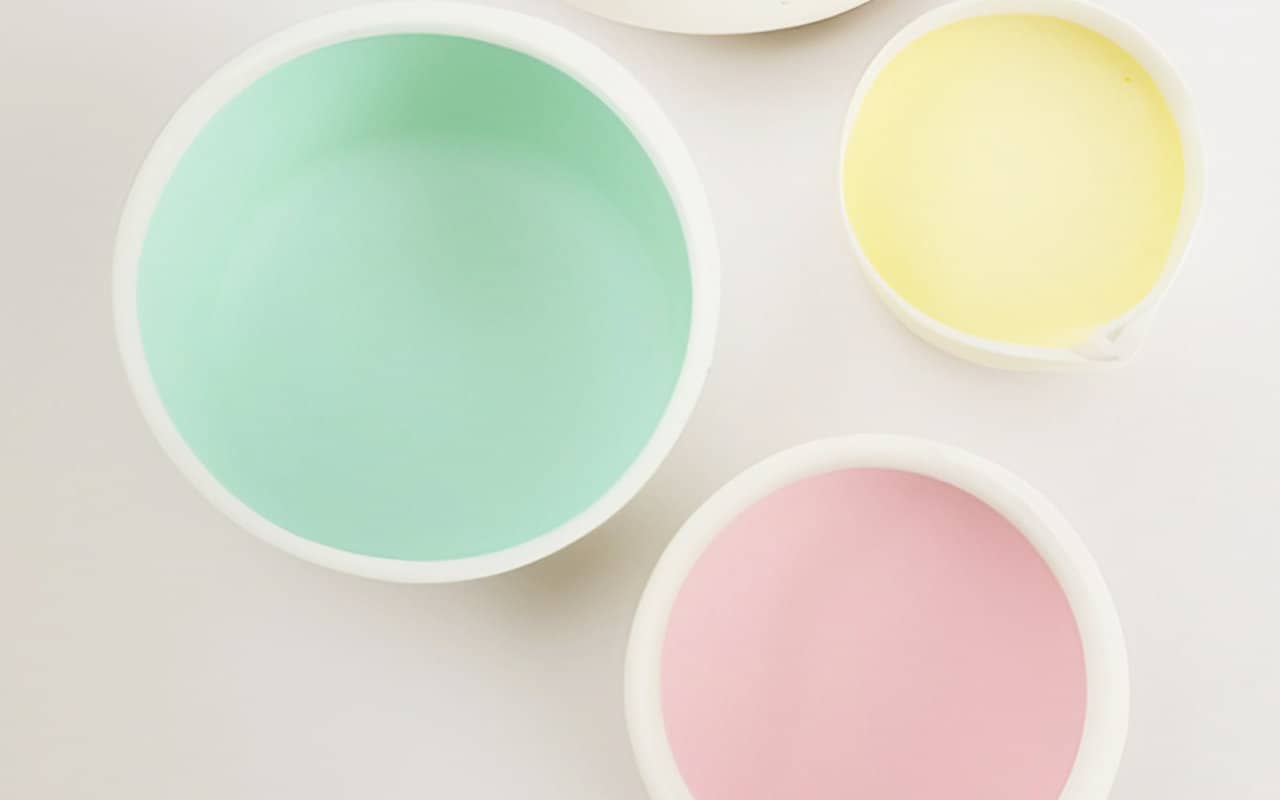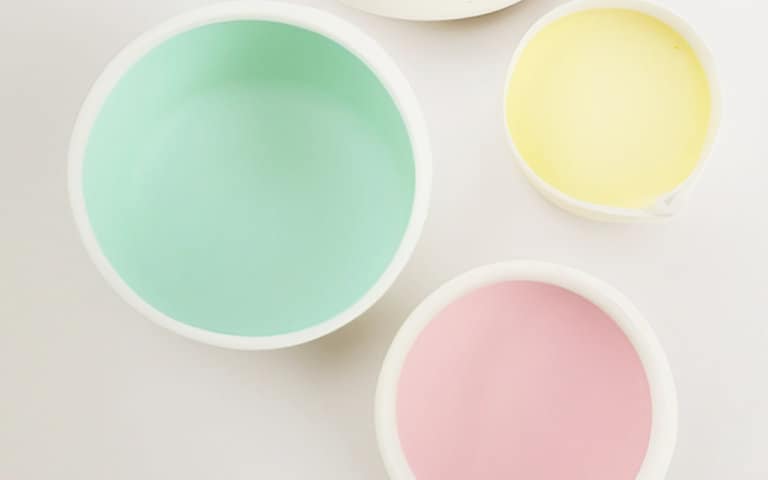 One of the most popular air dry clay ideas is making adorable bowls.
All you have to do is shape the clay into a bowl and allow it to dry.
If you want to get really fancy, you can use a block stamp to create interesting designs and textures. Add some paint to the stamp, and you have a pop of color!
2. Pinch Pots
Pinch pots are super cute and easy to make with air dry clay.
Create little bowl shapes by pinching the clay around the perimeter. Let them dry, then paint and decorate.
You can use pinch pots to hold all kinds of things!
3. Succulent Planters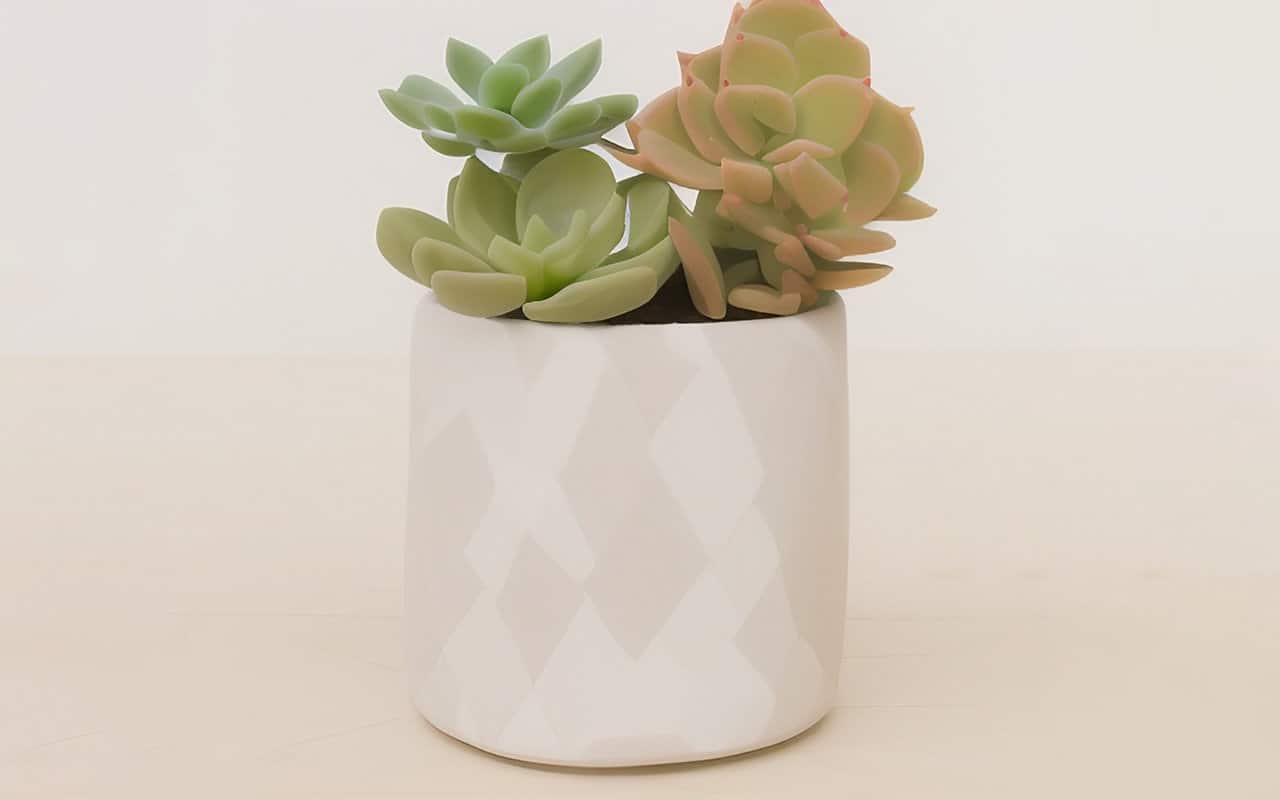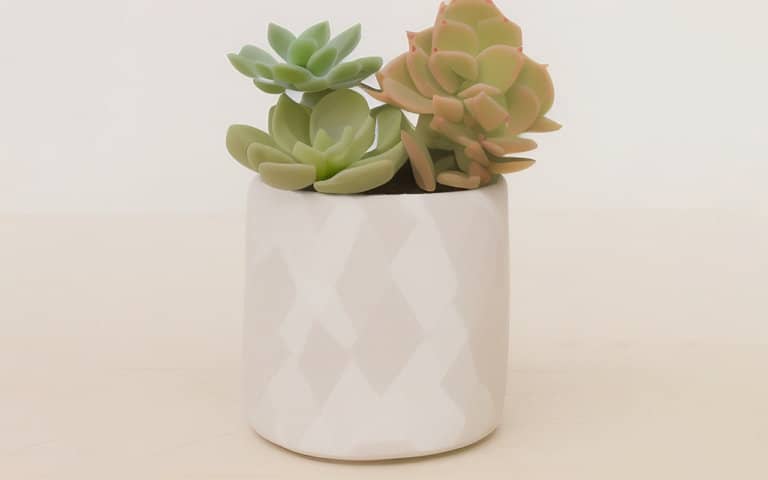 To make a succulent planter out of air dry clay, shape the clay into a cup shape. You can add texture before letting it dry.
Once dry, simply plant your succulent!
4. Faux Succulents
If you're not confident that you can keep your succulent alive in your air clay succulent planter, you can always make a fake one!
The cool thing about air dry clay is that you can make it look like anything you want. Just make your leaves and press them together into the shape of a succulent.
Once dry, paint with various greens to create a plant-like texture.
5. Necklaces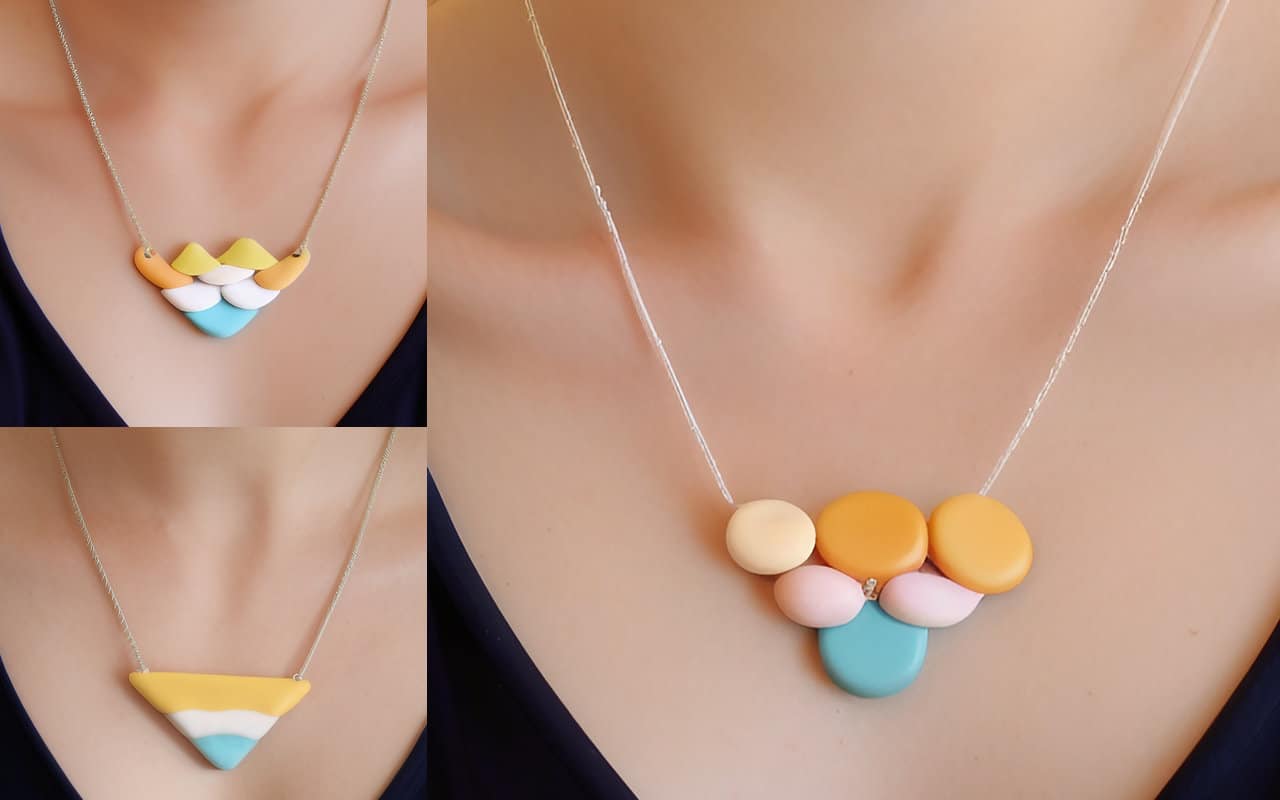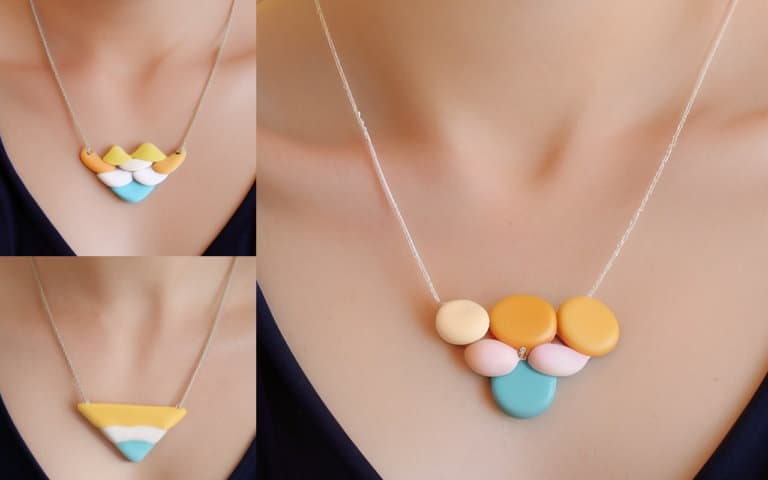 To make a necklace out of air dry clay, shape the clay into a disc, poke a hole through the top, and use stamps or objects to create texture.
You can also mix essential oils with the clay to create a diffuser necklace!
6. Bracelets
Air-dry clay can easily be used to make beads for some super stylish jewelry.
You can make the beads look like rocks by using salt, pepper, and ground mustard to add color and texture. Or create smooth beads and paint them once the clay is dry.
Don't forget to poke holes through the beads while the clay is still soft. Once dry, string on some jewelry elastic, and away you go!
7. Keychains
You can also use air dry clay to make keychains, almost the same way you would make a necklace or bracelet.
You can create a disc shape or make some beads. Just attach your creation to a clip or key ring!
8. Pencil Holder
Making a pencil holder out of air dry clay is super easy and cute for your desk!
Make a shape, any shape, and poke holes in the clay to hold your pencils. It's that easy!
You can get creative and make a rainbow shape to hold your pencils or stick with a simple geometric shape.
9. Craft Animals for Kids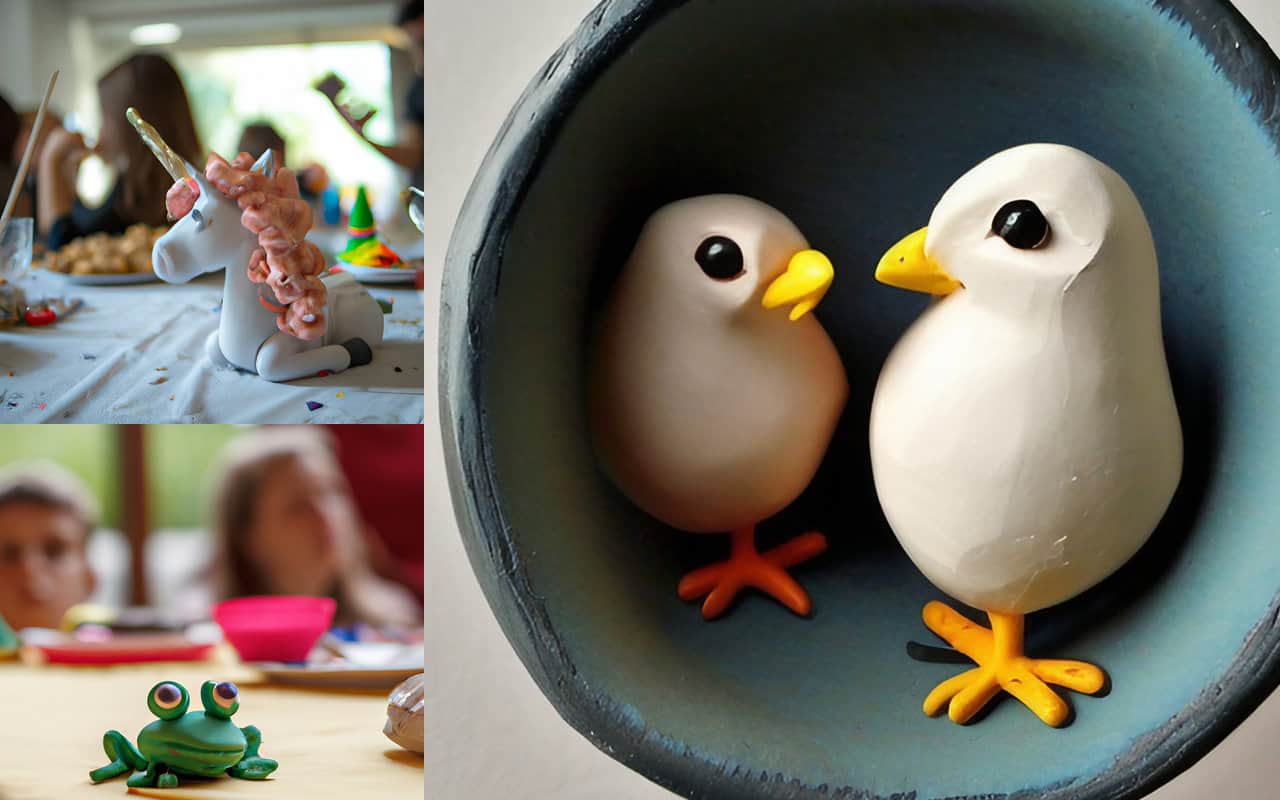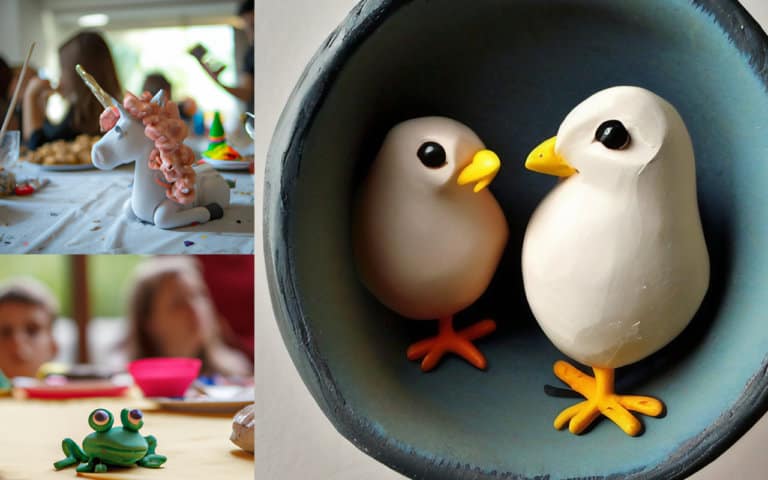 This is such a neat air dry clay idea!
Because air dry clay is a natural material, your kids can use it to make fun animals for your garden or as gifts.
And guess what? My daughter has an air dry clay kit and every day she uses it and makes small animals and she loves it!
To fancy them up, wrap them up in squares of fabric and tie them with a ribbon.
Your kids will have hours of fun!
10. Ring Dish
Keep your jewelry organized and in one place by making an adorable ring dish from air dry clay.
Shape the clay into a plate with a small lip around the edge. Once dry, you can paint the dish, add designs, or personalize it for a gift.
11. Phone Holder
Yes, you can even make phone holders using air dry clay!
Shape the clay into whatever creation you want – just make sure you mold a curved spot that will hold your phone.
For example, you can create a whale and have the tail hold the phone or a cat and have the body curve down and the tail pointed up.
12. Photo Stand
Photo stands are a super cute way to display photos around your home!
Simply create a base out of air dry clay and use a thin wire to create a double loop to slide your photo in.
The base can be any shape, such as a mountain or a cat.
13. Magnets
Making magnets out of air dry clay is super easy. Even your kids can do it!
Make some shapes and creations and let them dry. Once they are, hot glue them to a magnet and stick them on your fridge.
14. Napkin Rings
Create some Pottery Barn-worthy napkin rings with this easy air dry clay idea!
Make whatever shape you want out of the clay, like pumpkins or leaves (you can make napkin rings for every holiday!).
Wrap some jute around a 2-inch binder ring and hot glue your creation to it. Easy!
15. Wall Mobile
Wall mobiles are a perfect aid dry clay ideas to create decor for any area of your home, especially your little one's nursery!
Create different shapes out of the clay, like moons and starts, and string from a stick or long, thin piece of wood.
Create a hanger from rope and hang it on your wall.
16. 3D Wall Decor
Flowers, animal heads
There are a ton of air dry clay ideas for making 3D wall decor for your home. All you need is some clay and a board to mount your creation on.
You can create animal heads out of the clay and paint them to match your decor. You can also make a huge 3D flower.
The possibilities are endless!
17. Bottle Vase
You can easily upcycle some glass bottles by turning them into beautiful vases for your home.
Roll out enough air dry clay to cover your glass bottle – it helps to measure your bottle first and cut the clay to fit using a craft knife.
Lay the sheet of clay over the bottle, watching for cracks and wrinkles. Roll the clay completely around the bottle, pressing the seams together.
18. Cabinet and Cupboard Knobs
Air dry clay can be used to create new hardware for your home's cabinets and cupboards.
What an amazing way to update the look of your home!
Make a ball out of the clay and push it onto your existing hardware. From there, you can build your desired shape.
You can give it a really cool geometric look by cutting off the round edges!
19. Baby Hand Keepsake
If you're looking for the perfect grandparent gift, you can make a baby hand keepsake using air dry clay.
Simply press your little one's hand into the soft clay and let it dry.
You can poke a hole in the ornament and add a ribbon to be hung as a decoration. You can also add some glitter and your baby's name too.
20. Christmas Ornaments
The possibilities are endless when it comes to making Christmas ornaments out of air dry clay!
As long as you poke a hole in your creation, you can add a ribbon and hang it from your tree.
This would be such a fun Christmas craft for your little ones to try. You can use Christmas cookie cutters to create some holiday shapes.
21. Christmas Village
I love this Christmas air clay idea!
Shape the clay into little houses, cutting out shapes for windows and doors. Add some clay to make a base so the house will stand up on its own.
Once dry, you can leave the houses white or paint them. Drop an electric tealight in behind, and you have a whimsical Christmas village!
22. Ghostie Tea Lights
These ghostie tea lights are super cute and super easy to make!
Roll out the air dry clay so it is flat and cut it into a circle (about 6 inches wide). Don't forget to cut out the eyes.
To create the ghostie shape, you can glue a small styrofoam ball or ping pong ball to an egg carton cup. Drape the clay over the ball and let the clay dry.
Once it is dry, you can place your cute little ghostie over an electric tealight candle (no real flames, please!)
23. Easter Eggs
Here's another holiday air dry clay idea you have to try.
Shape the clay into an egg, let it dry, and paint. That's it!
You can poke a hole through the top of the egg to create an ornament or add your eggs to a beautiful Easter wreath.
Air Dry Clay Ideas to Spark Your Creativity!
What do you think? Which air dry clay idea are you excited to try?
Personally, I can't get over how cute those little ghostie tea lights are! And the baby keepsakes would make perfect DIY Christmas decorations and gifts for friends and family.
If you have one you're excited about or a project you have already tried and love, let me know all about it in the comments below.
And don't forget to pin for later!