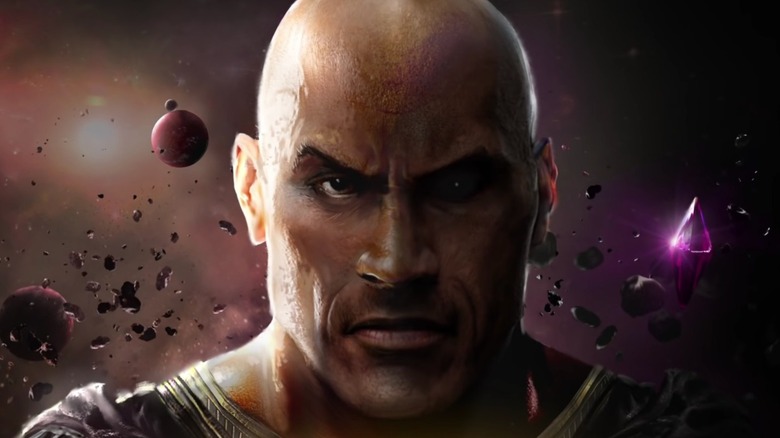 Finally, "Black Adam" has come back to the DC FanDome. But the film's star Dwayne "The Rock" Johnson didn't just bring some concept art of the titular character this time. The People's Champion gave the people what they want: A first look teaser showing the Man in Black in action.
However, one could argue that Black Adam's actions in this footage don't seem very heroic. After all, it's not often that a hero will electrocute a civilian down to their skeleton. Long-time fans of Shazam are very familiar with the checkered past of Black Adam, but based on what little we've seen so far, it's still unclear which side of justice Johnson's version of the character will land on.
On top of Adam's unclear motives, there are also a number of figures in play who could be viewed as antagonists in director Jaume Collet-Serra's upcoming DC Extended Universe film. So the question remains: Who is the main villain in the "Black Adam" movie?
Our Prime Suspect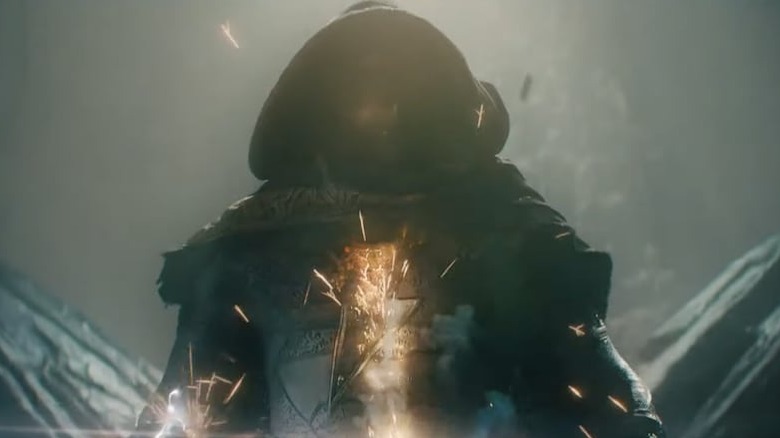 The first suspect is Black Adam himself. Back in 1945, before Billy Batson's super-powered alter ego was known as Shazam, Otto Binder and C.C. Beck created Black Adam for Fawcett Comics as the archenemies of Captain Marvel and the Marvel Family. Originally an Egyptian slave named Teth-Adam, the wizard Shazam gave him the same powers that would become synonymous with Billy many years later. But those powers corrupted Adam, who killed the pharaoh and assumed the throne himself. 
Angered by the betrayal, the wizard banishes Adam to the furthest reaches of the galaxy. After spending thousands of years getting back to Earth, he returns to see that the Marvel Family has taken his place as champions, and he's less than pleased about it.
Black Adam was reintroduced to DC Comics in 1994 as a descendent of Teth-Adam named Theo Adam. He becomes Black Adam after finding a mystical scarab necklace that has his powers encased within. He even kills Billy's parents, C.C. and Marilyn Batson, in order to hold onto it.
From then on, his allegiances tend to flip flop depending on what the story calls for. One minute, he's fiercely defending the African nation of Kahndaq from treacherous villains. The next, he's trying to strip Billy of his powers. Again, since we haven't seen a proper trailer for "Black Adam" yet, there's still a possibility that Johnson's character is the big bad in his own movie. It worked for "Joker," right?
Die A Hero Or Live Long Enough To Become The Villain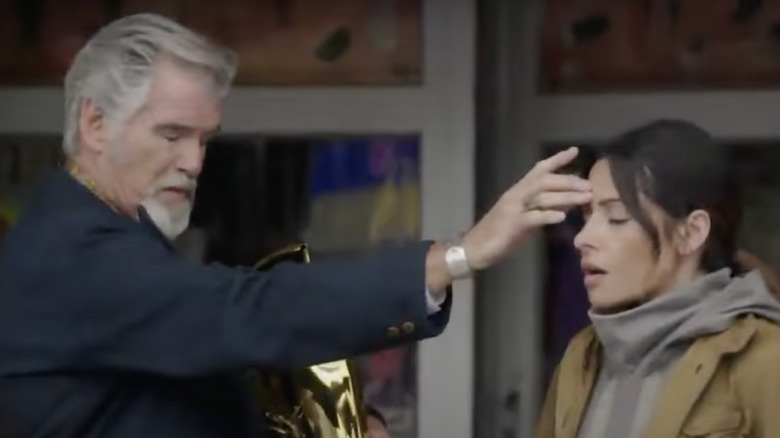 In "Wreck-It Ralph," John C. Reilly's titular character is a "bad guy" without being a bad guy. It's possible that "Black Adam" takes a similar approach since an antagonist doesn't necessarily have to be a "bad guy," but could just oppose the main character and create conflict.
Keeping that in mind, we met the Justice Society of America at DC FanDome. The group consists of "The Invisible Man" star Aldis Hodge as Hawkman, Quintessa Swindell of HBO's "Euphoria" as Cyclone, Netflix heartthrob Noah Centineo as Atom Smasher, and former James Bond icon Pierce Brosnan as Doctor Fate. Though Black Adam has a history as their ally in the comics, he could just as easily be their adversary in the movie. Maybe Zachary Levi's Shazam tips off the JSA about his powers being used with evil intentions. With a mission to stop Black Adam, Doctor Fate and company would literally be opposing the main character and therefore acting as the antagonists.
Everybody's A Gangster Until A Gangster Walks In The Room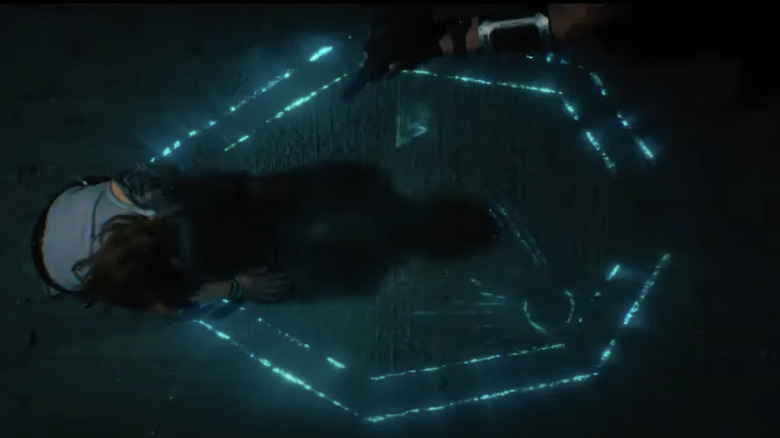 While the idea of the JSA acting as the villains in "Black Adam" may be a stretch, there's another group represented in the DC FanDome footage that has a history with the titular antihero as well: Intergang.
Created by Jack Kirby as villains for Superman, Intergang got involved with Black Adam in the 2006-2007 series "52." Their storyline in the weekly book saw them offer a beautiful slave named Adrianna Tomaz to Adam as his bride in addition to a sizable offering of gold so that they could get in his good graces. The group's plan backfires, as Black Adam brutally murders the messenger and frees Adrianna. Later, after showing the violent protector a more peaceful way, she would become his wife and the superhero Isis.
Actress Sarah Shahi, who is the one who says "Shazam!" in the clip shown during the presentation, plays a character named Adrianna. She told The Hollywood Reporter that her role is "a freedom fighter that's leading this big resistance against an evil, malicious group called Intergang." It's possible that this version of Adrianna is looking to gain the powers of Shazam to stop this evil entity, but instead enlists Black Adam to join her cause.
If You Don't Deal With Your Demons, They Will Deal With You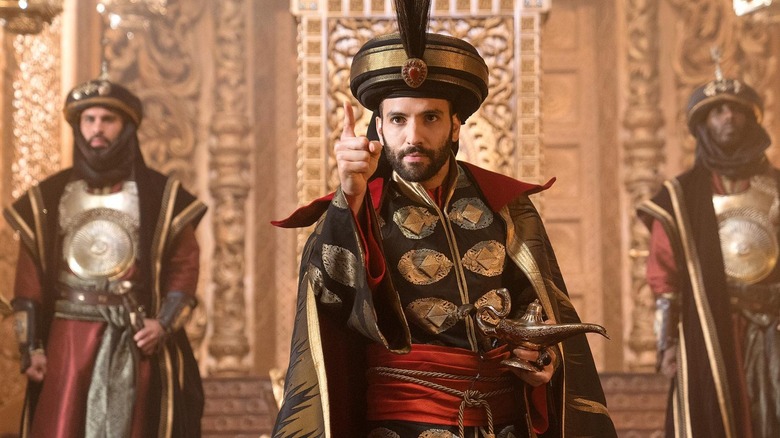 The final suspect for the big bad of "Black Adam" is the character played by Marwan Kenzari. When the actor known for his roles in the live-action remake of "Aladdin" and the popular Netflix film "The Old Guard" joined the cast, it was unknown who he would be playing. However, The Wrap later confirmed that Kenzari would be playing a villain, which is certainly in his wheelhouse since he played Jafar. But is he the main villain?
With thousands of villains in the DC catalogue, there are so many possibilities for this character. However, one particular rumor is that Kenzari will be playing Ishmael Gregor, a mob boss with the powers of a demon named Sabbac. Much like Shazam, Gregor accesses his powers by shouting the word "Sabbac," which is also an acronym for the entities that give him power.
Though Sabbac doesn't really have a connection to Black Adam directly, he has been a foe of the Shazam family. And since this movie is already introducing one of Shazam's big bads, why not throw another one in there too?
The fact of the matter is that we don't have any real answers just yet. Now that "Black Adam" is in post-production with a planned release on July 29, 2022, we'll probably get the first real trailer early next year. Until then, let the speculation continue about who's the most evil of them all in this long-gestating passion project for Dwayne "The Rock" Johnson.
Read this next: Superman Movies Ranked From Worst To Best
The post Who is the Main Black Adam Villain? appeared first on /Film.