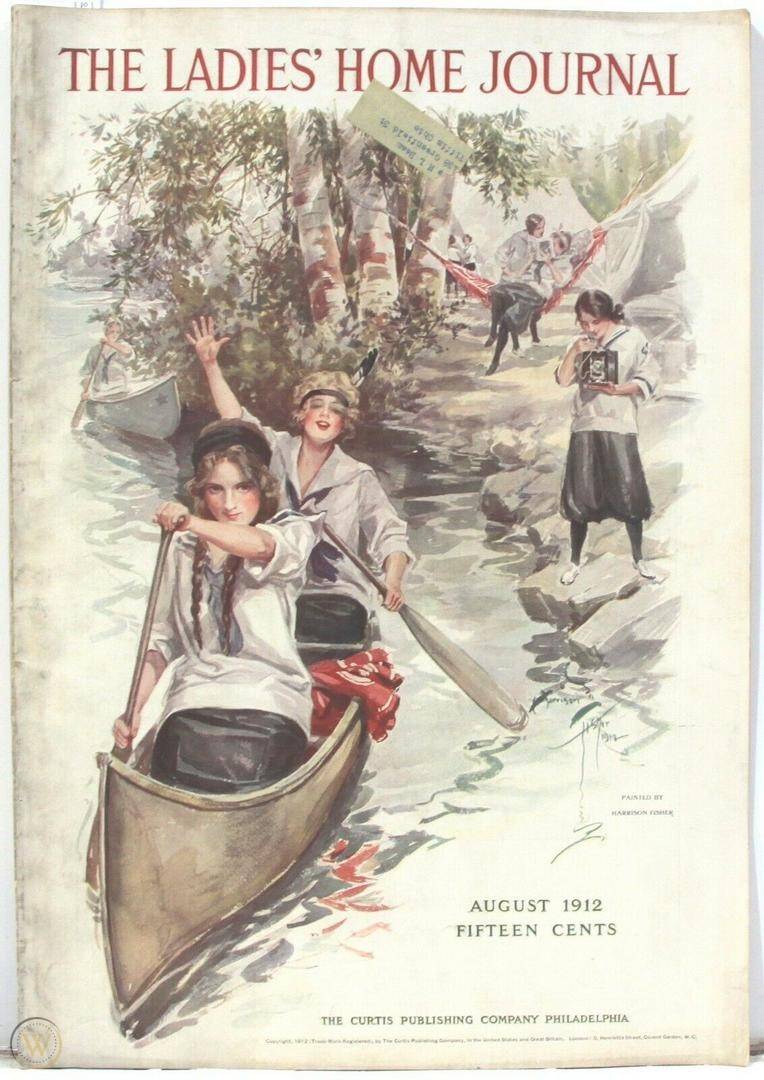 Before magazine covers featured high-fashion photographs of celebrities, illustrations were standard. During this period, countless artists provided unique artwork for the covers of popular magazines and publications. Norman Rockwell's illustrations for the Saturday Evening Post are probably the most well-known example. But he's not the only artist who contributed his talent. Harrison Fisher was one artist who most famously depicted the epitome of femininity in his charming illustrations. His exquisite artwork can be found on 37 covers of Ladies' Home Journal from 1907 to 1914. In recent years these magazine covers have emerged as noteworthy collectibles.  
At the turn of the twentieth century, the ideal woman was both delicate and strong; physically curvy with a tiny waist (the original Kardashian, if you will); independent and intelligent, but not running off to join the Suffragette Movement. Ribbons and lace adorned puffy blouses, and wide-brimmed hats swallowed the heads of millions of American women. These "new" women are on full display in Fisher's illustrated cover art for Ladies' Home Journal, the leading women's magazine in the United States until it was eclipsed mid-century by McCall's. Fisher's "American beauties" are significant. They represent society's standards for the quintessential woman in the early 1900s and 1910s and provide a glimpse into what America was like in another time. These factors create value. But before I discuss the worth of his cover art, allow me to provide some background information on Harrison Fisher.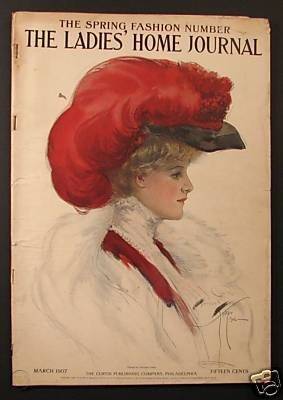 Fisher's Road to Success
Fisher's road to becoming an artist had already been paved by his grandfather and father, who were both artists. After the Fisher family immigrated from Prague to Brooklyn, New York, and then to Alameda, California, in the 1880s, young Harrison's journey to becoming a renowned artist took shape. Fisher received formal training in San Francisco and launched his career as an illustrator for local newspapers. Quickly, he found himself working for publications like Judge, the San Francisco Call, and William Randolph Heart's San Francisco Examiner. He was even hired by Hearst to draw a portrait of his mistress, actress Marion Davies.
Fisher returned to New York in 1897 after requesting a transfer to Hearst's New York American, which led him to a full-time job at Puck. While in New York, his illustrations for Cosmopolitan covers earned him recognition as a credible artist. In no time, Cosmopolitan nicknamed Fisher "the father of a thousand girls" and the successor of Charles Dana Gibson, famously known for his "Gibson Girls" (the forerunners to the "Fisher Girls"). In fact, Cosmopolitan stated that he was the greatest artist in the world and that "there is an underlying ideal that dominates his paintings. His ideal type has come to be regarded as the standard of American beauty: girls, young with the youth of a new country, strong with the vitality of buoyant good health, fresh with clear-eyed brightness, athletic, cheerful, sympathetic, and beautiful." While Fisher created numerous covers for Cosmopolitan (he drew 300 covers for the magazine), his 37 illustrations for Ladies' Home Journal are rarer. And that rarity makes them all the more collectible.
Collecting and Preserving "Fisher Girls"
So, what are these Fisher covers of Ladies' Home Journal worth? Interestingly enough, Fisher himself believed them to be worthless and stated that his art should be destroyed following his death. Thus, over 900 of his works were burned. Today, however, there is certainly interest in these covers. So I checked eBay and a few other online shops to figure out the average value. Generally, 2020 prices range from $15 to $75. And suppose you're lucky enough to find the original signed and dated watercolor used for one of the covers. In that case, you better hope you have about $10,000 on hand! Of course, some of the higher cover prices may seem extreme to the average person. Still, $50 isn't that unreasonable to a collector of such cherished covers. And there are certainly plenty of reasons why some of these covers are worth a pretty penny.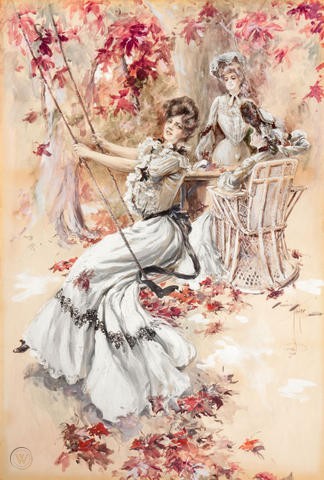 First, this is not your typical magazine cover featuring a celebrity's photograph (which may also be valuable). Instead, this is an artwork that an individual illustrated by hand. And when you take into account that Fisher's art was burned following his death, these pieces become even more treasured.
Next, these covers are a piece of history. They are proof of Fisher's existence, prominence, and talent; they provide us a glimpse into the past's fashion, life, and societal standards. Furthermore, it's essential to keep in mind that the 37 illustrations he provided for Ladies' Home Journal are much scarcer than the 300 he created for Cosmopolitan.
Lastly, these covers are over 100 years old. Therefore, their condition can be dire. Over time paper becomes extremely brittle and highly acidic. As an archivist, I have witnessed newspapers from just 60 ago practically crumble in my hands. Thus, finding a "Fisher Girl" cover in good or excellent condition increases the value significantly.
So, what should you do if you ever find a "Fisher Girl" in the wild (a.k.a. at your local antique shop)? Here are some of your options:
Preserve them as part of your own personal collection: If you want to keep the magazine or cover in an album, binder, or scrapbook, make sure these storage items are acid-free. Place the magazine or cover inside a polyethylene bag or polypropylene cover and store it in an acid-free box in a safe environment, which means no attics and no basements! Temperature neutral (about 68 degrees Fahrenheit) and lower humidity spaces (about 45%) will be your "Fisher Girl's" best friend!
Display them as unique art pieces in your home: To correctly display your "Fisher Girl," make sure you use an archival glass or acrylic frame. To prevent fading from sunlight or fluorescent light, you can buy UV filtered glass frames. Another alternative is to simply hang the frame on a wall that isn't in contact with damaging light.
Re-sell them: If you're interested in making a profit off your "Fisher Girl," eBay is probably the best space. First, research the selling prices (not the listing prices) for magazines similar to yours, assess their condition, and write a charming description of the illustration. Then, when you mail it, protect the cover from moisture in a polypropylene cover and look for rigid mailers so that the cover doesn't get bent during transport.
The captivating cover art of magazines and journals catches our eye. It provides us with an understanding of the purpose of the publication. As the reasons to collect magazines grow throughout the years, it's no wonder Harrison Fisher's covers of Ladies' Home Journal are catching the attention of magazine and art collectors, proving a chic, adventurous, and intelligent turn of the twentieth-century beauty never goes out of style.
---
Emily Teachout is a professional archivist who loves history, antiques, and all things vintage. She is also the owner of the Etsy shop "The Archivist's Attic" where she sells vintage advertisements. In her spare time, you can find her watching Turner Classic Movies, roller skating, listening to 80's hair metal, writing about ads for her blog, arguing about the importance of Disco, and playing with her cat, Alice Cooper.
WorthPoint—Discover. Value. Preserve.
The post The Epitome of Femininity: Collecting Harrison Fisher's Ladies' Home Journal Cover Girls appeared first on WorthPoint.