Peanut butter lovers are going to love these fluffy peanut butter banana muffins. They're the perfect way to start your day or enjoy a midday snack.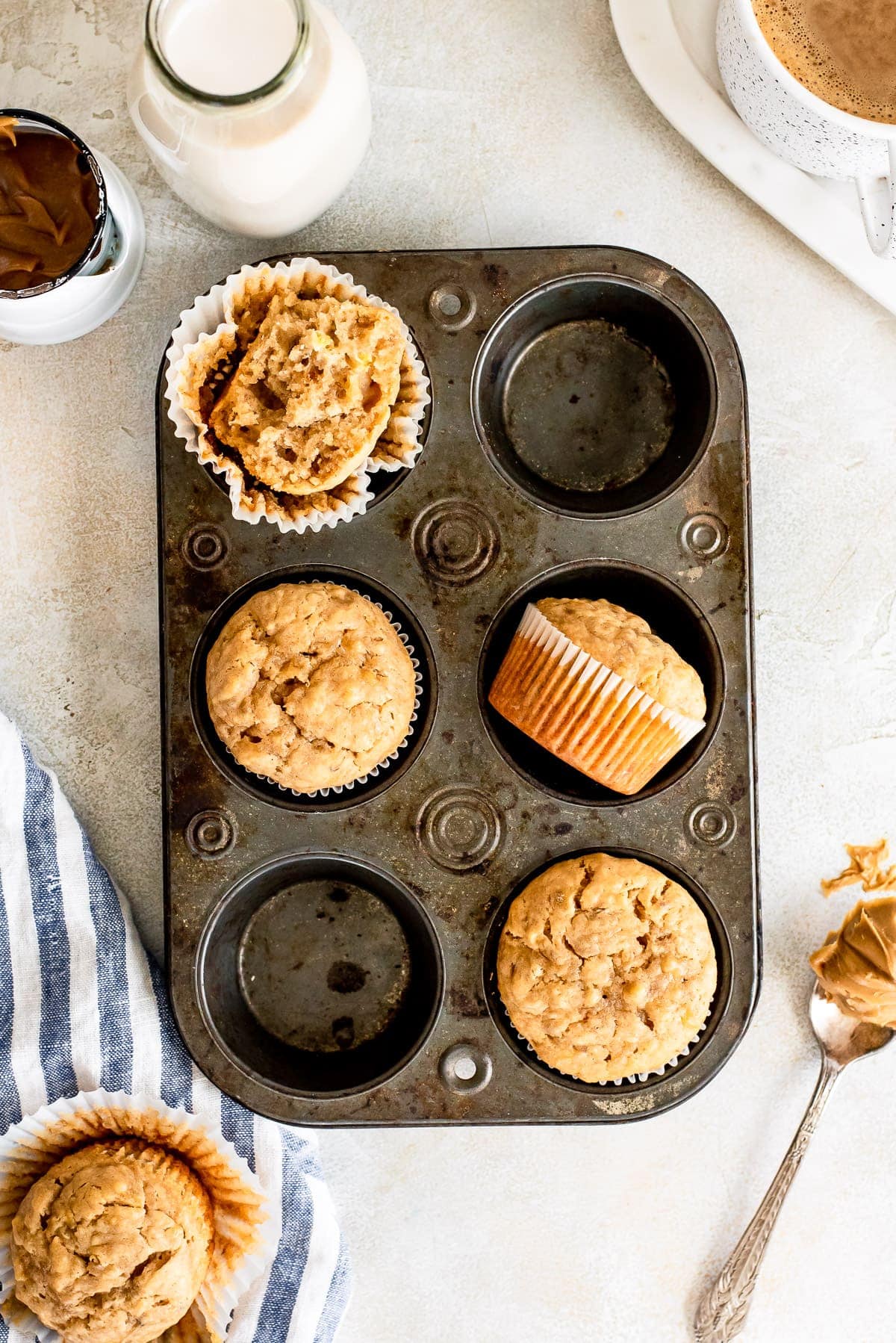 We've been baking a ton of muffins lately. I would say about 6 different types of muffins have made their way across my kitchen table in the past few weeks. One of them being this absolutely delicious peanut butter banana muffin. 
Why you'll love these muffins
These muffins are crazy easy to make! It takes only just a few minutes to mix everything together, and just a few more to bake them up. 
We start the muffins at a high baking temperature to get a nice quick rise, then take down the temperature for the muffins to bake through. What you are left with are light, fluffy muffins that are infused with delicious peanut butter flavor throughout. 
Substitutions for peanut butter
I know some people may way to bake these for someone who might have a peanut allergy. You can definitely substitute the peanut butter with almond butter, cashew butter, or even sun butter (sunflower butter).
Anything with a similar consistency would also probably work. Just keep in mind if you use anything sweeter than peanut butter, you will need to adjust the amount of sugar within the muffin.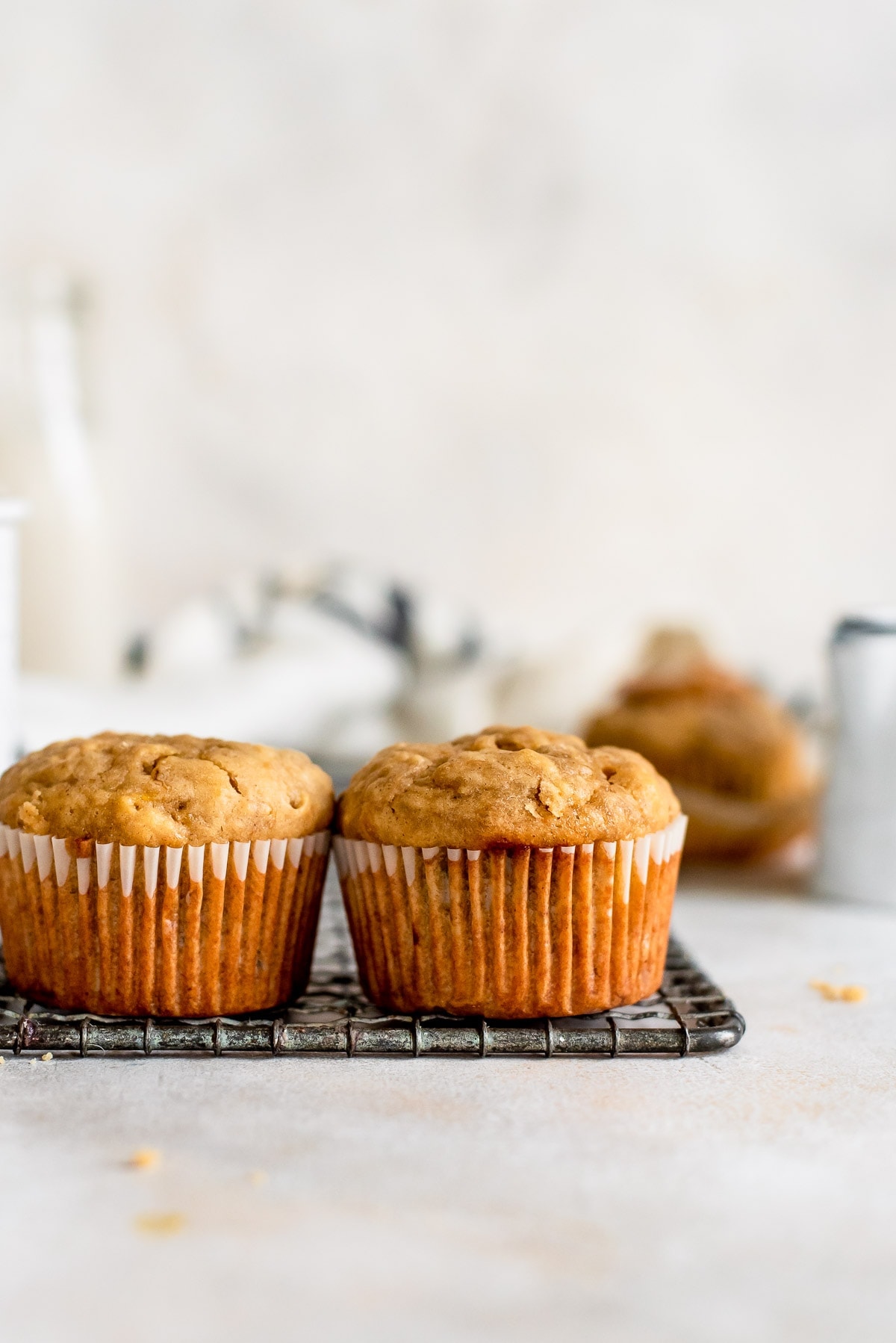 Ingredients
The absolute best part about these peanut butter banana muffins is that you don't need a ton of ingredients, and the ingredients you do need are all pantry staples. That means you probably already have everything in your kitchen to make them! 
Bananas – The bananas add moisture, sweetness, and flavor. It also acts like a binder holding the muffins together. 
Oil – You can use any neutral flavored oil you like or have on-hand. Just do not use unrefined coconut oil (unless you want a hint of coconut in your muffins) or extra virgin olive oil. 
Milk – Use any variety of milk that you prefer. I typically use an almond-cashew milk blend, because that is what I drink. Dairy milk and milk alternatives are pretty interchangeable with this recipe as long as it isn't flavored with anything like chocolate or strawberry. 
Egg – It acts as a binder. I've used egg alternatives such as ground flaxseed and water with success in this recipe in the past. 
Vanilla extract – It adds more dimension to the flavor. Be sure to use pure vanilla extract. 
Sugar – I usually use granulated sugar in my peanut butter banana muffins, but you can also substitute some of the granulated sugar with brown sugar. 
Peanut butter – I use creamy peanut butter. I like to use a brand like Jif, but any natural peanut butters will also work as long as you stir the peanut butter well before you use it. 
All-purpose flour – We need flour to add structure and volume to the muffins. 
Leavening and salt – To help make the muffins rise and to enhance the flavor of the peanut butter and banana.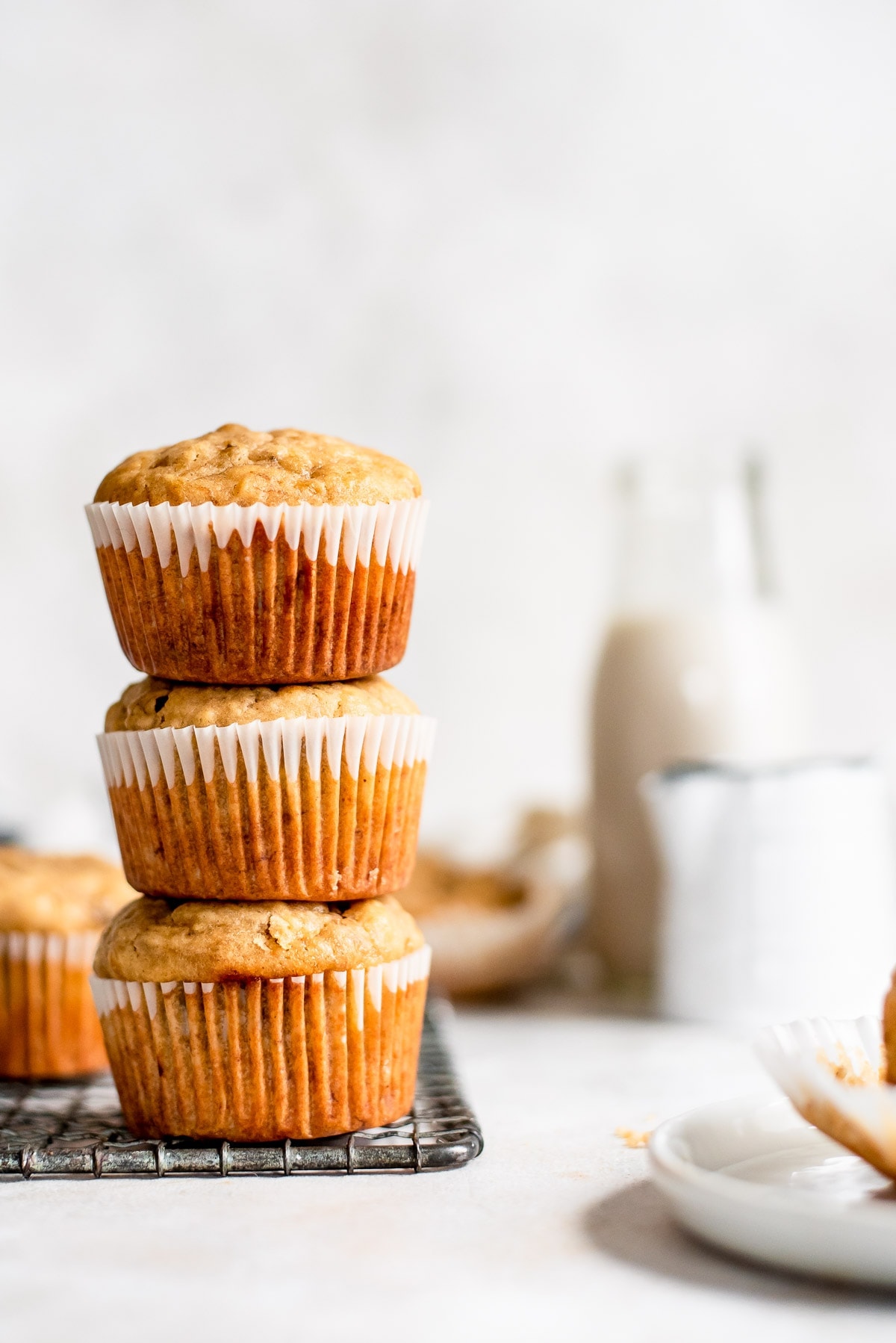 Peanut butter glaze
I sometimes like to top my muffins with a peanut butter glaze. All you need to do is whisk together 2 tablespoons of peanut butter with 1/2 teaspoon of vanilla extract, and 1 cup powdered sugar. Stir in some cream slowly until it is a nice drizzly consistency. 
Storage tips
When the muffins are completely cooled, keep them in an airtight container for freshness. You can freeze your muffins, and these muffins freeze very well. They will last about a month in the freezer, and to thaw, you would leave them in the refrigerator for a few hours. 
Pro tip: If you love when the muffins are fresh from the oven, you can rewarm your muffins in the microwave for about 10 – 15 seconds. 
Other recipes you may like
You might want to try these healthy blueberry muffins or blueberry doughnut muffins. These brownie muffins and carrot cake muffins are really popular, too. I also love these peach muffins and peanut butter and jelly muffins.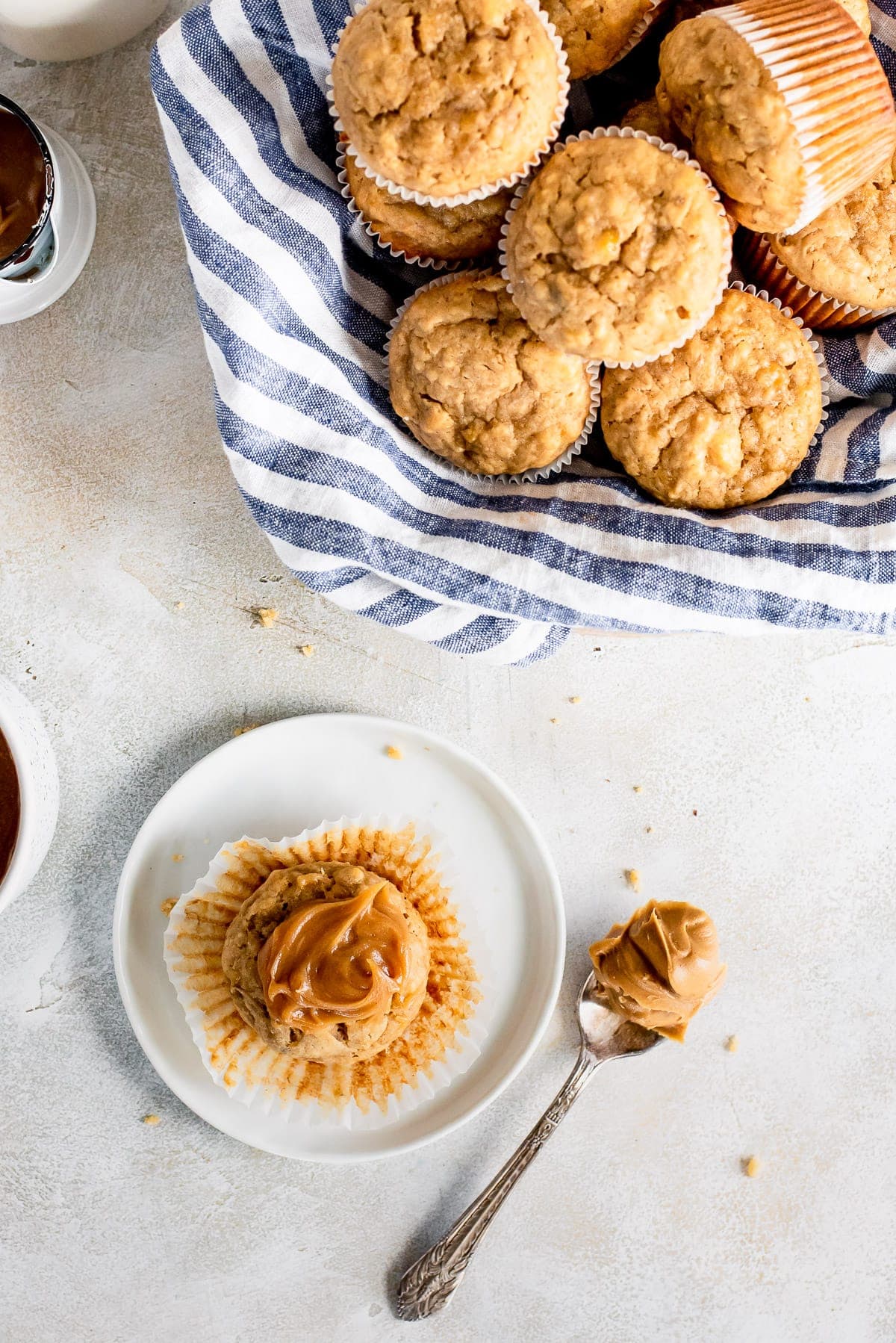 Yield: 12 muffins
Peanut Butter Banana Muffins
Fluffy and delightfully easy peanut butter banana muffins
Ingredients
1 cup mashed banana (about 3)
1/3 cup oil
1/2 cup milk, room temperature
1 large egg, room temperature
1 teaspoon vanilla extract
3/4 cup granulated sugar
3/4 cup peanut butter
1 1/2 cups flour
1/4 teaspoon salt
1 teaspoon baking soda
Instructions
Preheat the oven to 425°F. Line a muffin tin with liners,
In a large bowl, mashed your bananas.
Add in the oil, milk, egg, and vanilla. Beat well.
Add in the sugar and peanut butter, beat well.
In a medium bowl, stir together the four, salt, and baking soda.
Pour the dry ingredients into the wet and stir until just combined, there will be lumps, and that is okay.
Evenly divide the batter in the muffin tin, and bake for 5 minutes. Turn down the heat to 350°F without opening the oven door, and continue to bake for 12 - 15 minutes, or until a toothpick inserted in the middle of a muffin comes out clean.
Notes
Use creamy peanut butter. Natural peanut butter can work, as long as you stir the peanut butter well first.
Store in an airtight container.
The post Peanut Butter Banana Muffins appeared first on A Cookie Named Desire.