A pillow fort is a great DIY project for tons of occasions. Whether you're entertaining your kids during a sleepover or having a playful date night with your partner, fort building is a lot of fun. If you're trying to build an epic pillow fort but not sure how to start, this is just the article for you.
Read on below to learn how to build the best pillow fort and to get a few different pillow and blanket fort ideas. You'll be a pro pillow construction worker by the end!
How to Make a Pillow Fort
There are a few basic things to do when making a pillow fort. You'll want to choose your location, choose your fort type, gather your materials, and then build. We've broken down all the steps below.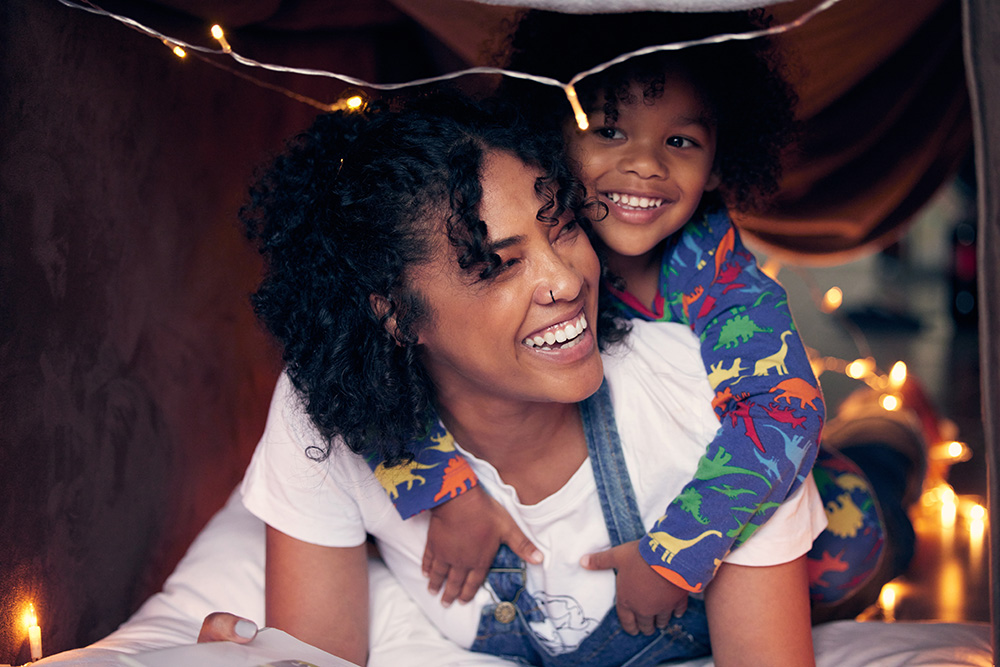 Choose Your Location
First off, you'll want to choose your location. A pillow fort can be a great place to hunker down and play board games on a rainy day, but it can also be an awesome addition to a backyard camping night. We have some tips for outdoor and indoor locations here.
Indoors
If you're building your fort indoors, we recommend building in the living room or in a large bedroom. You'll need enough space to build your fort, but you'll also want to have a few large pieces of furniture on hand to act as walls.
Outdoors
If you're building outdoors, we highly recommend setting up a fort in your child's treehouse. It's a ton of fun and truly the ultimate pillow fort location. Other great spots are on the deck or patio, which can help keep your pillows and blankets from getting too dirty. You might also want to try building a fort inside a camping tent.
Pick Your Fort Type
Next, decide what kind of fort you'd like to make. There are a few different building strategies to pick from. We've highlighted our favorites for you here.
Tunnel Fort
A tunnel fort is simple and easy. Your couch will be built into the fort, creating a small tunnel to sit inside. All you need for a tunnel fort is a couch, two chairs, and a big blanket, so if you're just looking for a quick activity this could work for you. Just arrange the two chairs slightly in front of the arms of your couch. Throw the blanket over the back of the couch and backs of the chairs, fill the space with some pillows, and voila — instant fort!
Compound Fort
In a compound fort, different furniture is connected by a series of "rooms." These forts can take up an entire room, so if you're trying to fill an entire babysitting session with pillow fort construction this might be the way to go.
Gather Your Pillow Fort Essentials
Next, you'll want to gather your pillow fort essentials. Using sheets and blankets is a must, and you'll also want at least one piece of furniture within reach.
Pillows
First up, pillows! Pillows are like the "retaining walls" of most forts, while sheets and blankets act as the floor and ceiling. You'll want enough pillows to line the exterior of your fort without any gaps. You'll also want some spare pillows to lay on inside the fort. Depending on how big your fort is, this could be a lot of pillows. Luckily, couch and seat cushions also work for this.
Looking for more pillows to construct with? Check out the best pillows of 2023.
Bed Sheets and Blankets
Next up, you'll want bed sheets and blankets. Use sheets for the walls and "roof" of your fort. They'll be easier to fix in place with clothespins or binder clips than heavy blankets. Save the comforters and duvets for the floor of the fort. They'll offer some nice padding and be comfy to lay on while you play inside.
Couch Cushions
Couch cushions are great pillow fort materials. They're nice and big, which means they're great for forming exterior "walls". We like to use them to line tunnel walls between the rooms in a big fort.
Support Surface
You'll need a support surface nearby to hang blankets and sheets from. Kitchen chairs, the couch, coffee tables, and beds all work well. Pretty much any piece of furniture that is sturdy enough to hang a bed sheet or blanket off will work just fine. You'll drape your sheets over these support surfaces to create your walls and ceiling.
Other Must-Haves
Clothespins, paper clips, or chip bag clips are pillow fort must-haves. You'll need something to fix your pillows and blankets to chairs, tables, or other support surfaces if you're building a large fort.

Rope can come in handy for expanding your fort. Tie a rope or clothesline across two pieces of furniture and put a large sheet or blanket on top. Spread out the sides of the blanket and you've got a great blanket tent.

Broomsticks or other wooden dowels can also act as "support beams." Stick one between your couch cushions to prop up the top of your fort, or balance one in the corner of the room to hold up a fort corner.

Heavy books are great for holding down sheets and blankets, especially if you're hanging some off the sides of a tall table or bed.

String lights, flashlights, or glow sticks are great ways to decorate your fort. They'll make story time or Netflix watching extra cozy.

Add a mattress topper or some sleeping bags if you plan on spending the night inside your fort! Stick a mattress topper and sleeping bags inside the fort to cushion your joints and sleep comfortably if you're camping out for the night.

Build Your Fort Base
The first thing to do is lay down heavy quilts or sleeping bags to make the base of your fort. We recommend building over a rug if you have one available. This will make it comfortable to crawl around the fort. It will also make it feel nice and cozy inside.
Create a Wall Structure
Next, arrange pillows around the edges of your blanket. Try to prop them up vertically to create a "wall." We recommend lining three sides of the fort with pillows for a cozy feel. You'll also need walls that hold up your fort's roof. Either arrange kitchen and desk chairs around your floor to drape sheets from, or start building near a table, bed, or couch that can act as a taller wall.
Make a Roof
The most important part of a good pillow fort is the roof. You'll need a few sheets to drape over the furniture in your "walls." Once your roof covers your fort base, you should be able to crawl into a makeshift tent.
Furnish and Decorate
Once you've finished construction, decorate your tent! We recommend adding extra pillows and string lights to the fort. Bean bag chairs and extra blankets are also great additions. You might want to bring books, inside toys like Legos, or other activities into the fort to play with.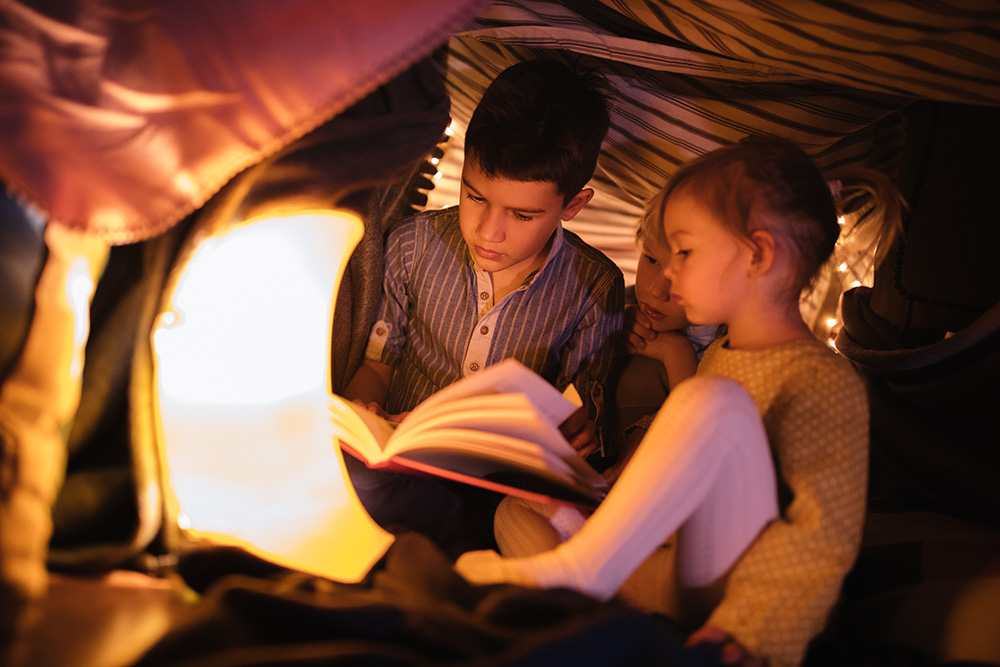 What to Do in a Pillow Fort
So, you know how to build a pillow fort, but what to do now that it's done? We have a few ideas for you below!
Have a Campout
Living room camping is a ton of fun for younger kids (or adults). Fill your fort with sleeping bags, grab a flashlight, and tell some campfire stories before bed.
Read Stories
Pillow forts are cozy places to read stories to kids or relax and read a book as an adult. Cuddle up inside to read on a rainy afternoon.
Imaginative Play
Pretend to be a queen, dragon, or knight inside your brand new fort. There are tons of make-believe games to play inside. Once you teach kids how to make a blanket fort, they will take the reins on imagining tons of fun games to play inside.
Eat Lunch
Eat lunch inside your fort. Use your picnic blanket as the floor and have a fun living room picnic after an exciting morning building the fort.
Puppet Show or Shadow Show
Fort walls make shadow puppet screens and finger puppet stages. Set your audience up inside the fort and put on a fun puppet show for them.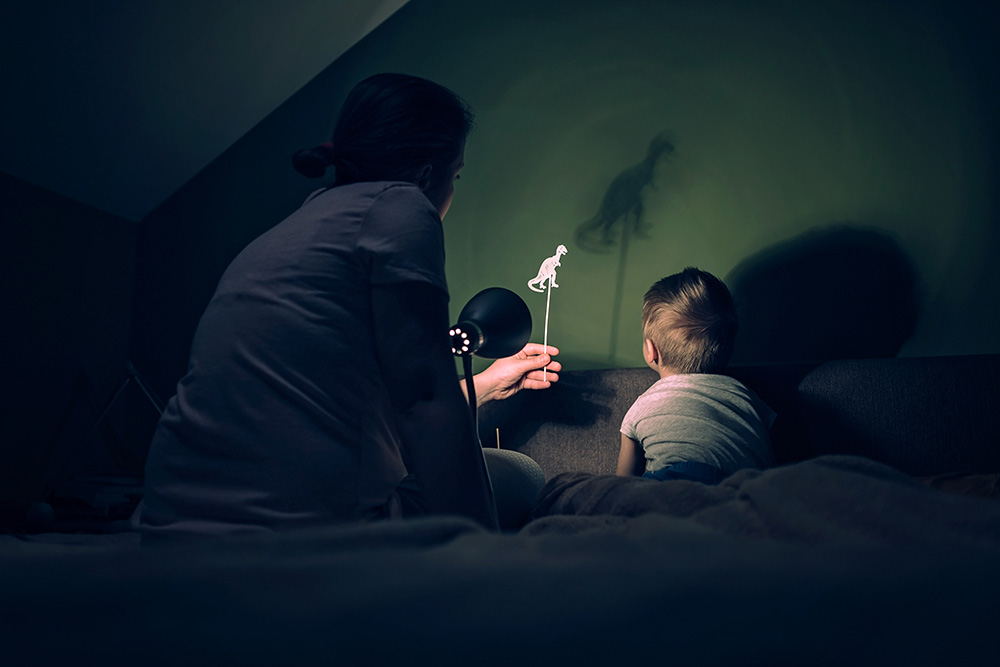 Date Night
Set up some string lights and have a romantic date night inside your fort. Crack open some wine and chat after you build a cozy place to cuddle.
FAQs
Still have questions about how to make the best pillow fort? Check out our FAQs below!
How many pillows do you need to make a pillow fort?
Any amount of pillows will work just fine! You'll want enough pillows to feel cozy in your fort. The most important items to have on hand are actually sheets and blankets to make walls and ceilings.
Can you sleep in a pillow fort?
Yes, you can sleep in a pillow fort. We recommend sleeping in one that uses sturdy furniture as walls so you don't accidentally knock it down and get wrapped in sheets at night.
Are pillow forts safe?
Yes, pillow forts are safe. If you have young kids who would have trouble untangling themselves from a fallen blanket, we recommend watching them while they play inside.
How many people fit in a pillow fort?
As many as you like! You can build your pillow fort to be one small room or take up multiple rooms in your house. 
The post How To Make a Pillow Fort appeared first on Mattress Clarity.