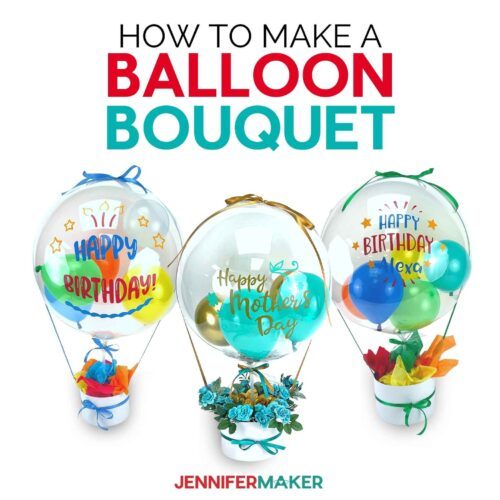 Learn how to make a "hot air" balloon bouquet with customizable vinyl decals!
Sometimes, I see a craft and I just HAVE to know how it's made! When I started seeing balloon bouquets popping up all over, it went right on my "How can I make that?" list! After lots of testing, I'm excited to teach you how to make a balloon bouquet even better than one you can buy! I've learned so much from this project. Like how to put vinyl on balloons, aligning decals on big curves, which balloons make the best bouquets, and how in the world to get small balloons inside a big one. Let me show you an easy way to impress at your next party! 
Watch my step-by-step video tutorial on how to make a balloon bouquet with a Cricut premiering Saturday, May 7, 2022 on my YouTube channel!
Today, I'm sharing three free files for balloon Cricut projects and each is customizable. I'll show you how to personalize a Happy Birthday decal in the tutorial. You can use the same steps to alter the other designs, or create your own for a special event!
Before we start, I have a few tips for how to make a Balloon Bouquet:
Allergy warning: The balloons that worked best for the bouquet are latex-based. Please check if you or your intended recipient have a latex allergy before making  this project. If you can't use latex materials, add my vinyl decals to mylar balloons for a very pretty result!
High humidity and temperatures can make your balloons lose air more quickly, so check the weather!
While the big balloons are strong, they're still balloons that can pop. So keep rough or hot items away from them, like your hot glue gun.
It's possible to ship an assembled balloon bouquet, but they may get damaged in transit. I recommend delivering them yourself, if possible.
The finished bouquets are pretty big, mine were about 15″ wide 26″ tall. Make sure you have a sturdy table large enough to display all your hard work.
While I used plain old air, you can use helium balloons for the bouquet, just don't mix the two because they will shrink at different speeds.
Balloon decal projects do require a few special materials and tools. I'll show you my favorite big, clear balloons, options for the inside decorations, and the best balloon pump for the job. Don't worry, we're not blowing up any balloons on our own. We'll also  cover how to keep the balloon arrangement in place with a special balloon stick and cup. There are so many ways to decorate the base, but I'll show you my favorite approach using a gift box, tissue paper, and ribbon. 
One of my best secrets is how to prepare and apply a vinyl balloon bouquet decal. Bobo balloons are BIG, and require a large design to look nice. Instead of applying all the words and shapes at once, I'll show you how to cut the decal into pieces. With a few alignment tips, it's so much easier to apply one element at a time! You'll also save transfer tape.
Once you learn the secrets to inflating balloons inside one another and perfectly aligning decals on a curved surface, the possibilities are endless! You can make your own designs for presents, party decor, and even promotional items. These balloon bouquets would be perfect for a baby shower, birthday decorations, a business grand opening, or corporate event. I know many people who'd love to get one for Valentine's Day or another special occasion. I'll show you how to edit the Mother's Day decal to fit any celebration.
Of course, you don't just have to use my How to Make a Balloon Bouquet Tutorial for bouquets. You could also decorate balloon arches, balloon trees, or other balloon DIY ideas!
To cut the permanent vinyl, I'm using a Cricut machine — specifically my Cricut Maker 3 — but you can also use the original Maker or any of the Cricut Explore machines. All you need is a StandardGrip Machine Mat and Fine-Point Blade! We'll also use my go-to vinyl tools: a brayer, weeding tool, transfer tape, and scissors. And, I'll show you a few tricks using painter's tape and a lint-free cloth!
Let me show you where to get my vinyl balloon bouquet decal designs, and then we'll get started on how to make a balloon bouquet!
Let me show you how to put vinyl on balloons with my tutorial and free SVG designs! This post contains some affiliate links for your convenience (which means if you make a purchase after clicking a link I will earn a small commission but it won't cost you a penny more)! Read my full disclosure policy.
How to Make a Balloon Bouquet
How to Make a Balloon Bouquet
Active Time:
1 hour
30 minutes
Total Time:
1 hour
35 minutes
Difficulty:
Easy to Medium
Learn how to apply a vinyl balloon bouquet decal to a Bobo balloon for custom gift.
Answers to Your Questions About How to Make a Balloon Bouquet
What can I put in a balloon?
In addition to small balloons, you can also add confetti, pom poms, and even small stuffed animals to the large Bobo balloon. You can get inspiration by looking at the combinations balloon delivery services offer!
What do I need to make a balloon bouquet?
For a basic bouquet, all you need is a large balloon, a container for the base, and a balloon stick with a cup to hold them together. You can find most of these items at party stores like Party City. Once you know how to make a balloon bouquet, you can add a custom design and decorations like mine!
Can I make a balloon bouquet without helium?
Absolutely! I made mine without helium and it was super easy and came out looking great. It stayed nicely inflated for several days, so I don't think you need to use helium for good results.
How many balloons should I get?
I found that between four and six small balloons looked best in my Bobo, but it will really depend on how large they all are. It's a good idea to get a few extra of each in case any pop!
How long do balloon bouquets last?
If your location is dry and not very hot, the balloon bouquet should stay inflated for at least a few days.
How far in advance can I make balloon decorations?
Blowing them up a day or two before you need the balloons for a bouquet is probably safest. 
What else can I do now that I know how to personalize balloons with vinyl?
In addition to a balloons bouquet, you can also add vinyl decals to balloon columns, number balloons, a foil balloon, a letter balloon, or many other balloon crafts!  If you're really excited to practice, you can even decorate a balloon drop!
What should I put in my balloon bouquet basket?
The base of the balloon bouquet can hold lots of small items! Faux flowers, candy, and small gifts like a customized teddy bear would be perfect. You can also add more decorations to the basket, like curling ribbon or tinsel!
Can you use a Cricut on balloons?
You can't cut a balloon on a Cricut, but you can use the machine to cut a vinyl balloon bouquet decal to add to the surface.
What kind of vinyl do you recommend for balloon Cricut projects?
I used Cricut permanent vinyl for my balloon decal and had excellent results. I really only use another brand if Cricut doesn't have the exact color I want. If that happens, my runner up is Siser EasyWeed Vinyl.
How can I make a balloon bouquet if I have a latex allergy?
You can create similar decals and add them to mylar balloons, which don't include latex! You can still use my tips on applying the decal from my How to Make a Balloon Decal Tutorial.
Get my free SVG files to make a balloon bouquet!
I love seeing what you make with my designs and how you use them! Please share a photo of your balloon bouquet in our Facebook group or tag me on social media with #jennifermaker.
Love,
The post How to Make a Balloon Bouquet & Put Vinyl on Balloons! appeared first on Jennifer Maker.