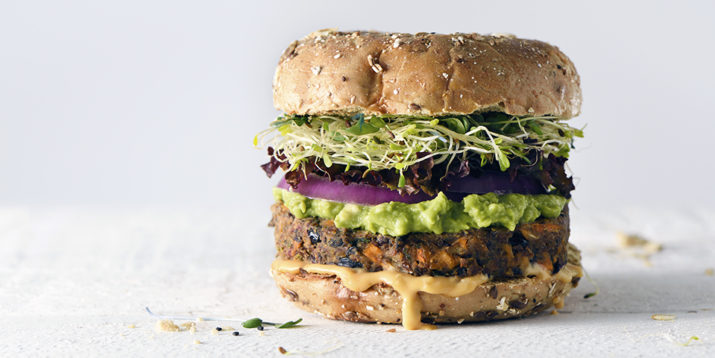 I know it may not be summer yet but that doesn't mean you can't have a good burger every now and then. I also thought maybe a different type of recipe today would be good to try, plus why not start the new year with tips on how to cook a little healthier.
Some may say that if it doesn't have meat, it's not really a burger but I will give you seven easy steps to use helping win over the toughest critic.
Step 1
Any good burger needs a good protein base and beans offer just that. You will want to pick a bean of your choice but black or kidney make for just a few to choose from. Not only do beans give you a good protein but they also give a good starch allowing them to be sticky and hold the burger together.
Step 2
Next, veggies of course! You will want to add some nice roasted veggies and the sky is the limit! When you add the roasted veggie, you are adding depth and so much great flavor so don't hold back and it gets fun deciding on different ones but if you aren't sure start with carrot, mushroom, celery or onion then build on that after you get comfortable with making your own burgers.
Step 3
Nuts are the next to be added, not only do they give more protein but also healthy fats and even more flavor, texture and crunch. You may want to start with almond or cashews but again once you start getting more acquainted you may want to add pumpkin seeds, sunflower seeds, or pistachios. You may even want to roast them for more flavor but if you buy, just reduce the salt in your burger if you buy them salted.
Step 4
Seasonings like herbs and spices take your veggie burgers to the next level and really win over those critics.
Pantry staples like dried oregano, smoked paprika, and cumin are wonderful options, but you can add so much more
Mix in chopped olives, minced garlic, or caramelized onions for extra flavor.
Pro tip: If you make a big batch of caramelized onions, you can also save them for a topping.
Palmer suggests these delicious flavor combinations:
Herbal: garlic, green onions, and cilantro
Thai: ginger, peanuts, red pepper flakes, cilantro, and basil
Southwest: garlic, chili powder, cilantro, and cayenne
Step 5
A binder:
Your veggie burger mixture should be like cookie dough — thoroughly mixed and not overly wet or crumbly.
Beans help bind everything together, as will the extra veggies you include but, you may need a little help so if your mixture feels too wet, add breadcrumbs, rolled oats or a cooked grain plus this gives a little extra texture. (Great tip, if they are wet and you reach for those oats or breadcrumbs add it then wait a few minutes for them to soke up the moisture, this will help eliminate adding to much.)
Still not sure if your burgers will hold up?
Chill the mixture for about an hour, then press into the shape of a burger.
If they're dry and crumbly, add a bit of salt-free broth.
Step 6
Now after you put in all those great ingredients and made them into patties you will cook them. Cooking them on the grill is the best but having a nice cast iron skillet will also be a great way to cook them but if you don't have that any pan will be fine or a 374-degree oven for about 30-40 minutes will be good too.
Step 7
The last but not least step is adding all the great toppings or if you prefer keeping it simple and just enjoying your creation then that works too.
Now that you see that it is easy to make your own veggie burger, enjoy!