The Erin Condren Star Wars Planner Collection is full of fun tools to help you get organized and show off your Star Wars fandom. Check out photos of Star Wars planners, accessories, notebooks, and read our planner reviews.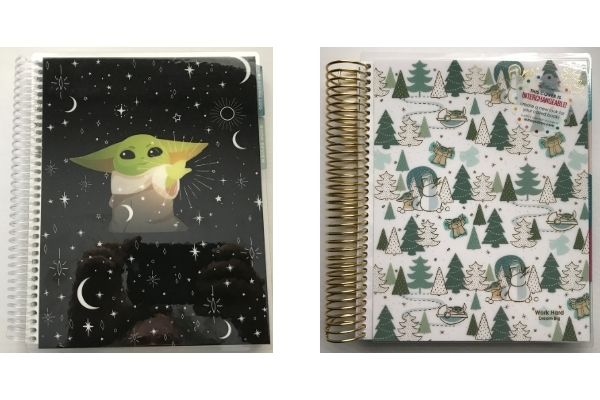 Erin Condren Star Wars Planner Review
Erin Condren sent me a box filled with Star Wars planning goodies to check out and review.
I am an avid planner user and collector, so I was thrilled to get my hands on this one!
If you are a nerd like me, you will understand the excitement of getting something with your favorite fandom (Star Wars) on it.
The designs are really cute and fun for all ages.
These are definitely not just for kids-they're perfect for adult fans as well.
I love how customizable all of the planners are; there are tons of different colors/styles available to choose from which makes them super unique!
Here's everything I'll cover in this article about the EC Star Wars Planning Collection:
Erin Condren Star Wars Covers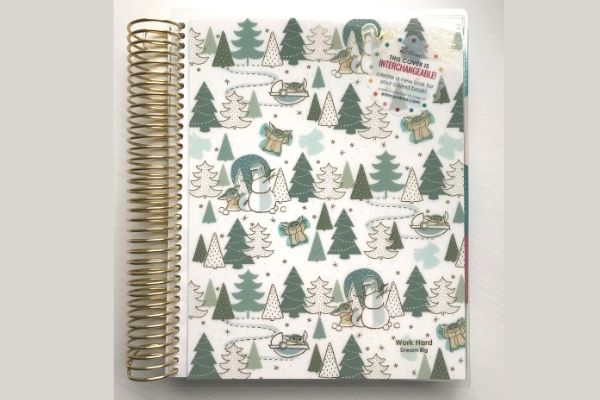 If you already have an Erin Condren planner, you can easily change the look of it by adding on an interchangeable cover.
There are so many awesome Star Wars covers that you can use with a LifePlanner, a monthly planner, or even an Erin Condren notebook.
I have the Star Wars Grogu Snow Day Metallic Covers, and it's attached to a regular monthly planner.
You can buy them together as an already assembled planner, or separately.
It's so adorable! I'm thinking about ordering a few Star Wars covers and simple Erin Condren notebooks to give as gifts this year.
Related: Erin Condren Monthly Planner Review
Star Wars Reading Log and Journal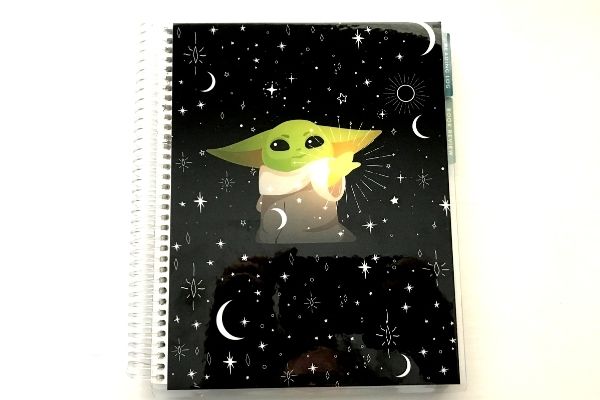 My absolute favorite item in the Erin Condren Star Wars Collection is the Reading Log and Journal.
It's perfect for encouraging kids to read, and helping them see their progress over time.
In the Grogu Reading Log and Journal there are three main sections: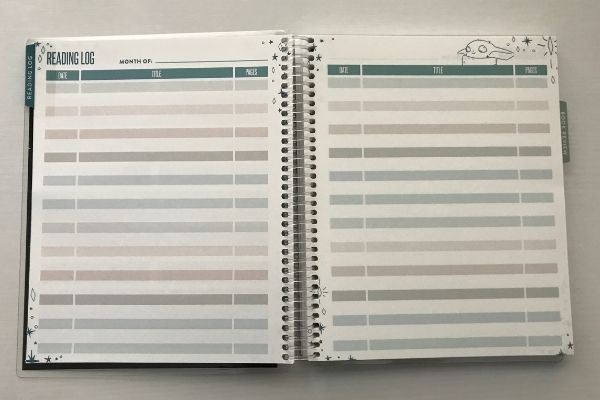 Reading Log – A place for recording the date, title, and number of pages read. This is pretty much identical to the reading log my children use for school. I love that the format is consistent with what their teachers are using. It would be really nice to continue logging reading during vacations with this tool.
Book Review – In this section, there's a place to write down your rating of the book, new words learned, favorite part of the book, a scene/character from the book that you liked, and even some space for drawing. This reinforces a lot of the concepts children are learning in school about character, scene, etc.
Book Lists – Here, you can record your favorite books (title and author), and make a list of books that you want to read. When you finish a book on your "Books I Want to Read" list, you can check it off as read. This is just another way for kids to track their progress over time, and always have ideas for what to read next!
Erin Condren Star Wars Notebooks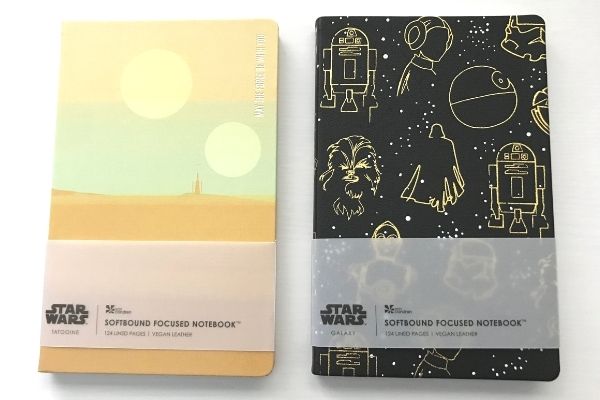 There are several Star Wars notebooks to choose from – spiral bound and softbound.
I have a couple of Softbound Focused Notebooks with 124 lined pages. 
These would be perfect for carrying in a backpack or purse.
They'd make great teacher gifts too!
Star Wars Planner Accessories
The Star Wars Collection also includes fun planner accessories that would be perfect stocking stuffers.
I have my very own Grogu Stand Up Pencil Case, and Magnetic Bookmarks to keep me organized!
Star Wars Planner Stickers
Although I didn't receive them in my package, I absolutely love the Star Wars Planner Sticker sheets.
They're great for dressing up school binders and notebooks.
Even if your child already has a planner they have to use for school, they could add some Star Wars fun to it with the inexpensive planner stickers.
Erin Condren also makes Star Wars address labels that you can personalize and use for Christmas card mailings and more. 
Erin Condren Star Wars Notepads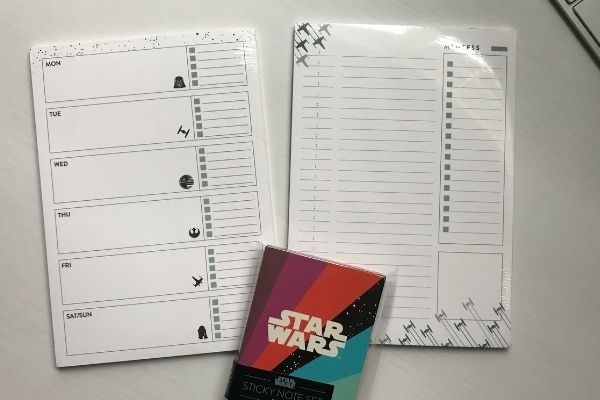 If you need something that you can use on your desk to help you keep track of your schedule, the Star Wars Notepads are a fun way to keep your plans out front and center.
Check them out here:
Star Wars Planner Review
I love that this planner collection appeals to all genders.
As an Erin Condren fan, I've always enjoyed the bright colored, feminine planners.
The Star Wars Collection of planners are something all Star Wars or Mandalorian fans would like to use and bring to school.
I can't wait to gift these to our kids!
Go here to see the whole Erin Condren Star Wars Collection.
Erin Condren Coupons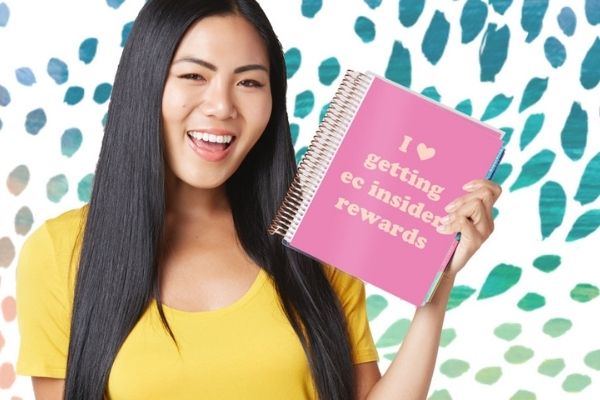 More Planning Ideas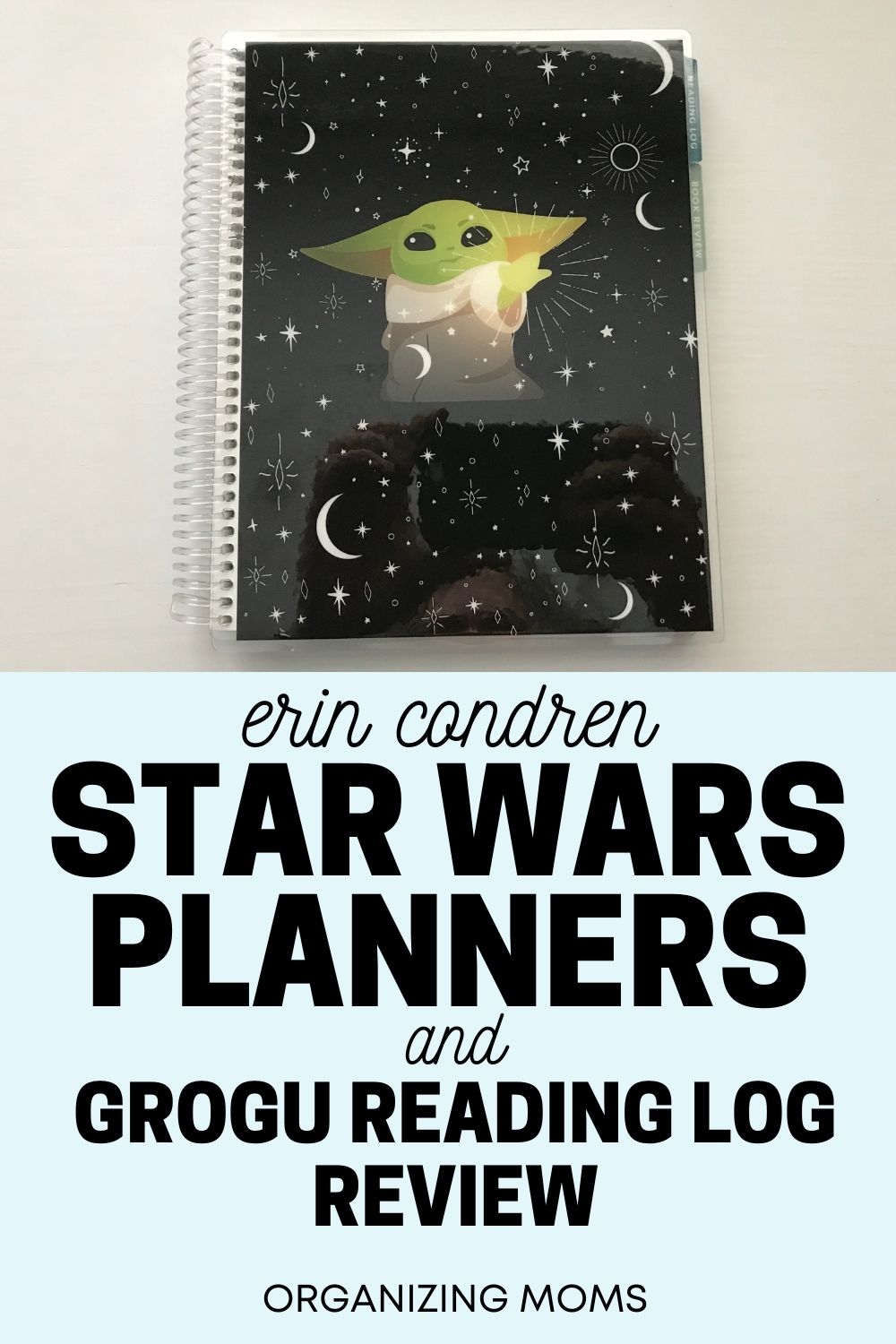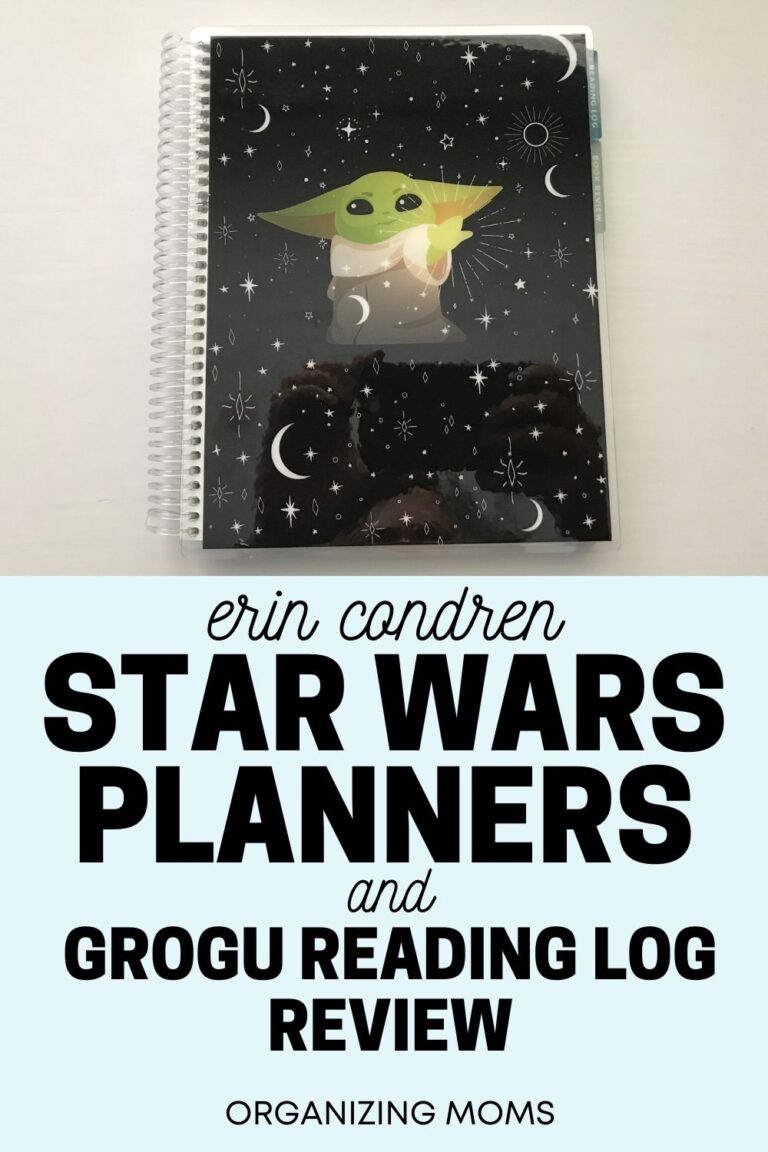 The post Erin Condren Star Wars Planner Review appeared first on Organizing Moms.