These blueberry gluten free breakfast bars have a shortbread crust, simple fruit filling, and a crispy crumble topping.

What makes this breakfast bar recipe special?
Whether it's blueberry season or not, this recipe for Starbucks-style blueberry breakfast bars is a great breakfast alternative to granola bars. I believe that Starbucks calls them blueberry oat bars.
If you can't have oats, no worries. I have plenty of suggestions for how to make them oat-free.
The crust is like an oat-shortbread. It's buttery and kinda crumbly, with the slight chew of oats mixed in. The crumble topping has the perfect nubby, crisp-tender texture of a proper crumble topping.
The blueberries keep their shape even after baking, because the crust doesn't take long to bake. That means they don't melt into a silky sauce to be eaten with a spoon, like in our gluten free blueberry buckle.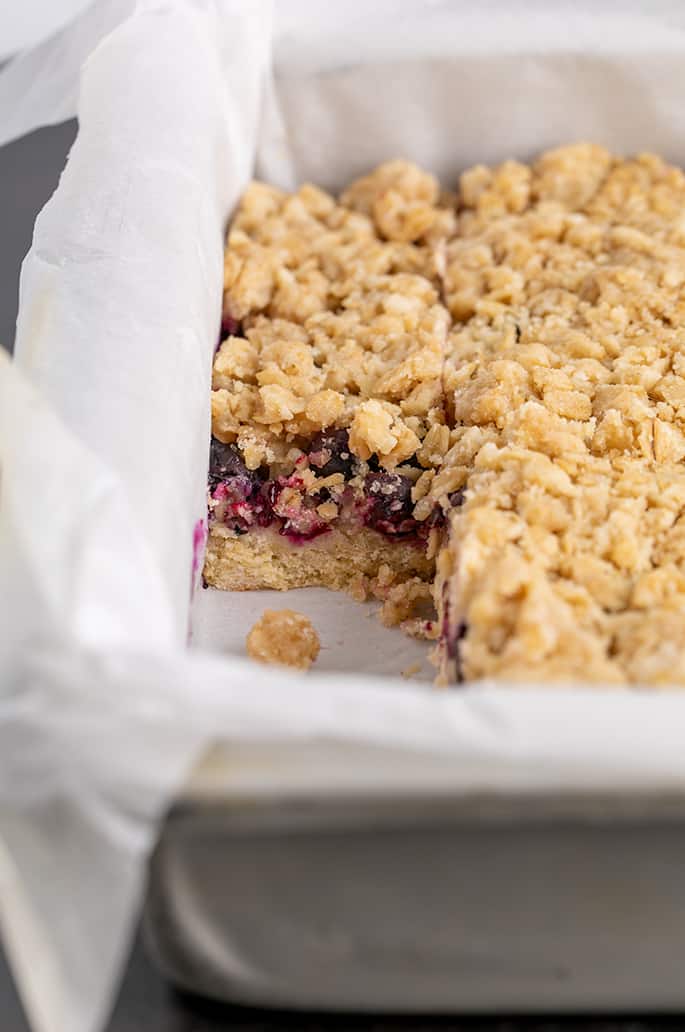 Can I make these breakfast bars with frozen berries?
Yes, you can! Blueberries are one of the best fruits to buy frozen, since they're always sweet when they're frozen, never tart like out of season fresh berries often are. Frozen berries will leak a bit more than fresh ones, but even the frozen ones should hold their shape quite well.
There are two types of frozen blueberries: wild blueberries, which tend to be rather small, and standard blueberries, which look more like the berries you'd buy fresh in the grocery store. Here, I recommend the standard-size berries.
When baking with frozen berries, do not defrost them or they'll begin to lose their shape before you place them in the oven. Work with them frozen, and work quickly to assemble the rest of the recipe before you pop the bars into the oven.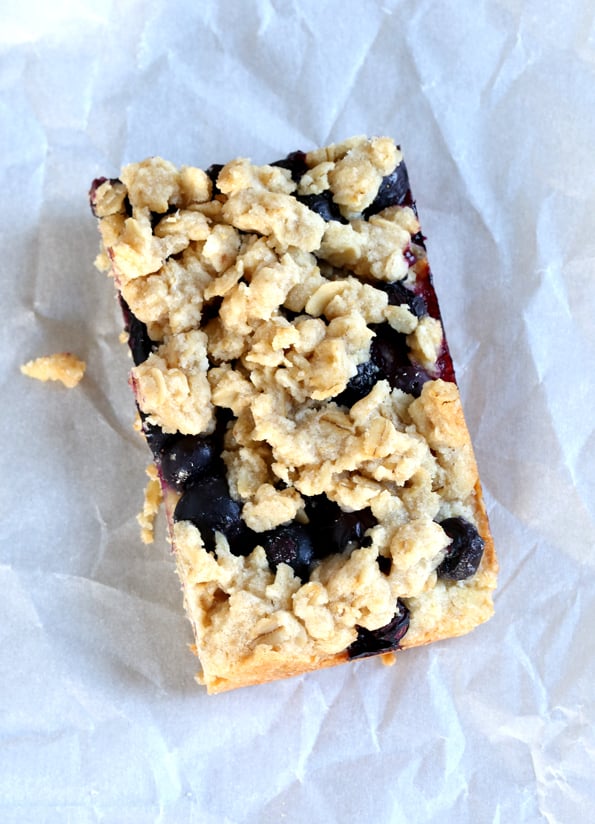 Alternate berry suggestions
Raspberries, fresh or frozen, would work really well here in this recipe. In fact, you could use a combination of blueberries and raspberries with great results.
Strawberries have more moisture than the other berries, so I can't be sure that the bars would hold together. If you do use strawberries, only use fresh so that you can slice them into chunks that are about the size of blueberries.
If you decide to try the recipe with strawberries, they'll definitely produce more moisture in the oven. Try adding 1 tablespoon of tapioca starch to the oat flour to help the liquid gel as the bars cook.
If you'd like to make gluten free breakfast bars without fruit at all, I recommend trying our gluten free oatmeal bars. They're even more portable than these breakfast bars, since they don't have any fruit.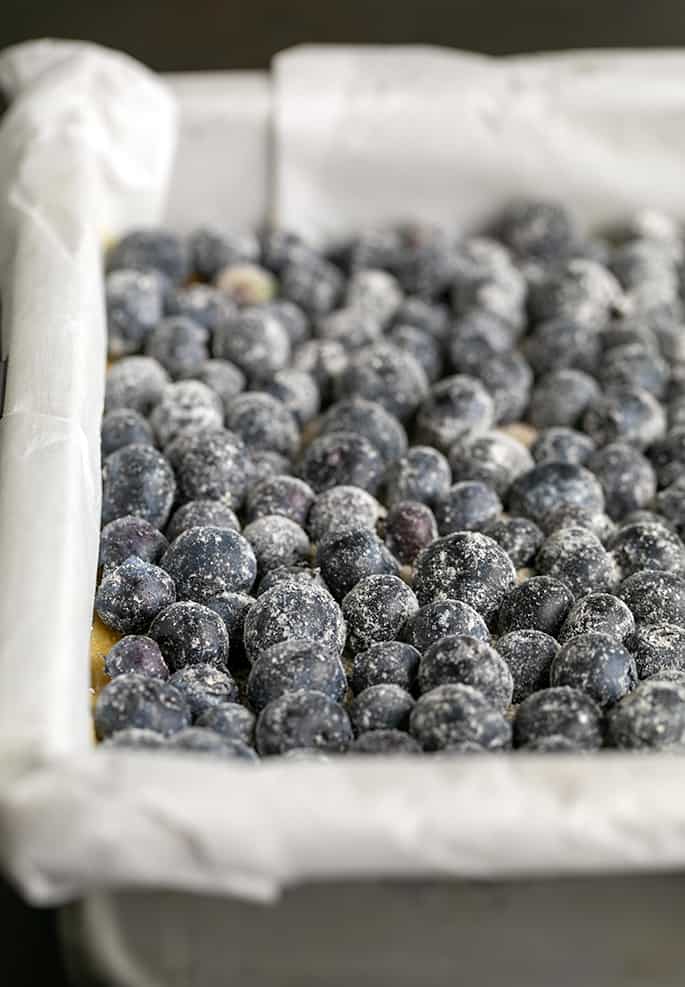 Can I make these bars without oats?
Oats in any form on a gluten free diet can be controversial. Although I use purity protocol gluten free oats in my gluten free house all the time, I know not everyone can tolerate them.
If you'd like to make these bars without oats at all, I have good news! A few simple swaps and these gluten free breakfast bars will be oat-free and still hearty and tasty.
Typically, when I'm replacing oats in their various forms, I replace oat flour with quinoa flakes and rolled oats with beaten rice. Here, since I've made both shortbread crusts and crumble toppings without oats entirely, it's even easier to make all parts of these bars without oats.
For an oat-free crumble recipe
To make the crumble recipe without oats at all, eliminate the oats and increase the all purpose gluten free flour blend to 1 cup (140 grams). Otherwise, follow the recipe as written, adding each remaining ingredient as instructed.
For an oat-free crust recipe
For the crust, eliminate the oats and oat flour, and increase the all purpose gluten free flour blend to 1 cup + 2 tablespoons (158 grams). Otherwise, follow the recipe as written here, too.
For an oat-free fruit layer
The addition here of some flour or starch keeps the fruit filling layer firm enough to be cut into bars. For the fruit layer, replace the oat flour with 1 tablespoon (9 grams) cornstarch. If you can't have corn, try tapioca starch/flour.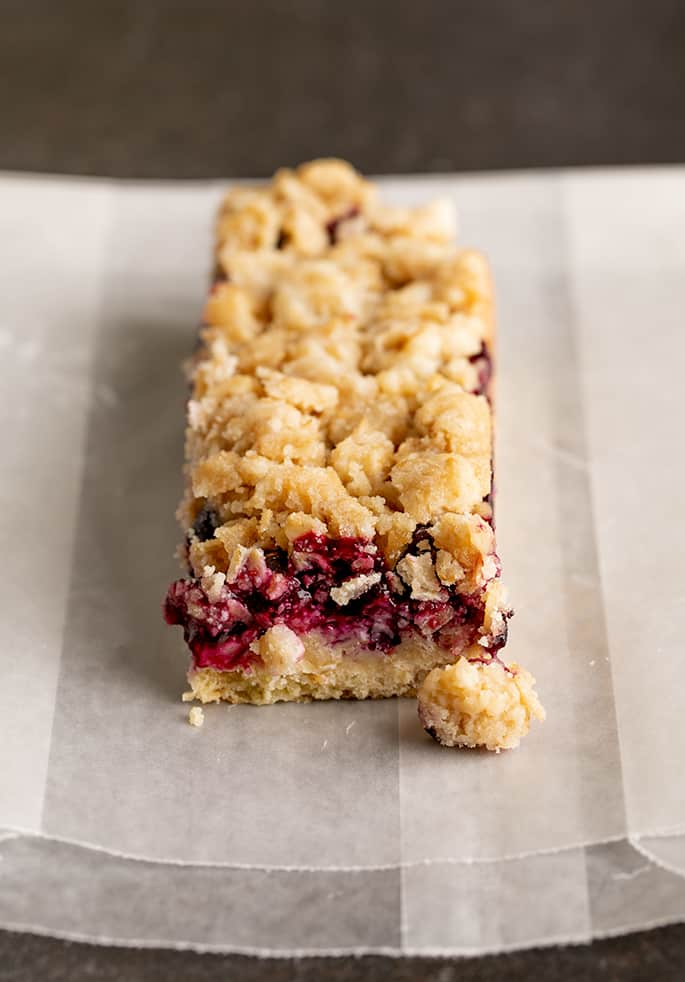 Ingredients and substitutions
Dairy
The only dairy in this recipe is butter, and you should be able to replace it in both the crust and the crumble topping with vegan butter. My favorite brands are Melt and Miyoko's Kitchen.
I really recommend against Earth Balance buttery sticks, especially for the crumble topping. Earth Balance has a lot of moisture in it, and the crumbles likely wouldn't hold their shape during baking.
Egg
There's only 1 egg in this recipe, in the crust recipe. It acts as a binder. You should be able to replace it with a 1 "chia egg" (1 tablespoon ground white chia seeds + 1 tablespoon lukewarm water, mixed and allowed to gel).
Oats
Please see the discussion above about how to replace oats. If you're not individually sensitive to them, though, certified gluten free purity protocol oats are appropriate on a gluten free diet.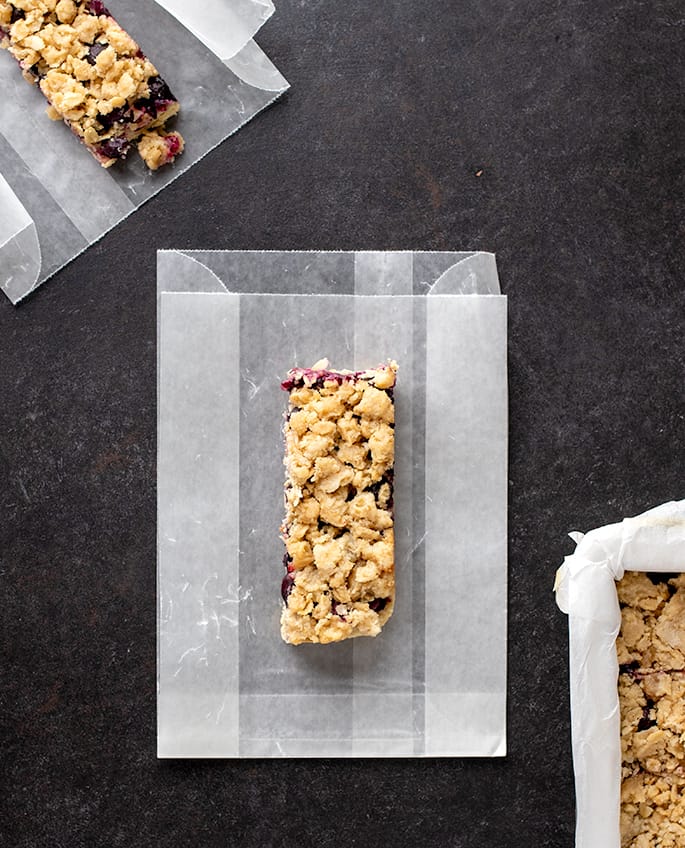 The post Blueberry Gluten Free Breakfast Bars (Starbucks Copycat) appeared first on Great gluten free recipes for every occasion..