Tapioca flour is a naturally gluten free and Paleo friendly ingredient that lends incredible texture to baked goods, sauces, fried foods, and other yummy recipes. Learn more about how to use this special ingredient, and see our favorite tapioca starch recipes in this great roundup.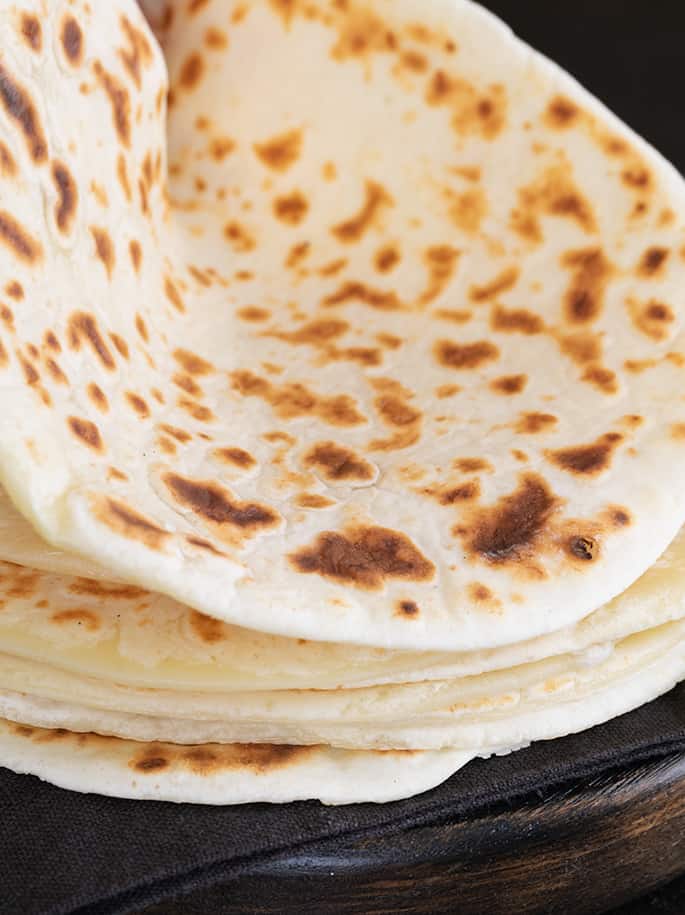 [This post contains affiliate links, which are clearly marked. I'm a participant in the Amazon Services LLC Associates Program, an affiliate advertising program designed to provide a means for me to earn fees by linking to Amazon.com and affiliated sites.]
What is tapioca flour?
Tapioca flour, which is the same thing as tapioca starch, is a flour made from the starch of the cassava root. Cassava flour is made from the whole root, and behaves very differently than the starch/flour in baking. The two ingredients are not at all interchangeable.
Tapioca starch/flour has no real smell and no particular taste, and is made by making a cassava root into a wet plup, then washing the pulp to remove the starchy liquid. Then, the liquid is dried and only the tapioca starch remains.
Tapioca starch is a white powder that is very hard to distinguish from other starches like cornstarch and potato starch in appearance, although it tends to clump less than potato and corn starches. Tapioca starch behaves quite differently than other starches in baking, since it gives baked goods a stretchy, chewy quality that is very hard to duplicate with any other single ingredient.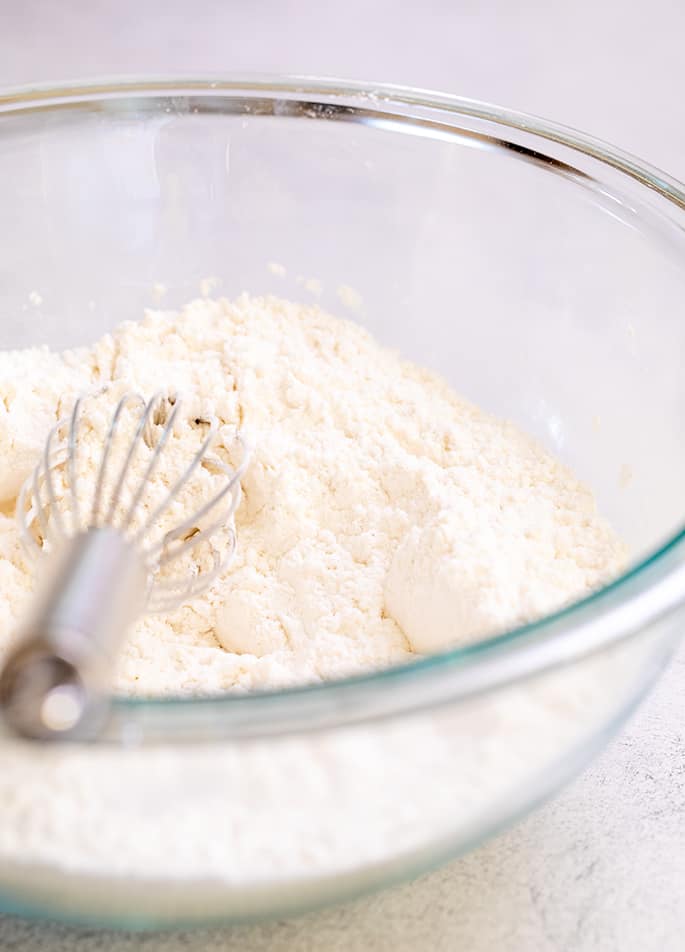 Why use tapioca flour?
When you consider the many helpful uses for tapioca flour, I think the question should be, "Why not tapioca flour?"
I think the most obvious reason for adding this awesome ingredient to your pantry arsenal is that it simply gives you another option when it comes to gluten free cooking and baking (and having too many gluten free options is never a bad thing.)
We typically use tapioca flour in baking, either on its own or alongside another gluten free flour or blend of flours. Here are some of its best uses:
Alone, tapioca flour can make stretchy, chewy, unbreakable cheesy wraps, Paleo bagels that are crisp outside and chewy inside.
It's an essential part of every single one of my gluten free flour blends, from simple (like our gum-free gluten free blend for pancakes) to complex (like our gf bread flour).
When added to Better Batter in a gluten free yeast bread, it can help create stretch and pull without adding other enrichments or more dairy.
In grain-free, Paleo recipes as a way to add flexibility and lightness to cookies and cake made with coconut flour.
If you've never tried gluten free tapioca flour recipes, I think you're in for quite a treat.
The best tapioca flour recipes
Because it's such a great binder and thickener, there is no shortage of things to make with tapioca flour. These are some of my favorite recipes with tapioca flour — some feature tapioca starch front and center, while others use this special ingredient as a sidekick to pull everything together. If you've been wondering what to make with tapioca flour, start here!
Gluten Free Soft Tapioca Wraps
Tapioca flour gives these delicious wraps tons of flexibility, so they won't tear as you fill them up and chow down. I love having these soft, gluten free, tapioca flour wraps for lunch with turkey and basil, but they're also great as a snack with some hummus.
Check out this recipe
Against the Grain-Style Gluten Free Rolls
If you've ever had Against the Grain rolls, you know that they're on another level. Because they're so expensive, I worked hard on creating my own copycat recipe. I found that the only way to achieve that crispy + chewy texture was to use tapioca flour.
Check out this recipe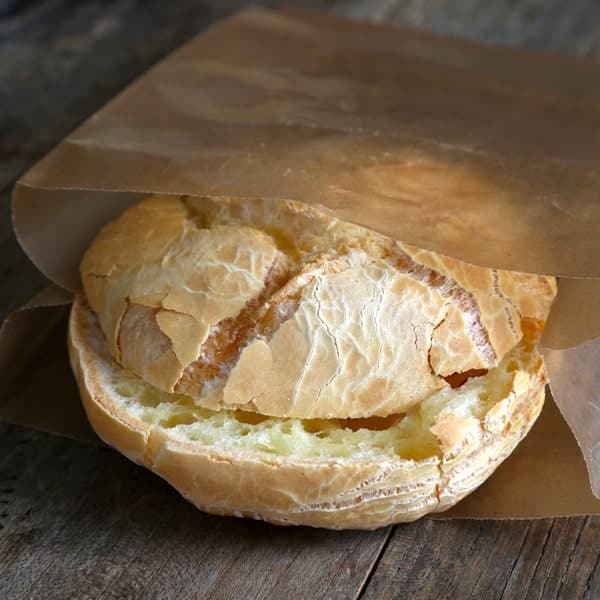 Brazilian Cheese Bread | Quick Pao de Queijo
This is another tapioca flour recipe for bread with a crispy outside and chewy inside. It's my take on extremely popular Brazilian cheese bread from South America, and as with my Against the Grain copycat recipe, it's much cheaper than buying a prepackaged mix.
Check out this recipe
Paleo Chocolate Chip Cookies
Don't let the Paleo in this tapioca starch recipe scare you away — if something's Paleo, it's also gluten free! For this tapioca flour dessert, we use a combination of tapioca and almond flours to create the perfect texture.
Check out this recipe
Authentic Paleo Bagels
Chewy bagels are the best bagels, and the tapioca flour in this recipe gets us there. And because you can use as much tapioca starch as necessary to shape these bagels, you don't have to worry about them becoming too doughy.
Check out this recipe
NY Style Gluten Free Pizza Crust
If you've ever had authentic NY style pizza crust, you know that it's super flexible — it bends and folds like no one's business. To create the same consistency and offer the chewiness that's a must for pizza crust, I added some tapioca flour to this gluten free recipe.
Check out this recipe
Rich Paleo Chocolate Cake
We use a combination of coconut and tapioca flours to make this decadent chocolate cake. Because this cake is made without grains, it's gluten free and Paleo friendly!
Check out this recipe
Gluten Free Dinner Rolls
I love dinner rolls that are soft and springy, so this is definitely one of my favorite gluten free bread recipes. The tapioca flour here gives these rolls so much stretch, making them perfect for sopping up gravy or sauce.
Check out this recipe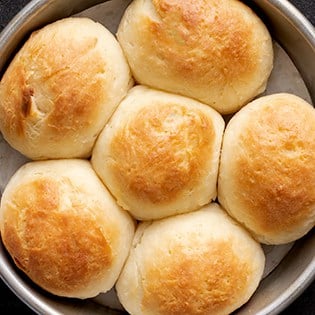 Crunchy Paleo Crackers
The tapioca flour and almond flour in this cracker recipe come together beautifully to give you the perfect crunch. These light crackers are as great for eating on their own as they are for dipping.
Check out this recipe
Fresh Gluten Free Tortellini
This is another of my gluten free recipes where tapioca flour helps gives us stretch. Adding the starch here allows us to shape and seal the tortellini without the dreaded tearing.
Check out this recipe
Tips for using tapioca flour in your gluten free baking
Sourcing tapioca flour
It's relatively easy to find tapioca flour in the United States these days. It's often right on the shelf next to other flours at the most grocery stores, and it's a staple of health food stores. Of course, it's also readily available online.
When shopping for tapioca flour, I suggest you look for the following brands:
You'll notice that I've left a popular brand off the list — I am not a fan of Bob's Red Mill tapioca starch because I find the quality to be very inconsistent. That means that, even if you've had a good experience using that brand's tapioca starch once, you might not have a good experience the next time.
Another thing that I recommend you stay away from? Those bulk bins at health food stores and markets. You know, the ones where you scoop and package your own tapioca flour. These starches are at risk of gluten contamination as you don't know what was previously stored in those bins or where those flours were produced.
Making your own tapioca flour
Honestly, it's not worth it. Making tapioca flour takes a lot of time and effort, and I don't think the payoff is there when you can pick up a bag of the stuff from a quality producer for a few bucks.
There's also the fact that there's naturally occurring cyanide (yes, that cyanide!) in cassava root, where the flour comes from. You can destroy the poisonous compound with proper heating and processing — but again, why go through this trouble when prepackaged is safe and affordable?
Making flour from tapioca pearls
Now, if you're in need of flour but only have tapioca pearls on hand, it might be worth trying to turn one into the other.
To make tapioca flour from pearls, simply drop the pearls into a food processor (or, even better, a grain mill like with making superfine rice flour) and grind to a fine powder.
Storing tapioca flour
Like many other starches and flours, tapioca starch is hearty and doesn't spoil easily. This means you can store it at room temperature on a kitchen counter or pantry rather than the refrigerator. In most cases, it will last at least a year, while some people claim it never actually goes bad.
To keep tapioca flour from clumping or hardening, keep it away from moisture. It's best to store the flour in its original, resealable container or transfer it to an airtight container, like a plastic or glass storage ccontainer with a tight-fitting lid.
Measuring tapioca flour
Because tapioca flour is so fine and powdery, it can be easy to scoop too much if you use a spoon to measure it out. Even though it tends to be more forgiving in recipes, you should strive for accurate measurements to ensure your recipes turn out just like mine.
The best way to measure tapioca flour — and really any kind of flour — is to use a kitchen scale. First, place a measuring cup on the scale, and zero it out. Then take the flour from your bag or jar, and add it to the measuring cup, paying attention to its weight. Stop when you reach the weight that your recipe calls for, even if the volume measurement (how many spoons you've scooped) isn't exactly the same.
Follow recipes as they're written
Speaking of following recipes, please do it as precisely as you can! It takes a ton (and I mean a ton) of trial and error to develop gluten free recipes that taste at least as good as their gluten-containing counterparts.
The easiest way to undo all that hard work and end up with a bread or cookie that doesn't feel or taste quite right is to veer away from the ingredients and measurements in a gf recipe.
When it comes to this ingredient in particular, please pay careful attention as to whether you are adding tapioca flour alongside other gf flours or using it on its own.
While I do sometimes provide substitution advice where I can, you'll always end up with the best results if you follow my recipes to a "T" (as in tapioca flour).
Substituting tapioca flour
Since tapioca starch has such unique stretchy qualities when used in the right amount in baking, there is no perfect substitute. It may seem incredibly similar to cornstarch and other powdery ingredients, but it really is in a class of its own.
The closest substitute I have found is superfine sweet white rice flour, also known as glutinous rice flour. It's more than a starch, since it's made from the whole grain of rice, but it's made from starchy, short-grain white rice and adds pretty significant chew in cooking and baking.
If there's a possibility that you can replace tapioca starch with superfine white rice flour or even, in much more limited circumstances, with arrowroot, cornstarch, or potato starch, I'll let you know what I know in the recipe notes for that individual recipe. Always read the "ingredients and substitutions" section of each of my recipes, which is located near the end of each post, above the recipe card.
FAQs
What is tapioca flour?
Tapioca flour is a white, powdery starch that comes from the root of the cassava, or yuca, plant. Cassava root itself is eaten much like potatoes in many places in South America, but it can also be ground to extract its starch.
Tapioca flour is a common ingredient in Asian and South American baking and cooking — and because it contains no gluten, it's also popular in gluten free food preparation.
What is tapioca flour made out of?
Tapioca flour is the starch of the cassava root which is extracted by making the root into a wet pulp which is then washed and the remaining liquid is dried, leaving behind the starch. As always, you should read product packaging to ensure you pick a brand that isn't made with fillers or other unnecessary additives.
Is tapioca flour the same as cassava flour?
No, don't confuse tapioca flour with cassava flour. The difference between the two is that tapioca flour is made by extracting the root's starch while cassava flour is made using the whole root.
Is tapioca flour gluten free?
Yes! Tapioca flour is a grain free and naturally gluten free powder that you can use in baking, cooking, and frying. It has a neutral flavor that makes it perfect for both sweet and savory foods. Tapioca flour is also Paleo (it's grain-free), and vegan.
What's the difference between tapioca flour and tapioca starch?
Tapioca flour and tapioca starch are actually the same exact thing. You may see it labeled as one or the other depending on its manufacturer, but the underlying product is the same no matter which you choose.
What can you make with tapioca flour?
There is so much you can make with tapioca flour, but in gluten free baking and cooking, it's often a replacement for wheat flour or as an addition to all purpose gluten free flour.
What is tapioca flour used for?
Tapioca flour is popular in gluten free baking because it helps all the ingredients stick together — in that way, it sort of mimics the bonds that gluten typically make. In some gluten free recipes, especially breads, you add tapioca flour because it adds more chew and tenderness.
Tapioca starch is also a great thickening agent, so you can add it to sauces, soups, and stews to take them from runny to thick and savory.
How to use tapioca flour?
Generally, you can't use tapioca flour as a 1:1 replacement for wheat flour in baking — the finished result will just be too gummy. Instead, you'll want to use a combination of gluten free flours to achieve the perfect consistency. (Better Batter (affiliate link), my favorite all purpose flour, is a blend that contains tapioca starch; sometimes we add more tapioca starch to Better Batter to make a simple stretchy gluten free flatbread)
However, if you're using tapioca flour as a thickening agent for soups and sauces or as a coating for frying, you can use it in the same ratio as you would traditional flour.
Where do you buy tapioca starch?
Tapioca starch is widely available, so you can purchase it local grocery stores, health food stores, and online. One of my favorite brands is Authentic Foods brand tapioca flour (affiliate link).
I usually buy Authentic Foods tapioca starch from Amazon since I'm a Prime member and the price is usually quite good, but you can also buy from their company website or from Vitacost.com. Be sure to search around for the best price, which varies at any given time.
The post Best Tapioca Flour Recipes Roundup + Tips and FAQs appeared first on Gluten Free on a Shoestring.