Many paint options are available, making it tough to choose between acrylic and latex paint. Acrylic and latex paint share some similarities but have unique characteristics and perks. Acrylic paint varies from latex paint in weather resistance, elasticity, composition, and more.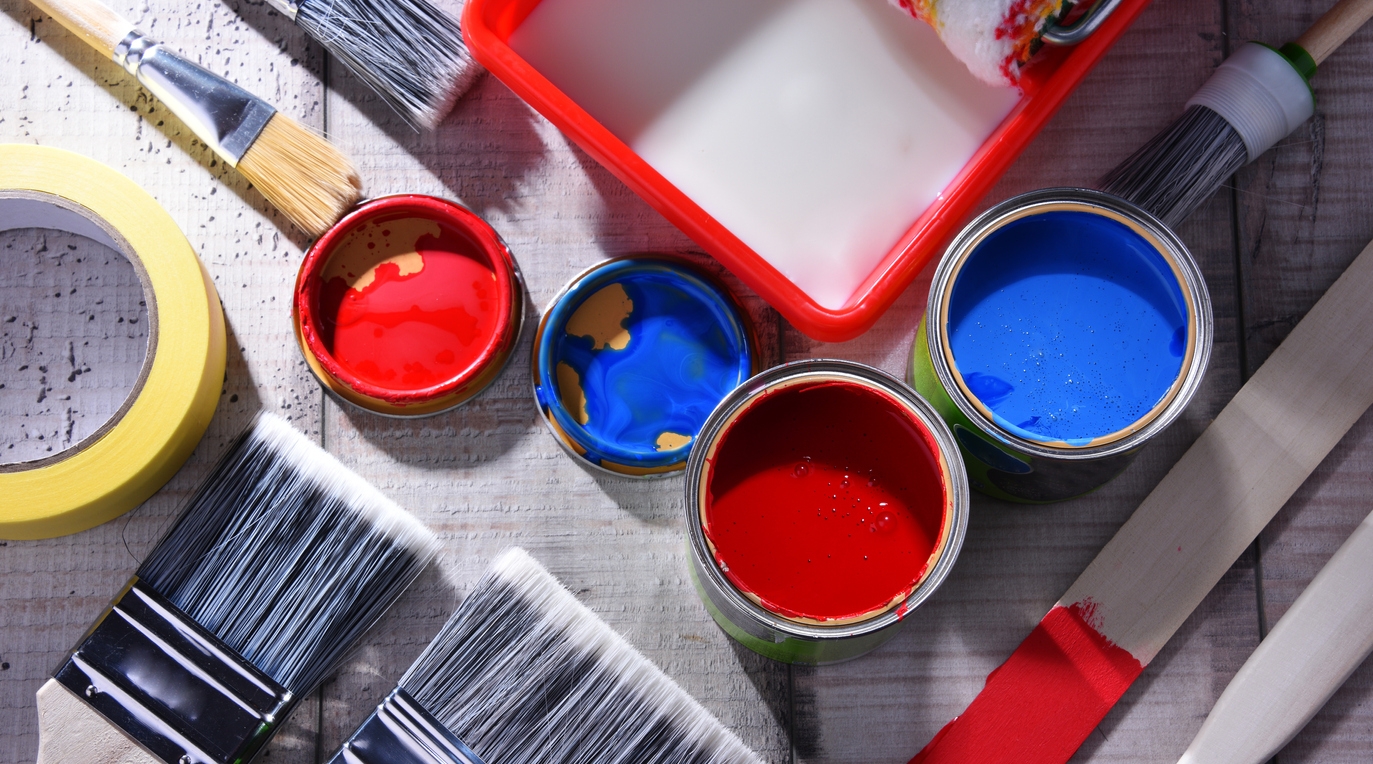 Adhesion, cost, drying time, and ease of maintenance are also worth considering. An in-depth comparison helps you choose between acrylic and latex paint. The right paint type also depends on your project's needs.
---
Latex Paint at a Glance
Water-based liquids, binders, and pigments make up latex paint. Synthetic rubber gives latex paint characteristics that set it apart from oil-based paints. It's ideal for DIY projects since it's durable, non-toxic, and requires little maintenance.
The paint is available in most home improvement stores in various finishes and hues. Latex paint is compatible with a variety of surfaces and materials. They include wood, trim, furniture, cabinets, and ceilings.
Sherwin-Williams, Benjamin Moore, Behr, Valspar, PPG Paints, Dulux, and Dutch Boy are popular latex paint brands.
What Is Latex Paint Used For?
Latex paint is best for various surfaces, including wood, plaster, brick, and drywall. It's a handy option for a variety of painting projects.
The paint type is also ideal for arts and crafts projects. You can use latex paint to draw murals and add artistic elements to home decor. It primes surfaces before applying oil-based paint or other forms of finishes.
---
Acrylic Paint at a Glance
Acrylic paint has pigment, acrylic binder, and acrylic vehicle components (water). It is a water-based, quick-drying paint. Due to its minimal VOC emissions, acrylic paint isn't an environmental threat. Acrylic paint forms a thicker film when it dries than latex paint.
It provides a more durable protective layer. The pigment imparts color to the paint, while the binder maintains its structure. The vehicle, a polymer emulsion of water and binder, improves the paint's adhesion to various surface textures.
What Is Acrylic Paint Used For?
Artists and students choose acrylic paint for its versatility. Acrylic paint thins or thickens to achieve a range of effects. The paint is suitable for various surfaces like canvas, fabric, brick, concrete, and wood.
It's a top choice for murals, street art, furniture refinishing, and miniatures. The paint type is also best for fabric painting and crafting projects.
---
Acrylic vs. Latex Paint: What's the Difference?
Acrylic and latex paints differ in composition, cost, elasticity, drying time, toxicity, and more.
1. Composition
Water-based acrylic and latex paints differ in composition and properties. Synthetic polymer and acrylic resin are the main ingredients of acrylic paint. It works by dissolving colorants in water. Acrylic paint dries quickly to form a water-resistant layer. The paint type is ideal for fine art, handicraft, murals, and street art.
Latex paint is made of a water-based polymer emulsion. The paint type uses polyvinyl acetate (PVA), a polyester made from tree resin or synthetic materials. Pigments, fillers, and other additives improve the paint's appearance once it's dry. It's best for walls and woodwork projects.
2. Drying Time
The average drying time for acrylic paint is between 15 and 20 minutes. It's suitable for projects requiring several coats within a short time. The paint hardens in 24 hours. It takes longer for latex paint to dry.
The drying process could last a few hours to a day. Its curing time could also be longer. Temperature, humidity, and paint thickness all affect how long the paint takes to dry.
3. Damage Resistance
Brand, product line, and paint type all influence the durability of the paint. The durability of paint depends on surface preparation, painting technique, finish, and the environment. Acrylic paint peels, chips, and cracks less often than latex paint. It resists fading, chalking, and mildew much better.
4. Adhesion
Acrylic paint has better adhesion than latex paint. It sticks to various surfaces, including metal, wood, and concrete. Latex also has solid adhesion but may require a primer on some surfaces. Acrylic paint stretches and shrinks without cracking or losing its adhesion.
5. Toxicity
Since latex paint is water-based, it's non-toxic when dry. But, you may experience dizziness, mild nausea, and headaches during application. Latex paints containing titanium dioxide and iron oxide are toxic when inhaled in large amounts.
Some acrylic paint brands also contain toxic ingredients like lead. Lead is unsafe for inhalation or skin contact. Check for lead-free paint or a warning label. The warning label indicates the presence of toxic ingredients in the paint.
6. Cost and Availability
While latex paints are cheaper, acrylic paint brands are readily available in various colors. Both are available in glossy, matte, and satin finishes. Latex paints also come in larger quantities, making them more cost-effective for large surfaces. Despite their high costs, acrylic paints offer more durability.
7. Shelf Life
Latex paint lasts up to 10 years in a sealed container, while acrylic paints last for 15 years unopened. But acrylic paints dry faster when opened and may need stirring before use. Leftover paint stays good if properly sealed and stored in a cool, dry place.
8. Elasticity
Acrylic polymer emulsion makes acrylic paint elastic after drying. The binder expands and contracts with temperature change. As a result, acrylic paint doesn't crack on exterior walls and wooden furniture. Latex paint isn't as elastic. Hence, cracks and peeling may occur with exposure to water and extreme temperature changes.
9. Areas of Use
Latex paint is suitable for use on interior walls, ceilings, murals, and trims. Since it's sold in large quantities, latex paint is cost-effective for large surfaces. Acrylic paint is a better choice for metal surfaces. It protects the metal from rust and resists water and sun damage.
10. Ease of Maintenance
Latex paint is easy to clean from surfaces and brushes. It's more durable in gloss and satin finishes. The paint type traps less dirt and resists mold and mildew growth. It's also easy to wipe down smooth surfaces. Chemical-based acrylic paints are hardy and tolerate scrubbing and the use of chemical cleaners.
11. User-Friendliness
Water-based latex paint is more user-friendly than acrylic paint. Unlike acrylic, latex paints are chemical-free and non-toxic. Acrylic paints emit volatile organic compounds (VOCs) indoors and strong odors during application. Acrylic paints are also flammable at high temperatures.
12. Mold or Mildew Resistance
Latex paint seals the surface, protecting it from mold and mildew growth. Acrylic paints contain mildewcides that seal any porous surfaces, preventing mildew growth. Both paints are ideal for hot and humid climates.
---
Acrylic vs. Latex: Comparison Table
| Features | Acrylic | Latex |
| --- | --- | --- |
| Composition | Chemical-based | Water-based |
| Drying Time | 15-20 minutes | 1-2 hours |
| Damage Resistance | Resists fading, sun, water damage | Prone to chipping on outdoor walls and furniture |
| Adhesion | Adheres to metal, wood, and concrete | Needs primer for adhesion on existing paint |
| Toxicity | Toxic and release toxic fumes | Non-toxic and odorless |
| Cost and Availability | More expensive | Cheap, available in large quantities |
| Shelf Life | 5-10 years | Up to 10 years |
| Elasticity | High elasticity and flexibility | More likely to chip and peel |
| Areas of Use | Interior walls, ceilings, canvas, wood | Exterior walls, metal surfaces |
| Ease of Maintenance | Resists stains, washable | Easy to clean |
| User-Friendliness | Thick and harder to use for beginners | Thin and easier to apply |
| Mold or Mildew Resistance | High | Moderate |
Pros and Cons of Latex Paint
Pros:
Non-toxic and odorless
Easy clean up from brushes and surface
Cheap and available in most paint stores
Needs few coats for maximum coverage
Cons:
Prone to chipping and peeling on wood surfaces
Less durable on outdoor surfaces
Pros and Cons of Acrylic Paint
Pros:
It adheres to various surfaces including wood, canvas, glass, metal, and plastic
Acrylic paint is durable in extreme temperatures
It's suitable for indoor and outdoor use
Breathable and flexible
Cons:
Acrylic paint comes in small quantities, unlike latex paint
It's challenging to clean up from brushes, clothing, and hands when dry
What Is Acrylic Latex Paint?
Acrylic latex paint is a water-based paint with an acrylic resin binder. 100% acrylic latex paint is high-quality, with superior adhesion, washability, and color retention. Using acrylic resins also makes the paint flexible, so it's durable on outdoor surfaces.
Acrylic latex paint adheres to wood, stucco, and metal surfaces. But, painters must prime a surface before applying it on glossy surfaces. Acrylic latex paint spreads out evenly and takes 1-2 hours to dry. It's available in matte and glossy finishes and various colors.
Frequently Asked Questions (FAQ)
FAQ
Can you thin acrylic paint using water?
Yes, water thins acrylic paint, but it still allows good coverage. Blending 30%- 50% water to acrylic paint helps achieve a thinner and flowy consistency. But, using too much water dissolves the binder and might not adhere to the surface.
Can acrylic paint be used on fabric?
Acrylic paint adheres to fabrics if an acrylic medium is added. A fabric medium improves the flow of paint and prevents color bleeding. You can also sand and wet the fabric without a medium using acrylic paint.
Does latex paint yellow over time like oil-based paints?
Latex paint, unlike oil-based paints, is not prone to yellowing over time. Yellowing on oil-based paints starts during the curing stage and worsens with time. Choose latex paint over oil-based paint for white pigments and clear varnishes.
Is it necessary to prime surfaces before applying latex paint?
Using a primer is necessary when painting latex over oil-based paint. But latex paint can substitute the primer when painting on a smooth drywall. A bonding primer improves adhesion on new drywall, wood, and masonry.
Can acrylic paint be mixed with other types of paint?
Acrylic paint can be mixed with latex paint since both have a water base. Yet, acrylic paint and oil-based paint don't mix. Most artists use oil paints on acrylics rather than mixing them.
Choosing between latex or acrylic paint depends on your needs and preferences. Both paint types have their perks and downsides. Acrylic paint is weatherproof, less toxic, and more resistant to mold or mildew growth. Latex paint is non-toxic, odorless, and has a longer shelf life. Since it has a lower adhesion than acrylic paint, you'll need a primer.
The post Acrylic Vs. Latex: Which It's Right for Your Project? appeared first on Homedit.