As Mother's Day approaches, it can be hard to know what to get the most important lady in your life. If you're looking for a unique and thoughtful gift that won't break the bank, try these best Mother's Day gifts.
Sure enough, telling her how much she means to you would be ideal, but the truth is that we're not all good with words, especially when it comes to saying it out loud, so we sometimes resort to gifts to act as an intermediary.
This is why we're here to help you out, with some ideas on what you can make with your own two hands! You'll be surprised how easy it is, and the fact that mom will love almost anything handmade makes it even better.
Speaking of which, here's a complete guide on Mother's Day that you should read if you want to make this day a perfect one.
Best Mother's Day Gifts that Won't Break the Bank
Whether your mom is feminine, sporty, geeky, or anything else in between (or all of the above), we guarantee there's at least one homemade gift idea here to make her day extra special this year!
1.
3D Butterfly Card – Do It Yourself Mother's Day Gift Ideas
When it comes to holidays, nothing showcases your appreciation more than a holiday card, and this includes Mother's Day as well.
However, if taking a piece of colored cardstock, bending it in half, and writing a cute message inside just doesn't cut it for you, then we suggest that you take a look at the first entry on our list: the 3D butterfly card.
Supplies:
Two different sets of butterfly wing templates

Regular white paper

Colored cardstock

A pair of scissors

A black marker

A glue stick
For more amazing card ideas, check out our list of the best DIY Mother's Day cards that you can make.
2.
Lipstick Gift Card – Mom Gift for Mother's Day
If your mom is the type of lady who cares about how she looks, she probably has a favorite lipstick, lip gloss, or lip balm.
Well, if you are out of ideas as to what kind of gift you can make for her this year, might we suggest that you turn her favorite lipstick, gloss, or balm into a lipstick gift card!
Supplies:
A tube of your mother's favorite lipstick, lip gloss, or lip balm

Colored cardboard

A pair of scissors

A pink ribbon

A hole punch

A glue stick

A pencil

A ruler
As far as the colored cardboard is concerned, you can use pink or polka-dotted like in the illustration or use whatever colors you can find that will match the casing of the lipstick.
3.
Binder Clip Card Holder – Personalized Mother's Day Gifts
If your family members have all bought or made a holiday card for your mother on Mother's Day, one way to be original and make a gift that will prove useful is to craft a cute binder clip cardholder.
As you can tell from the picture above, it looks more like a toy than anything else, and those big eyes will surely make your mother's heart melt.
Supplies:
Pom poms

A glue stick

A binder clip

A red marker

Pink pipe cleaner

A pair of scissors
These cute cardholders don't take a lot of time to make either, so you can go ahead and make a dozen of them.
Speaking of which, if you plan on making more than one, you can make each of them look different from the rest by using different materials, such as different colored pompoms or pipe cleaners, or even using more than two googly eyes!
4.
Rope-Wrapped Vase – Best Mother's Day Gift
When it comes to DIY crafts, mason jars have somehow become extremely popular, and this next entry makes use of one to create an amazing Mother's Day gift: a rope-wrapped vase!
What's amazing about this particular gift idea is that you don't need many supplies to make it, and making it will also take very little time, most of which will be spent waiting for the glue to dry.
Supplies:
A pair of scissors

Artificial flowers

Colored yarn (use your mother's favorite colors)

Hemp twine

Lace ribbon

A mason jar (preferably round)
Long story short, you'll wrap the mason jar using the colored yarn and the glue gun, and then you'll be adding the artificial flowers and lace ribbon for detailing.
5.
Macrame-Wrapped Mason Jars – Last-Minute Mother's Day Gifts DIY
If you like the previous entry, then you'll definitely like this one as well – macrame-wrapped mason jars.
It doesn't make use of as much rope as the previous entry, although you will need to know your way around tying knots and maybe a bit of embroidery.
Supplies:
A mason jar

Some hot glue

A pair of scissors

A pompon ribbon

An artificial flower

Some macrame yarn
Check out our in-depth article to read more about how you can make this macrame-wrapped mason jar. We encourage you to read it since you'll need to pay very close attention to both the instructions as well as the illustrations if you want to get the knotting just right.
As far as colors go, there are plenty of combinations that you could try, such as the clear mason jar with the beige yarn like we did in the illustration above, or you can even look for materials that are your mother's favorite colors.
Alternatively, if you can't find a mason jar in the color you need, you could always buy a simple, clear jar and color it with acrylic paint instead.
6.
Rustic Twig Photo Frame – Mother's Day Gifts for Grandma
If your mother is the type of person that likes nature along with anything that has a rustic appeal to it, then she'll love our next gift idea: the DIY rustic twig photo frame.
Supplies:
Straight branches

Beige acrylic paint

Peach colored paper

A cardboard frame

Flower hole punch 

A paintbrush

A silk ribbon

Rhinestone

A glue gun
While the supplies mentioned above are what you need to make a twig frame like the one in the picture, you can use other things as well, especially if you want to emphasize the gift's rustic aesthetic.
For example, you can go ahead and use some leaves as well, or even some acorns or pinecones in the frame's corners.
Lastly, if you plan on gifting this frame with a picture already inside of it, we suggest that you use either a family picture or a picture from one of your hiking trips in the wilderness.
7.
Coffee Beans Art – Easy Gift Ideas for Mother's Day
If you know your mother to be an avid coffee fan and drinker, then one of the best DIY crafting ideas we could suggest for you is something similar to this coffee bean artwork.
Supplies:
Gold and light brown 

acrylic paint

A pair of scissors

Coffee beans

Lace ribbon

Paintbrush

Canvas

Anise
8. Mother's Day Gift Basket Ideas
If you have trouble figuring out what kind of gift you can make for your mother, one go-to solution is to offer her a gift basket full of goodies since it's a big gift filled with several smaller gifts, some of which she's bound to like.
Of course, since we are talking about DIY gifts here, I highly recommend that you make the basket's contents yourself, or at least most of them.
The part is that there are plenty of DIY gift basket ideas that you can use, the most popular being gift baskets made around a particular theme.
For example, you can fill the basket with exotic fruits that you know your mom will love or several types of cheese. On the other hand, you can go ahead and forget about food altogether and fill the basket with homemade beauty products.
If you want to take things one step further, you can even buy yourself some whicker and make the basket yourself, although we do recommend that you have a bit of patience when doing so.
One last suggestion would be to accompany the gift basket with a nice DIY Mother's Day card, maybe even some of the ones we listed in this article!
9. DIY Self-Care Boxes – Mother's Day Gifts for Wife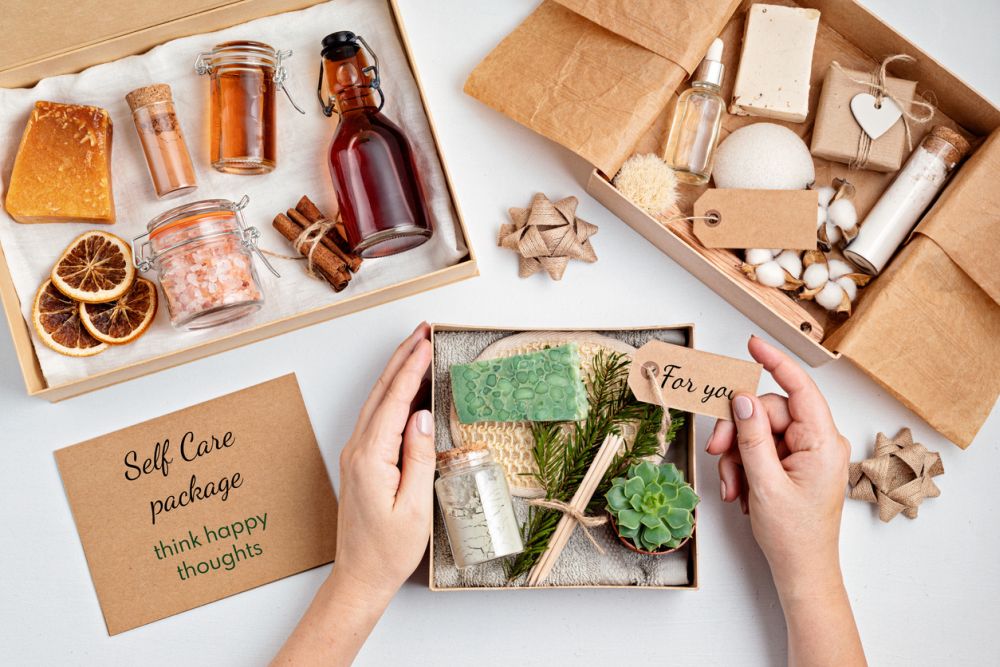 If you like the versatility offered by a gift basket, another neat gift idea that you'll surely like will be a DIY self-care package.
The two are pretty much the same thing, except that one is a basket and one is a box, and that self-care packages are always filled with cosmetics.
One way to give a self-care package a DIY twist is to either make your homemade cosmetics (soaps, creams, lip balms, or essential oils) or to go ahead and mix several store-bought cosmetics that you know your mom loves.
The best part about this particular idea is that it's incredibly easy to research what exactly your mom uses since all you need is to take a peek inside the bathroom or in front of her mirror space to see what products she already has.
As for those of you who want to make your DIY beauty products included in the package, we recommend that you first find out whether your mom is allergic to anything first.
10. Custom T-Shirts – Unique Mother's Day Gifts
We all like presents that seem custom-made for us, yet we have to admit that not all of us have the time to spare to make such presents.
Thankfully enough, making personalized gifts is easier than ever before since you can find dedicated stores that will create mugs, puzzles, baubles, and T-shirts with pretty much anything you want to be printed on them.
Speaking of T-shirts, one neat Mother's Day gift is a personalized T-shirt with a cute message or an image written on the front (some shops even let you print on both the front and the back).
Sure enough, you'll still have to figure out what you want to be written on the T-shirt or what image you should use, but if you're completely out of ideas, here are some suggestions:
Messages:
A philosophical quote about the importance of mothers

A short message like

Supermom 4 Ever

A short and meaningful poem
Pictures:
A printed picture of the two of you

A printed version of a family photo

A funny mom-themed meme
All in all, this is a very popular gift choice, and your mom is bound to love it and wear it!
11. Custom Mugs – Best Gift for Mother's Day
We'll continue with the personalized items, but instead of clothing, you could try making another personalized item that your mom probably uses daily: a mug.
There's nothing like sipping coffee, juice, or tea out of a mug and being reminded how loved you are every time you look at it, so that's why the idea is perfect.
Just like with the T-shirts, all you have to think of is a text and/or a picture, hand it in at a gift shop, choose the type of mug that you want, and wait for them to print it for you.
If you're looking for some inspiration as to how you can design the mug, here are a few pointers:
Messages:
A funny text like

Grumpy dragon before coffee, lovely mother after coffee

A sweet message like

May this coffee make your warm heart even warmer

A traditional mug text such as

#1 MOM
Pictures:
Make a thermal mug that features a picture of your mother's frowned face when it's cold and a picture of her smiling when it heats up.

A picture of the two of you
All in all, a mug may be a better choice than a T-shirt since she can use a mug daily without having to worry that the custom print will fade away too soon.
12. Personalized Engraved Metal Plaque – Unique Gifts for Mother's Day
If the idea of personalized gifts sounds appealing, but you find T-shirts and mugs to be a bit too generic, then you could try something a bit more elegant: a personalized metal plaque.
Sure enough, buying one from a gift shop is easy (although they tend to be quite expensive), but you can also make one of your own, although you will need to know your way around processing metal, and you'll also need an engraving tool.
Bronze, brass, stainless steel, granite, marble, glass, and aluminum are the most common materials for plaques, but the material choice is completely up to you.
Admittedly, this particular gift idea is pretty difficult to pull off, especially if you want to make it yourself, and not just because the materials are quite expensive.
You see, unlike writing on a piece of paper, there's no room for mistakes when engraving on a piece of metal.
Because of that, you need to be extra careful while you're doing your engraving, or else you might have to throw everything away and start over with a new plaque.
However, just by looking at the illustration above, you can pretty much tell that it's a long-lasting gift that your mother will love and hang on the wall with pride!
13. Breakfast in Bed – Mother's Day Gift Ideas for Grandma
Gifts don't necessarily have to be items, but they can also be wonderful experiences, one perfect example being surprising your mother with breakfast in bed on Mother's Day.
Given that she's probably the one that cooks your breakfast, lunch, dinner, and snack every single day, this particular gesture seems only fair.
The DIY part? Well, besides the food you'll be cooking yourself (don't order takeout, since that's cheating), you can also try your hand at carpentry and try making a serving tray or even a wooden bed desk, although that can be pretty challenging.
If you're wondering what food you can serve, here are a few ideas:
A cup of coffee or tea

Some fried eggs sunny-side up

Pieces of assorted fancy cheese

Some heart-shaped pancaked with the words Love U Mom written with syrup.
Regardless of whether you have other gifts prepared for her later in the day, breakfast in bed is the perfect way to start the day, and your mom will feel like her efforts are being appreciated!
14. Pasta Card – DIY Ideas for Mother's Day Gifts
In the illustration given above, we have a perfect example of how you can use farfalle (it means butterfly in Italian) to create a very beautiful Mother's Day card.
Supplies:
A bag of farfalle pasta (preferably colored)

Some colored cardstock (white will also do)

Colored acrylic paint (if the farfalle are plain)

A glue stick or some regular paste

A pencil
Take your colored cardstock and fold it down the middle so that you'll have the beginnings of a holiday card.
If your farfalle is plain, paint them with your acrylic colors and let them dry, then glue them to the cardstock in whatever way you want. Once the pasta has been set, write whatever text you want on the inside of the card, and you're done.
It's a simple gift, and if your mom is the nostalgic type, it will probably remind here of the good times when you were little and made this type of art regularly.
15. A Calendar with Family Photos – Good Mother's Day Gifts
This gift idea isn't exactly original, but it has proved to be very efficient in bringing out the joy in people.
Pretty much any gift that includes photos of the two of you or the entire family will do, although a calendar is a far better choice since it's also a very practical item, not just decorative.
Supplies:
A selection of 12 family photos (one for each month)

A blank calendar template (you can Google for free templates online)

A printer that can print on cardboard

Some glossy cardstock
Alternatively, you can always employ the help of a gift shop to make the custom calendar for you, although you'll still have to spend some time selecting the 12 pictures.
As for what pictures you should use, here are a few pointers:
Use pictures of the entire family wherever possible

Avoid using pictures from the same place so they don't seem repetitive

Try to use pictures taken during the same time of the year (summer pictures for summer months, winter pictures for winter months, etc.)
All in all, the sky is the limit as far as the design is concerned, so go ahead and play around with different ideas; your mother will love it either way.
16. Flowers with a Pretty Gift Tag – Mother's Day Gifts for New Moms
Give mom flowers from your garden in a rustic mason jar with a cute printable gift tag from Living Locurto. This set of free printables also includes cards and signs you can add to your gifts.
17. Framed Wall Art – Last-Minute DIY Mother's Day Gifts
If your mom's into home decor, treat her to new wall art. This project couldn't be any easier – download the free printable of your choice from The Dating Divas, print it on quality paper, and pop it in a pretty frame.
18. DIY Spa Kit – Thank You for Mother's Day Gift
Encourage mom to pamper herself with a spa kit that includes homemade beauty products made with all-natural ingredients and her favorite essential oils. Lia Griffith has the details.
18. Handmade Candle – Daughter in Law Mother's Day Gifts
Make a candle using mom's favorite fragrance and decorate it with a pretty label for a budget-friendly Mother's Day gift she'll love. Crafts Unleashed has the tutorial and links to free printable labels and tags.
19. Etched Glass Terrarium – First Mother's Day Gifts
A terrarium with a message etched in glass makes a sophisticated addition to mom's home decor. DIY Just Cuz explains how to put together this unique project.
20. Clipboard Photo Display – Fun Mother's Day Gifts
This vintage clipboard photo display lets you highlight special images and the unique bond you share with your mom. Shanty 2 Chic has the instructions and printables for making gifts for your mom, sister, grandma, niece, or aunt.
21. Mini Photo Magnets – Great Mother's Day Gift
Use your favorite family snapshots to make this adorable set of refrigerator magnets for your ,om. She'll think of you every time she looks for a snack or starts to make lunch! Sundae Sins has the tutorial.
22. Photo Coasters – Mother's Day Gift Ideas for Wife
A set of photo tile coasters is another memorable way to display mom's favorite images. Pop Sugar has the tutorial for this project, which costs less than $5 to make.
23. Jewelry Box – Mother's Day Gifts for Daughter
Mom will be thrilled to store her rings, bracelets, and necklaces in this handmade jewelry box. Head over to One Day When I Have Time to learn how to make it.
24. Mother's Birthstone Necklace – Custom Mother's Day Gifts
A handmade necklace with the birthstones of her children or grandchildren is sure to be a hit. Learn how to make this handmade Mother's Day gift on the Halcraft website.
25. Dipped Kitchen Utensils – Mother's Day Gift for Grandma
Kitchen utensils are one of those things a mother uses nearly every day but seldom thinks about replacing. Give her a fresh set with a dip-dyed paint job that matches her kitchen decor. Earnest Home explains how.
26. Recipe Holder – Mother's Day Gifts from Kids
A handmade recipe holder that matches her kitchen colors is a wonderful gift for any mom who loves to try recipes she spotted on Pinterest. Visit Let's DIY It All for the tutorial.
27. Vintage Button Bookmarks – Perfect Mother's Day Gift
If mom loves to read but hasn't gotten around to getting an e-reader, treat her to a new book and a set of handmade bookmarks created from vintage buttons. To make the gift extra special, try using buttons from old clothing with sentimental value. My Sister's Suitcase has the details.
28. Decorated Cake – Mother's Day Gifts for Daughter in Law
Bake mom a cake and decorate it with a customized cake topper. Learn more at Pizzazzerie.
29. Tickled Pink Gift Box – Best Mother's Day Gifts for Wife
This box of pink nail polish, fuzzy socks, candies, and other treats is the perfect gift for a mother whose signature color is pink. Crazy Little Projects has the printable and suggestions for what to include in your box.
30. Sentimental Mini Scrapbook – Thoughtful Mother's Day Gifts
Mom knows you love her, but sometimes she'd like to hear you say it. The Creative Place has the printables for a mini scrapbook she'll cherish forever.
Closing Thoughts
When it comes to mothers in general, we believe that showing your affection and appreciation should be something that you should be doing bit by bit daily, and that Mother's Day should be reserved for grander gestures.
Besides providing you with different DIY Mother's Day gift ideas, we hope to have reminded you about the importance of letting your close ones know how you feel about them.
What are your favorite Mother's Day gifts? Let us know in the comments below.
The post 30 DIY Mother's Day Gifts That Your Mom Will Actually Want appeared first on DIYs.com.