(Kimberly (she/her) took the express train down the fountain pen/stationery rabbit hole and doesn't want to be rescued. She can be found on Instagram @allthehobbies because there really are many, many hobbies!.)
I'm writing this while on my flight home from the 2022 St. Louis (LOO-is, not Loo-ee) Pen Show and I am exhausted from all the fun I had. It has been 3 years since the last STL show, with 2019 being the last one before the pandemic, so there was a lot of excitement and anticipation leading up to it. It was also held at a new location just on the other side of the previous hotel, and had a bigger ballroom, so vendors were excited not to be in two separate ballrooms along two different hallways like in prior years. I was really curious to see how this year's show would fare in its new location, as well as what the rating will end up being.
Size: The show is downstairs and there is an intermediary hallway/entryway where the first 20 or so vendors are located. Among them are Dromgooles with their impressive ink wall, pen displays and binders chock full of Retro 51s. As you make your way towards the ballroom, you are greeted with a variety of vendors, both modern and vintage, with a mix of local and non-local vendors. According to the exhibitor list, there were roughly 100 vendors spanning 177 tables. In 2019, I believe there were 76 vendors occupying 110 tables. So ~20 more vendors but 67 more tables. I don't always have access to table numbers so it's a little difficult for me to compare but I would say it was similar in size to Chicago, maybe a bit larger.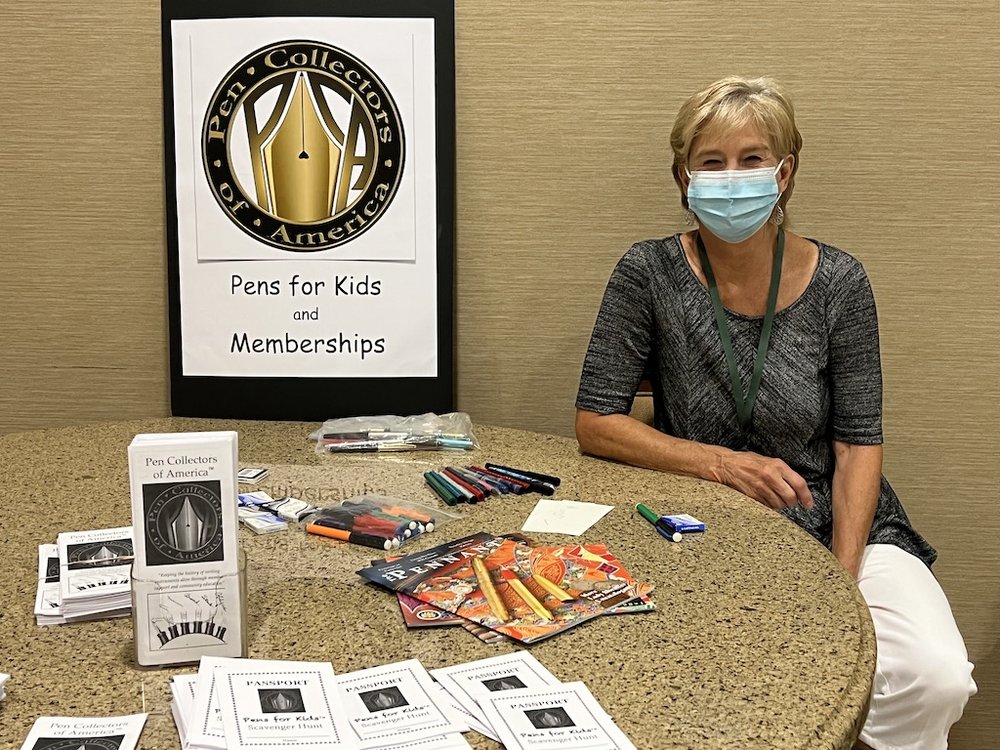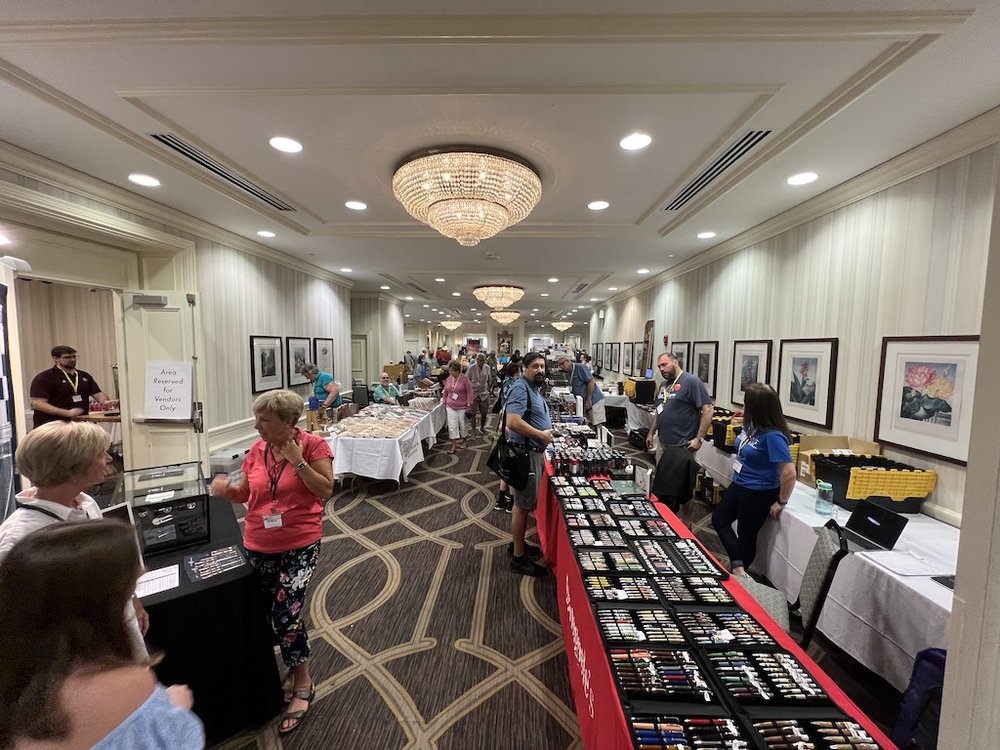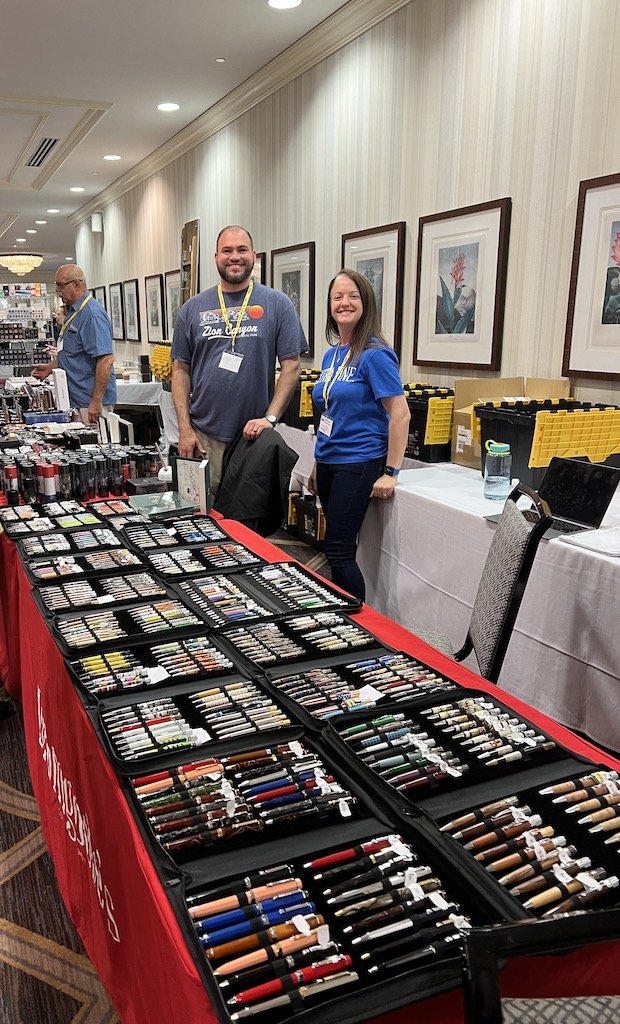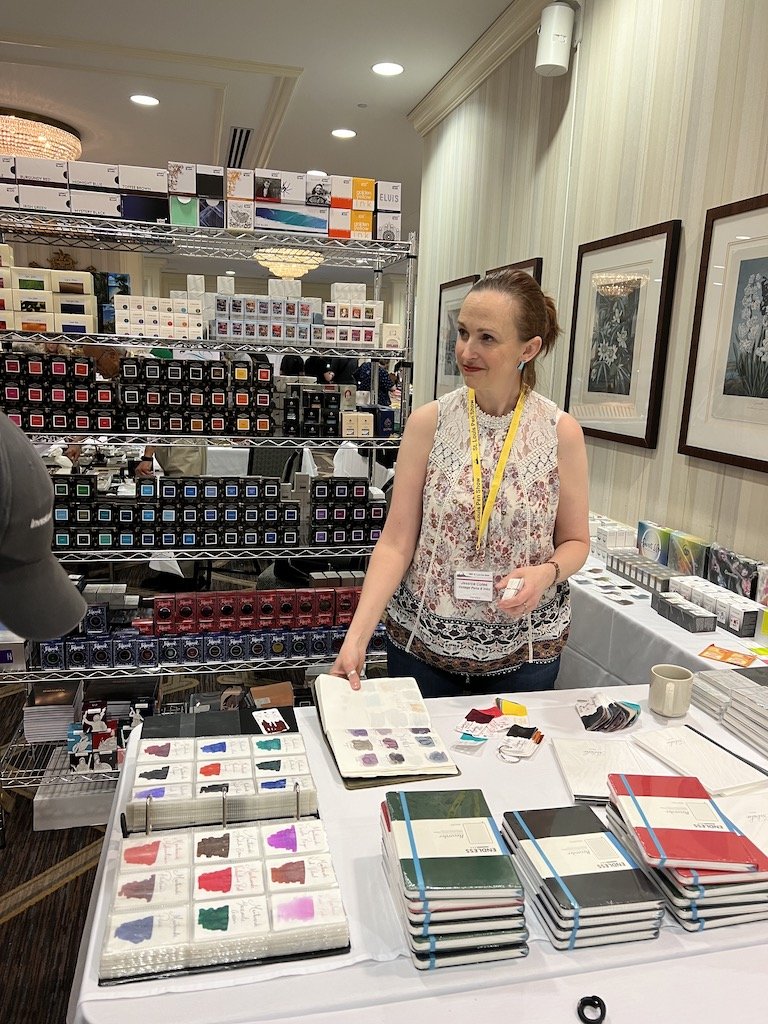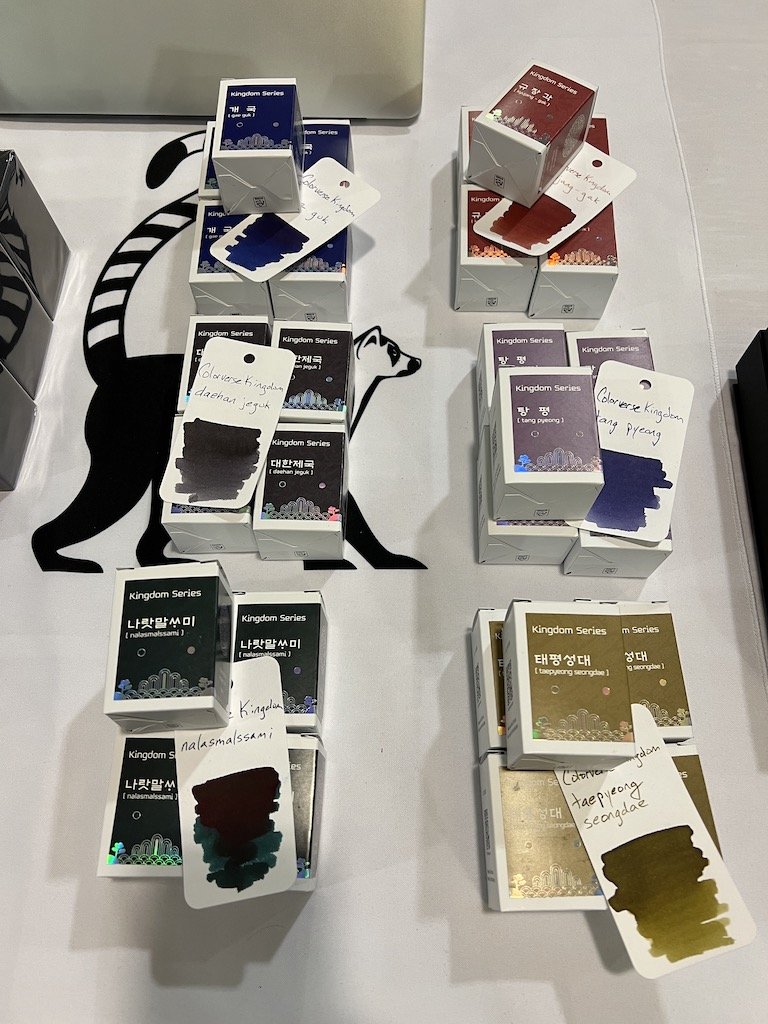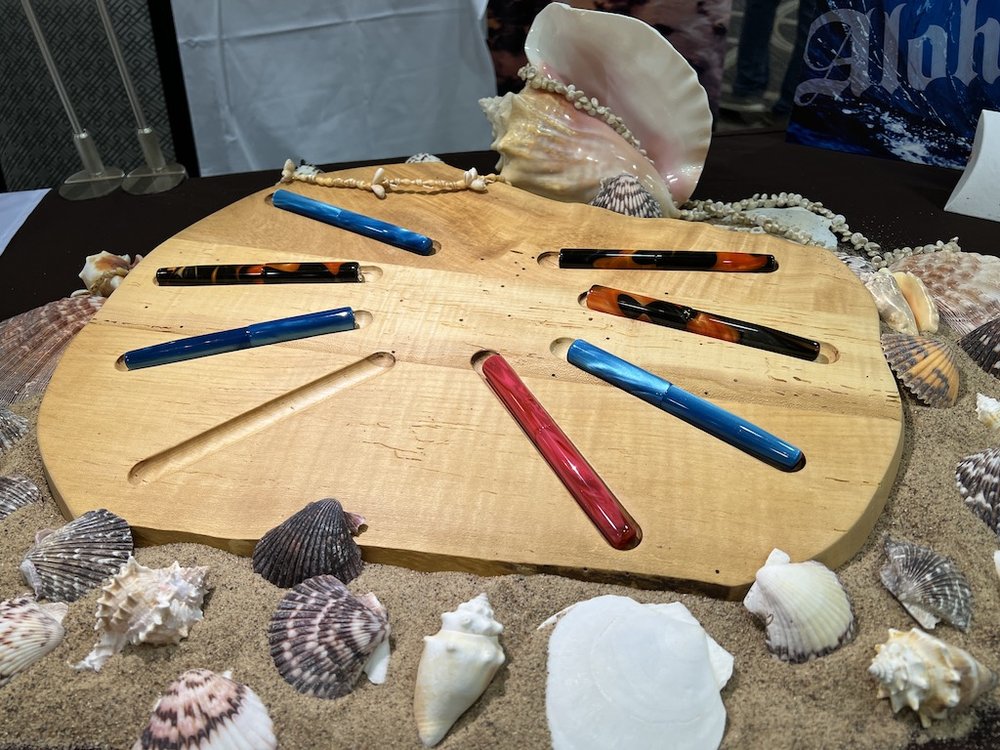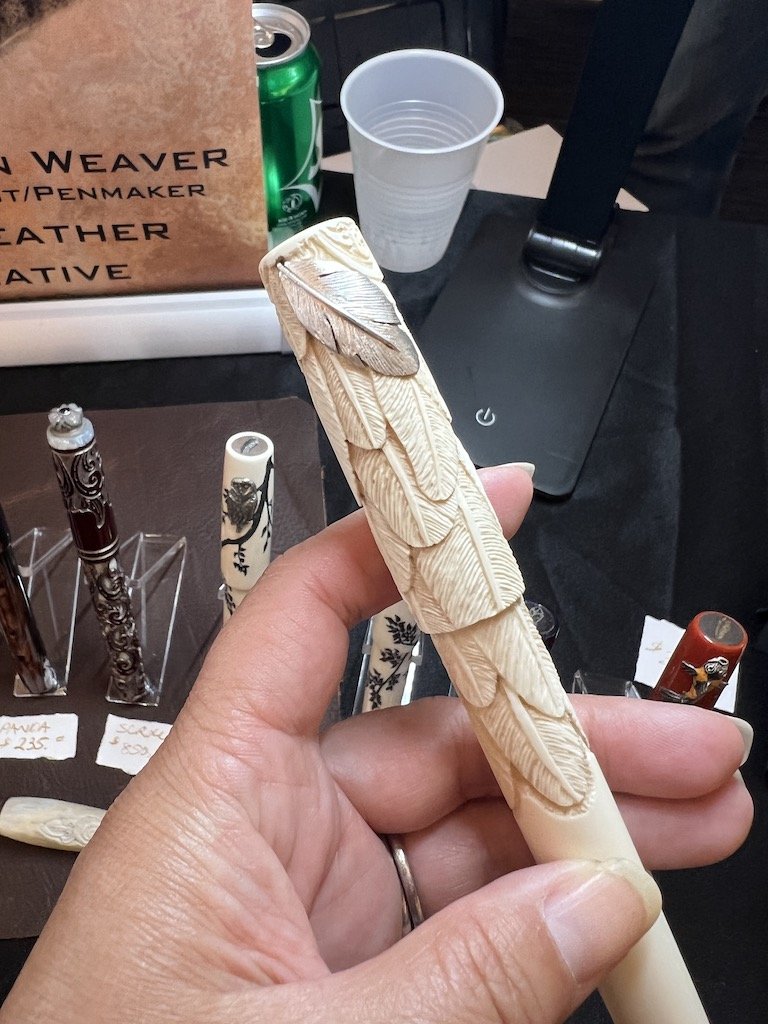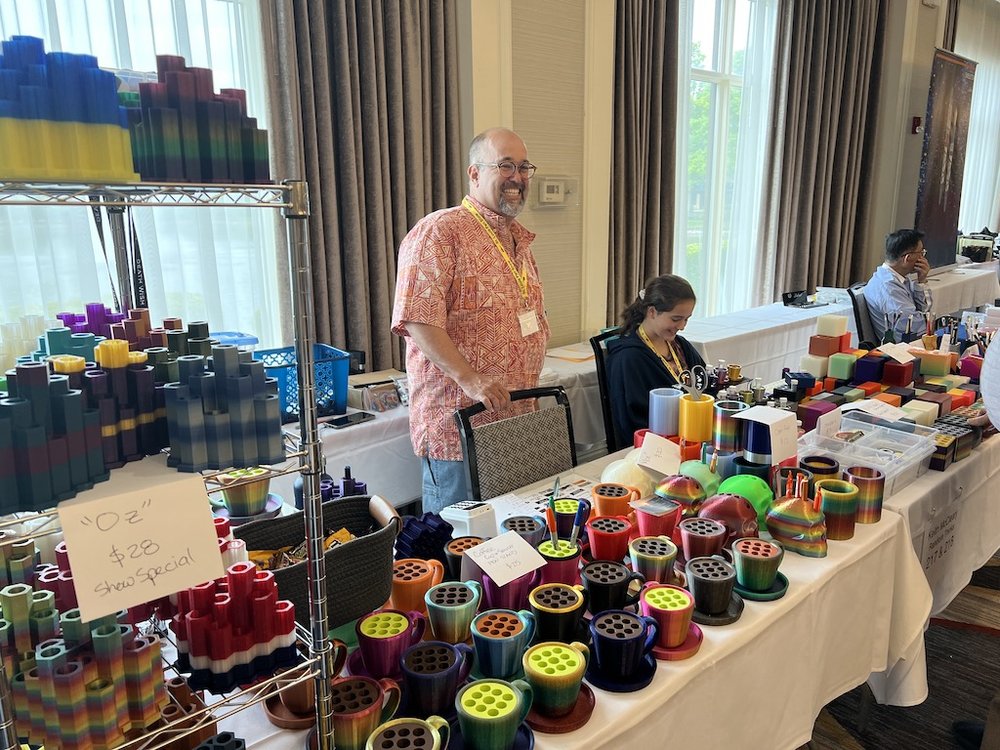 It was difficult for me to tell if it really was bigger than before since the experience of a single large ballroom (with a large entryway full of vendors) was very different than having to navigate multiple ballrooms, so I have to go by vendor/table numbers. I would say it was probably 50/50 modern/vintage, not including non-pen tables. Score - 8/10
Location: The St. Louis Pen Show is about 30 minutes west of downtown (I used the Gateway Arch as my marker for downtown) and about 15-20 minutes southwest of the St. Louis Lambert International Airport. I had been looking for flights to STL for several months prior to the show and it would have cost me $800 on Southwest or upwards of $1200 on United to fly out of San Francisco or San Jose, so I ended up using miles. Flights to other cities for that same weekend were significantly lower, and there were no direct flights for me. My east coast friends had similar experiences with flights and prices. I'm sure my Midwest friends will disagree about how easy it was to get there since most of them drove 4 hours or less to get to the show.
Maybe it's because I'm not from the Midwest that I don't think of STL as a major destination, so it doesn't have the draw for me, other than the presence of a pen show, and I wonder if that played any role in attendance (more on that later). Other than the infamous Arch, one could also head downtown to watch the St Louis Cardinals baseball team (they played the Chicago Cubs that weekend). It gets a lower score due to how expensive it was to fly there as well as not being as big of a draw as some of the larger cities. Score - 6/10
Hotel: The Sheraton Westport Chalet Hotel is a decent hotel, with a nice lobby, several small tables and chairs as well as a big table with built-in power (that several of us used for pen play, as well as charging devices). There is a free hotel shuttle which is really nice, and if you have the Marriott app, there is a shuttle tracker so you can tell how long the wait is for the next shuttle. If you arrived really early or late, it would cost about $30 to get from the airport to the hotel.
The restaurant's food was surprisingly good at reasonable hotel prices. The bar service was good, especially Brian the bartender/server, who hustled like a madman all weekend and gave amazing service. We all got plenty of warnings for last call and when the bar was closing, they were very nice in telling us we could move to the outer tables and hang out there. Closing times for Friday and Saturday were very reasonable; 11pm for food, midnight for drinks. I didn't venture outside much as it was a thousand degrees with high humidity the first couple of days, but there were folks hanging outside smoking cigars and socializing. There is also a small shop by the registration desk for snacks and incidentals. My room was alright, although the mattress was dented, and the temperature controls fluctuated a lot. The 5th floor Club Lounge was a nice place to relax though it wasn't available to all guests.
The show rate for the rooms was $132/night (before taxes/fees) and included breakfast, which is about average to slightly more than most pen show hotels, and parking was free. The hotel is located in an interesting "plaza" if you will. Nearby is a mostly vacant, small mall with a few food options. Most folks ate at the hotel, at a few of the nearby restaurants, or drove 5-15 minutes for better options. I wish there were more nearby food options, but the hotel was a great place to hang out, the bar staff was great and the airport shuttle saved on costs too. Score - 8/10
Tickets: 3-day registration for the show costs $10, 3-day plus Thursday trader pass was $30; both of those passes included access to the dessert party. Single day passes were $5/day and a downright bargain! Show hours for the weekend were Friday 11am-6pm, Saturday 9am-5pm and Sunday 10am-3pm. Advanced online tickets were also available for the same price. All ticket holders were invited to attend the Friday night auction as well. I really liked that (1) tickets were available online and that (2) tickets could be paid for in cash or credit at the door. Most shows that had both online and day-of tickets sales, or if they accept credit cards, would have a higher price point. So a combination of low price as well as ability to do online ticket sales and with credit card for door sales made this a no-brainer score. Score - 10/10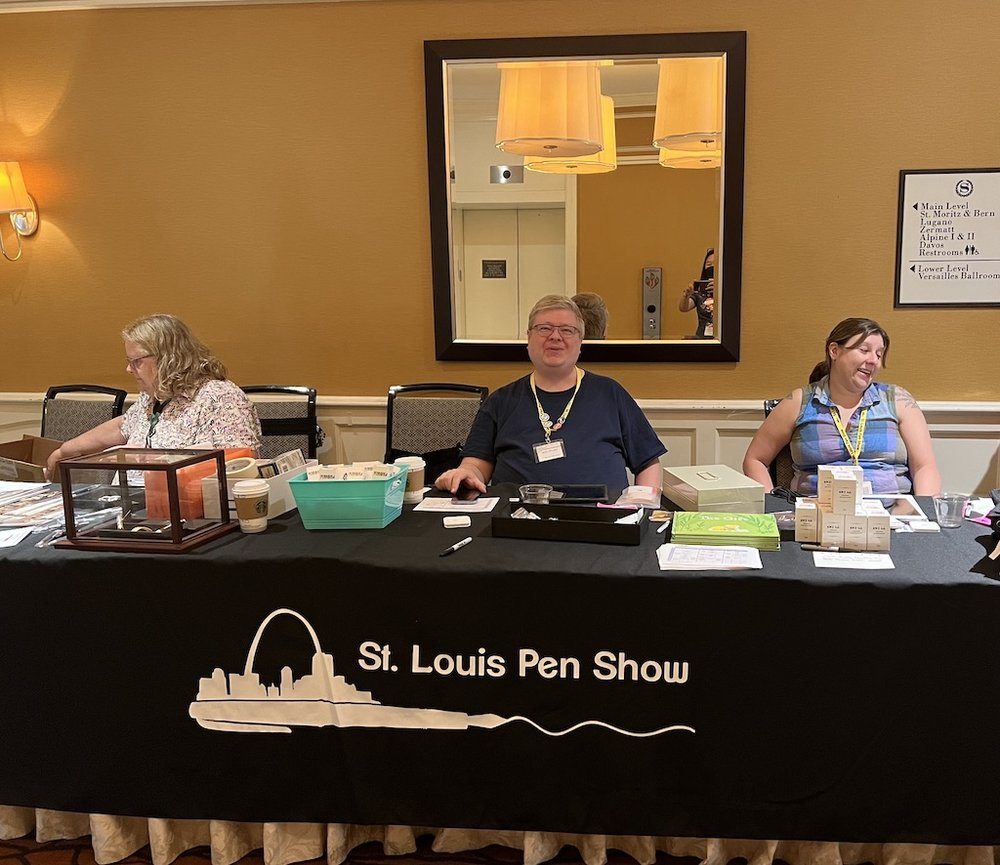 Classes/Seminars: There were a ton of classes and seminars offered ranging from Gateway to Fountain Pens by Angela He of InkyConverters, All the Inks taught by Jessica Coles and Ana Reinert, paid handwriting/calligraphy classes from regulars like Nik Pang and Hong Nguyen as well as beginning/intermediate nib tuning classes taught by Ralph Reyes and a pop-up card making class taught by Link Tong of Roses without Thorns (which was full when I finally remembered to sign up). But more than that, there were classes on Bullet Journaling, Pen Repair, Resin Pouring, What to Do with Washi Tape, Drawing Tangles and Doodles and more. It is always great to see non-writing classes/seminars because there is so much more to this rabbit hole than pens and handwriting. It wasn't obvious from the signup sheets which classes were paid versus free, so that caused some confusion. Also, there wasn't any time between many of the classes so if any of them ran over, it trickled down to the next class. Lastly, with so many classes, I wondered if that affected how much time people were able to spend at the show. Score - 9/10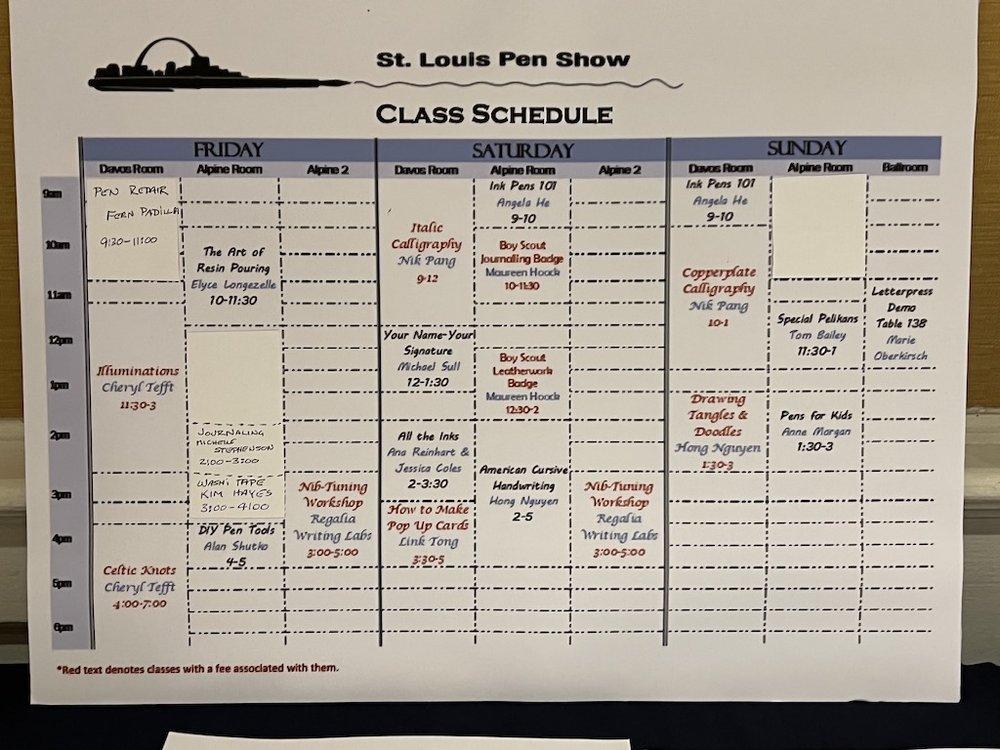 Nib Worker Availability: Considering how many vendors were at this show, there were only 2 nib workers to choose from but it wasn't for lack of trying. At the last minute, both the Kennedys of Indy-Pen-Dance and Richard Binder had to pull out of the show for health reasons. I think both Joshua and Kirk were occupied for most of the show, but if the others had also come, I'm not sure that there would have been enough nib work to keep them all busy.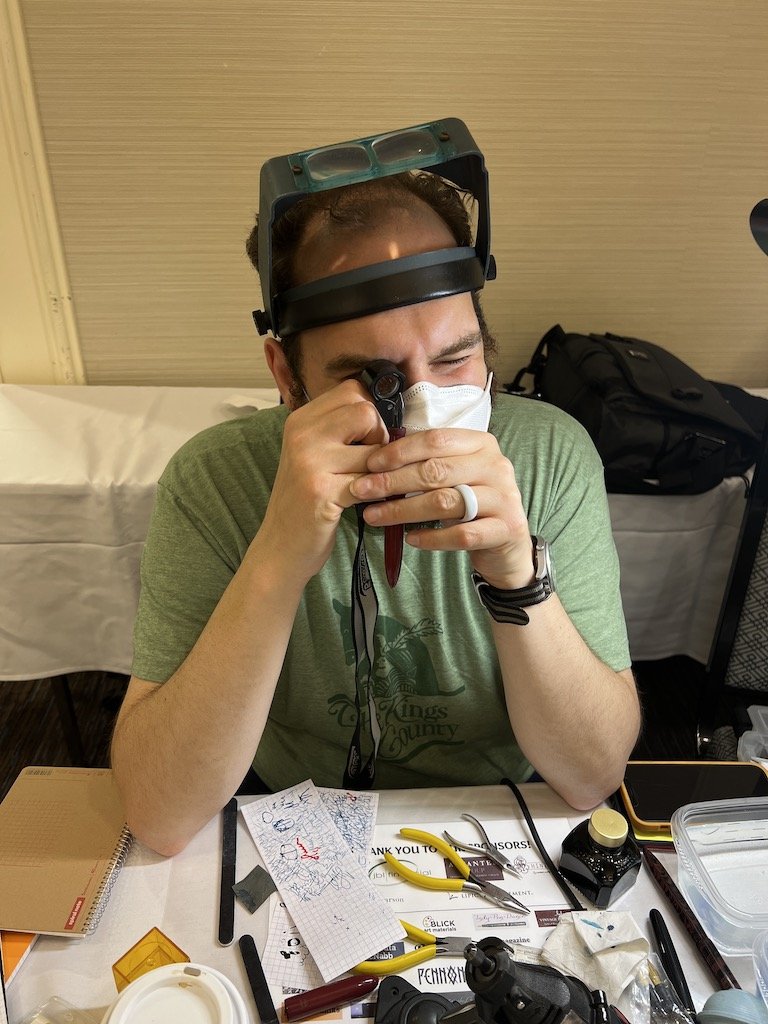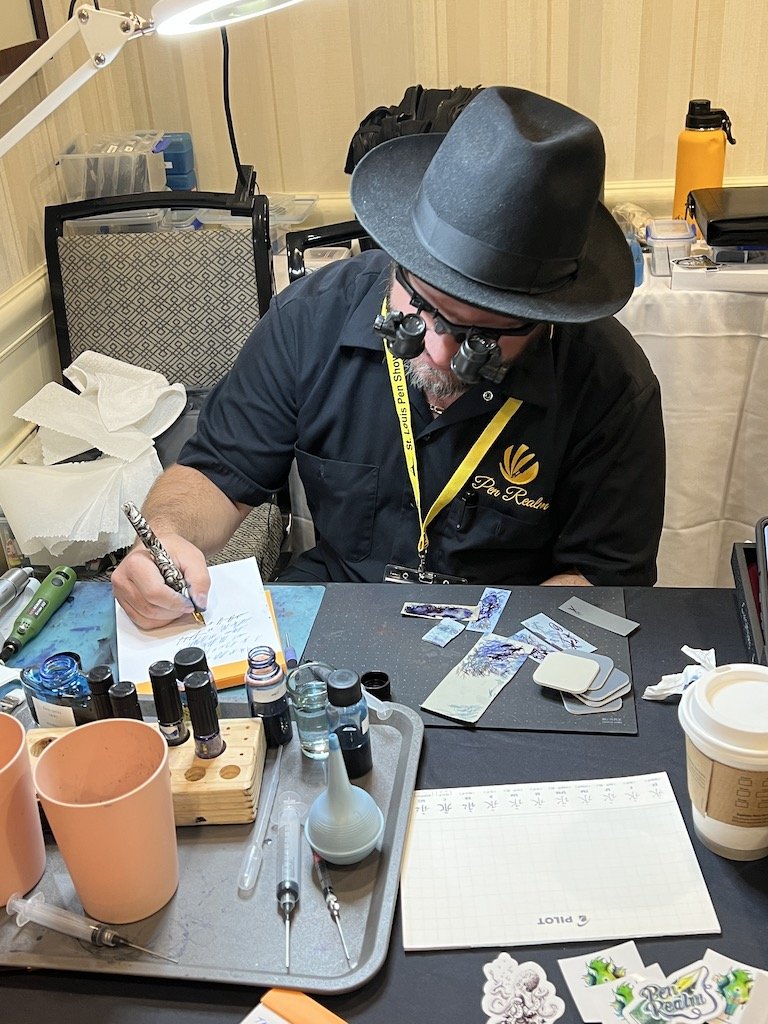 This one is difficult to score because they did have 4 nib workers lined up, but only ended up with 2. In the end, customers don't really care why there are only 2, hence the slightly lower score. Score - 7/10
Overall sense/vibe: Having attended the 2019 STL show as well as having several conversations in the past with show organizers, Anne and Dave Morgan, I knew that it would be a well-run show. If you've attended other shows, you probably have seen Anne and Dave there, talking to vendors and taking notes. All so they can do their best to bring in lots of vendors and make sure they are taken care of. They also do a good job making sure the show is good for attendees too, in the form of having a variety of classes and vendors. The SLAPU (St Louis Area Pen Users - the best acronym!) volunteers were doing everything from ticket sales to manning the vendor lunch tables, to watching vendor tables if someone needed a restroom break to helping customers find vendors.
Most of the larger modern dealers were all along the walls of the main ballroom with many of the vintage dealers as well as smaller makers/shops filling up the middle tables. It was good to see some non-pen items like paper, ink, cards, washi tape and more. I especially liked seeing how many local vendors there were as it really makes the pen show unique. There was a good mix of smaller makers and vendors as well as larger vendors and some of the distributors that support them, like Coles of London, Kenro Industries, Luxury Brands of America and Pilot USA.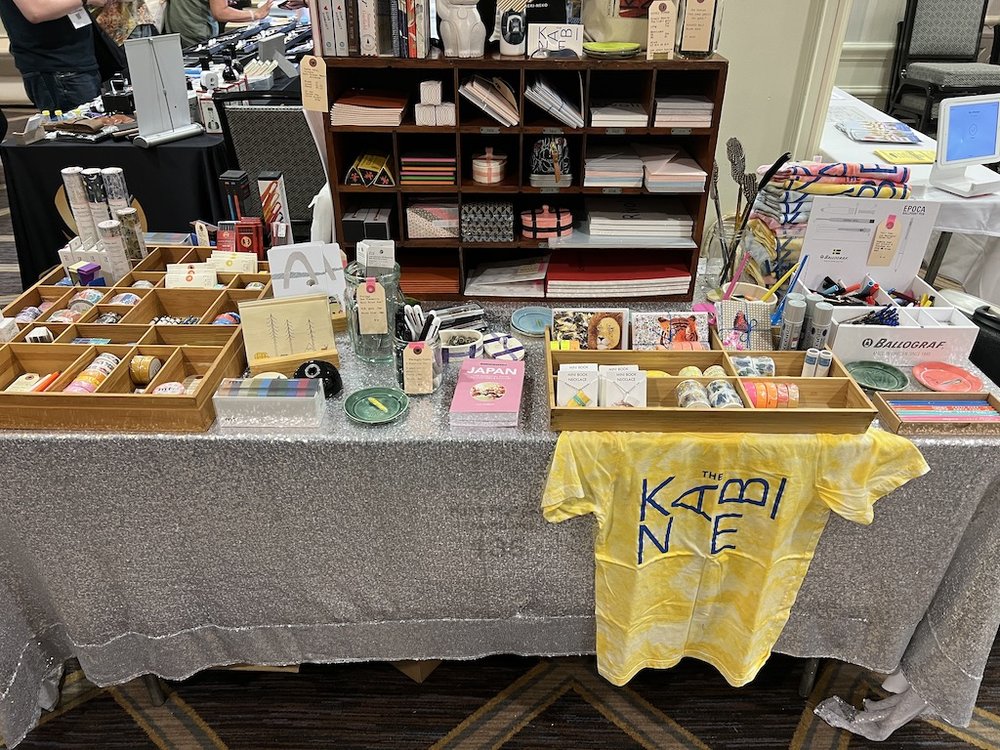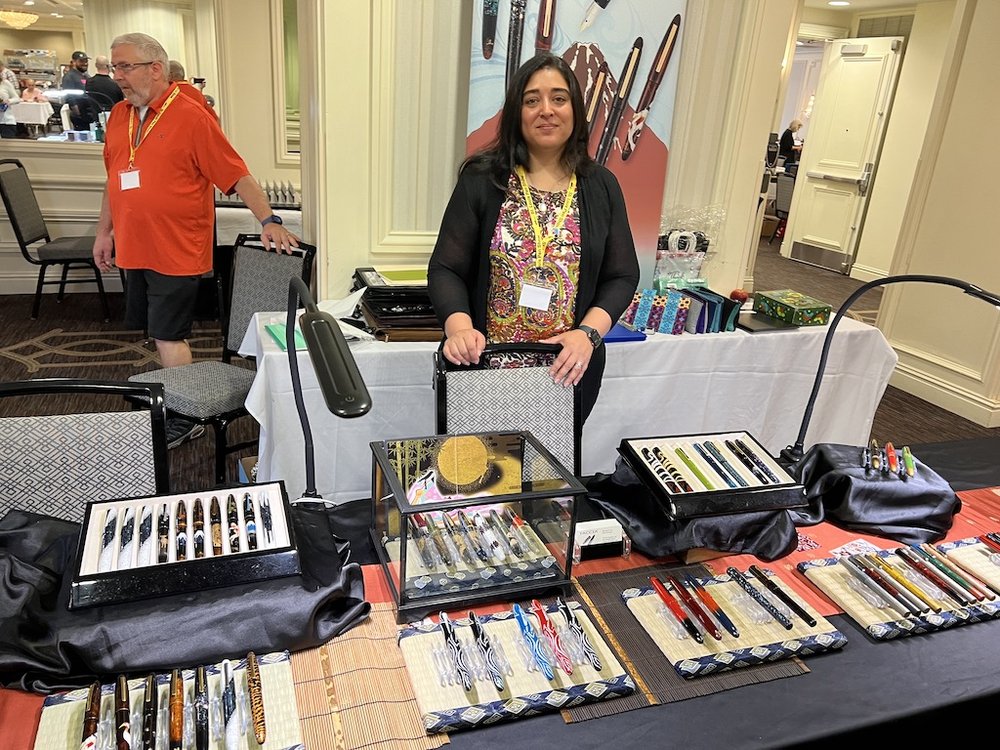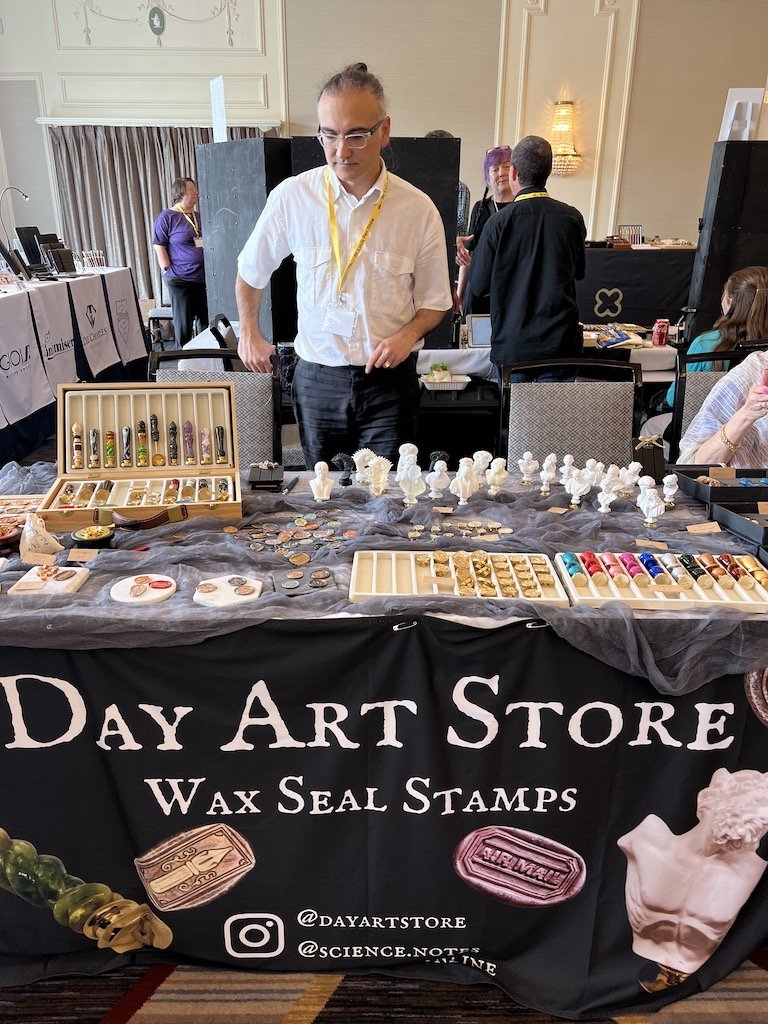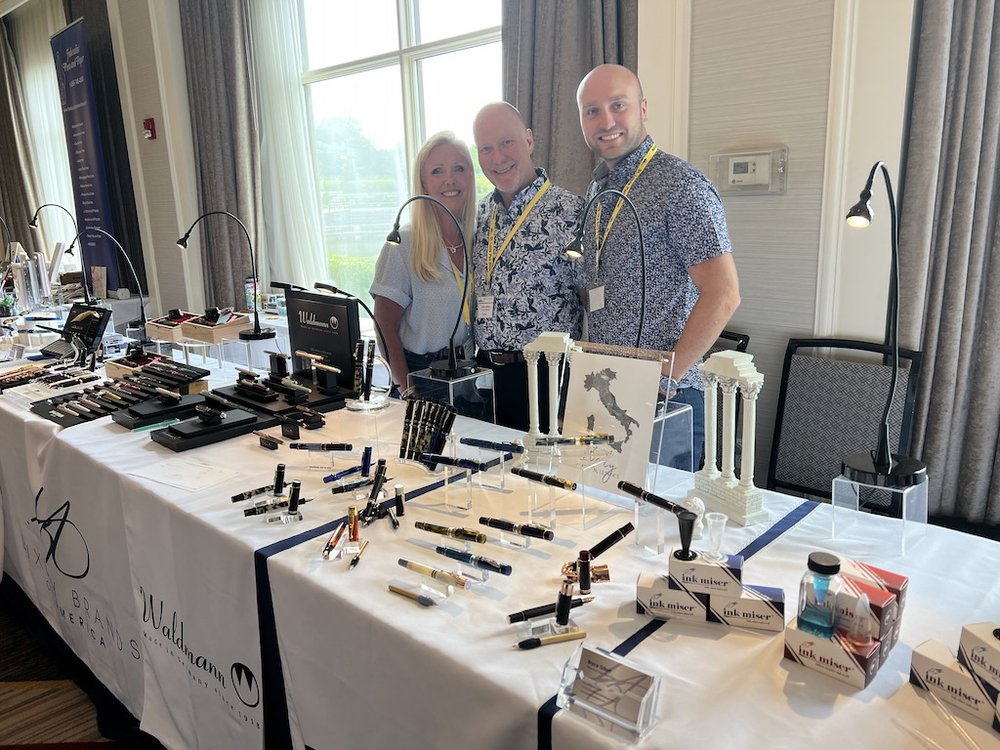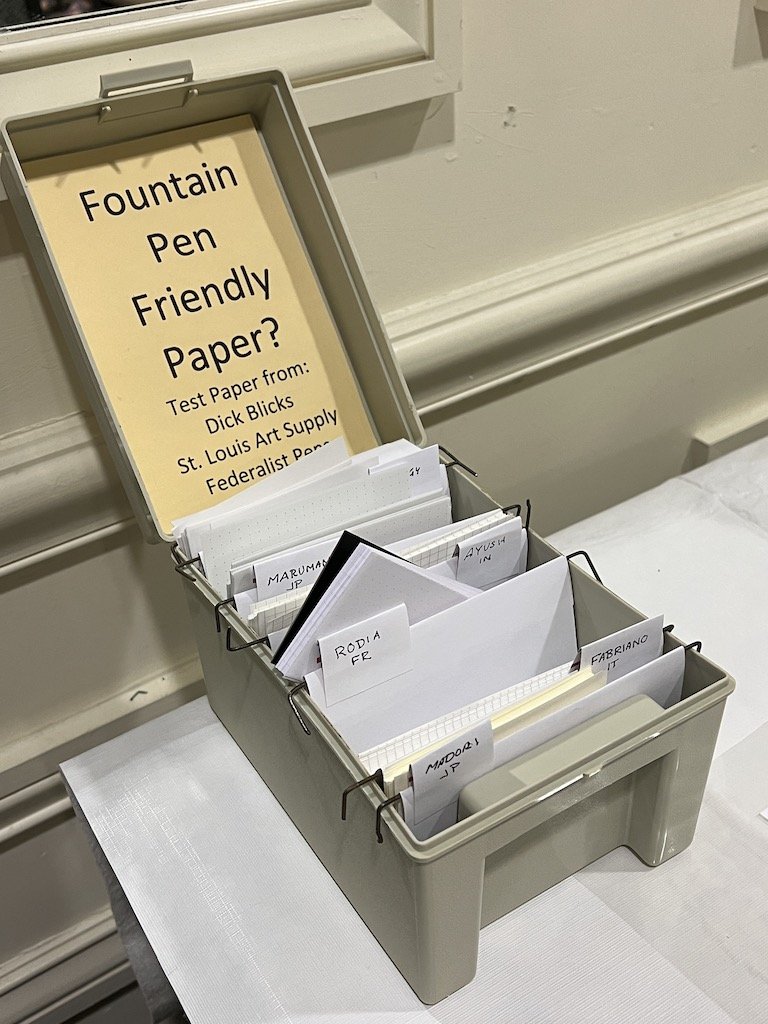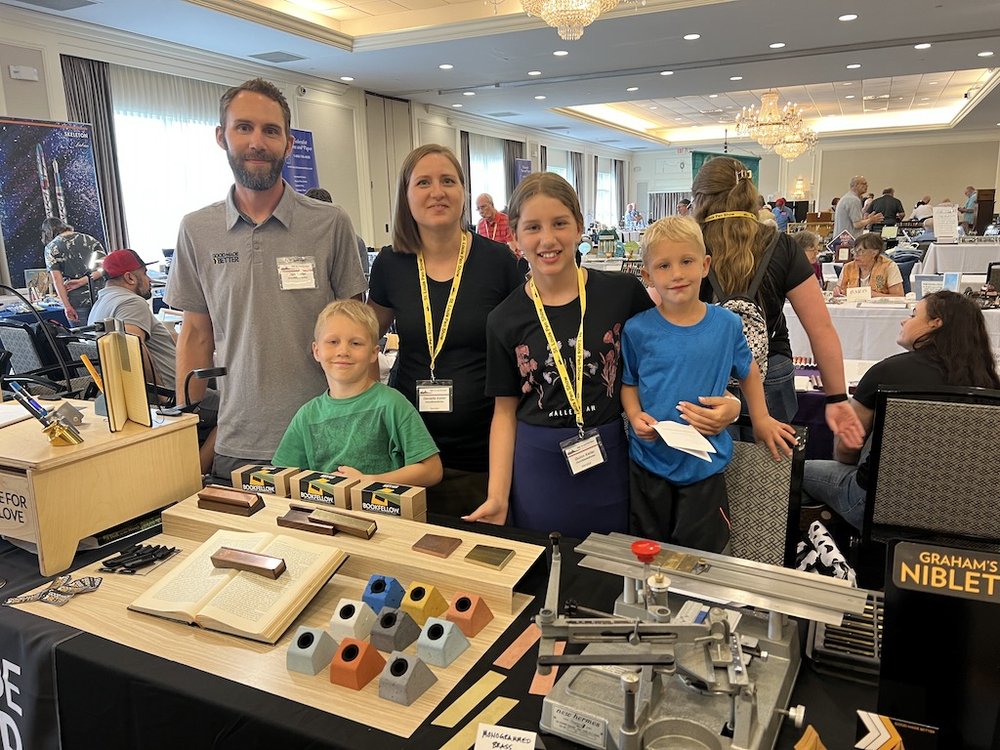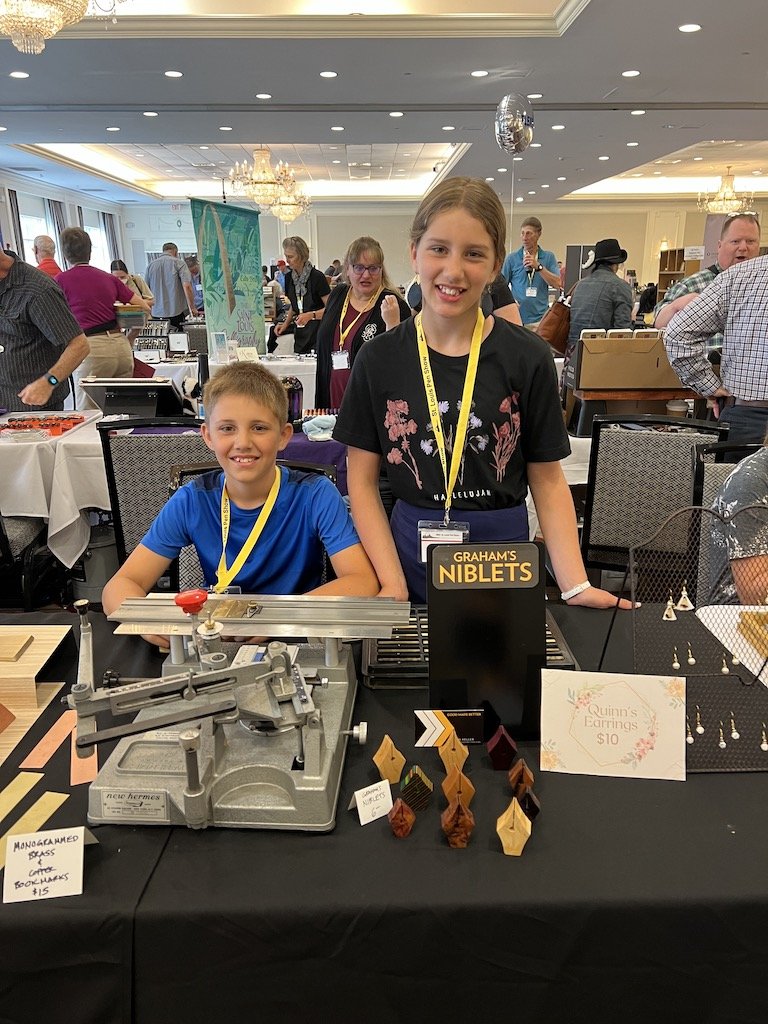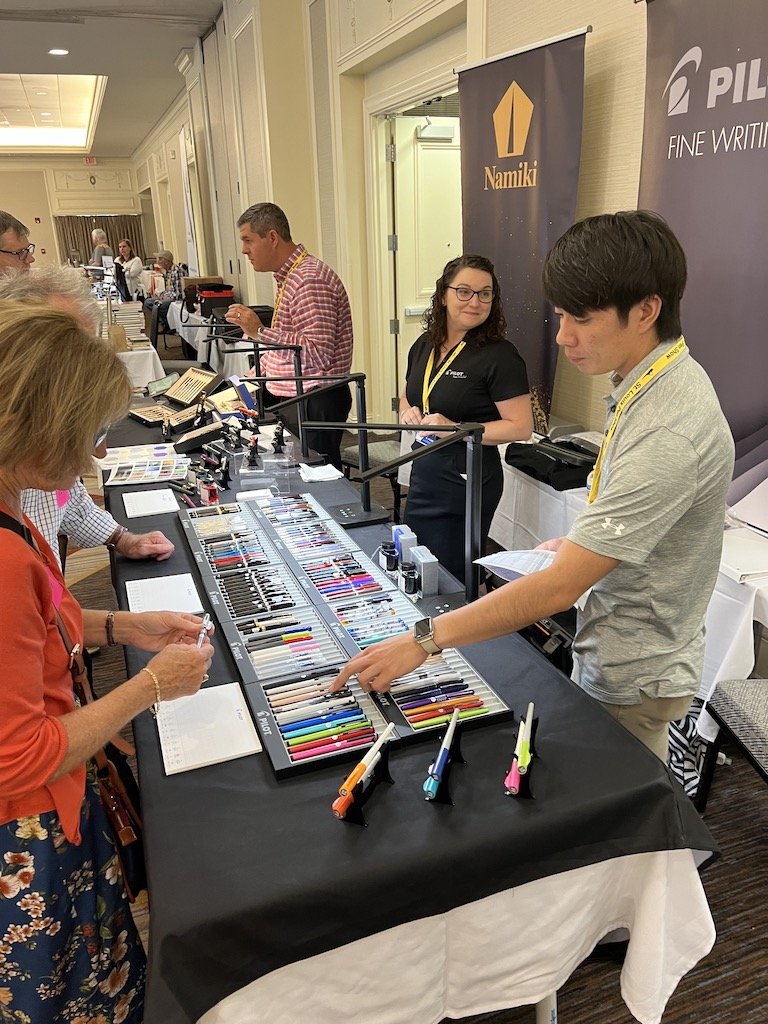 While there were many vendors ready and waiting, what was missing was the large number of attendees. It felt like there were too many vendors and not enough customers. I spoke with a number of vendors throughout the weekend and the consensus was that Friday was a decent day, Saturday was really slow (in terms of number of people as well as number and quality/$ of sales) and Sunday surprisingly was good, especially for a short day and typically a show's slowest day. In fact, a few of the folks told me on Saturday that they might not break even and were unlikely to come back to the show, but then on Sunday, they ended up making enough to be in the black. Quite a few of them told me that while they love that the show provides lunch for the vendors, they'd rather sacrifice lunch if they could have more customers.
In addition to the not-stellar number of attendees, I had heard that many of the attendees were day-pass folks, and many of those were first timers. Not surprising, the day-pass folks were pretty local while the 3-day pass holders were generally folks who traveled some ways to get to the show. Vendors told me that they also felt that many of their interactions were with folks new to pens as well. I think that bodes well for the hobby as it is always important that people continue to discover this rabbit hole. In the short term though, it tends to mean fewer and lower dollar sales.
I think that a greater emphasis on online advertising (and not just radio or print ads) may have helped give greater visibility to this relatively young show (the first STL show was 2018). Anyone who attended the show, especially if they stuck around for after hours pen fun, would happily spread the word about how well run it is. I think many of the vendors may be willing to give it another shot next year, but in the end, if vendors can't make money, it won't be sustainable and that would be sad. Score - 7/10
Food: I alluded to this earlier in the Hotel section but the hotel bar had pretty decent food and didn't cost an arm and a leg. The actual restaurant was closed (I am seeing a lot of hotels serving food at the bar and closing their restaurants). Aside from the hotel, there didn't seem to be a lot of food options, especially within walking distance - which no one wanted to do since the first couple of days had very high temperatures and humidity. The nearby "plaza" was a depressing sight even though I heard that there were a few restaurants that were ok. I did hear that Westport Social was pretty good (bar food, along with "bar games" like shuffleboard, bocce, darts, foosball and more). There are other options within a 5-15 minute drive if you had access to a car. I wish there were more and better food options nearby, but thankfully the hotel restaurant was good. Score - 7/10
After hours/socializing: The hotel bar was the place to hang out after hours and when that was full or closed, there were plenty of people hanging out in the nearby lobby tables. I had so much fun all weekend, I kept forgetting to take pictures! This is what happens when you're enjoying the company of your pen friends so much that you don't notice that it's past 4am on a Thursday night! Yes, that sorta slowed me down for the rest of the weekend, lol. It was great finally seeing STL folks that I hadn't seen in 3 years (and only saw on Zoom meetups) and meeting new folks too. Check out this Pen Shows After Dark IG reel from Sue Beck to get a sense of the fun that we were having.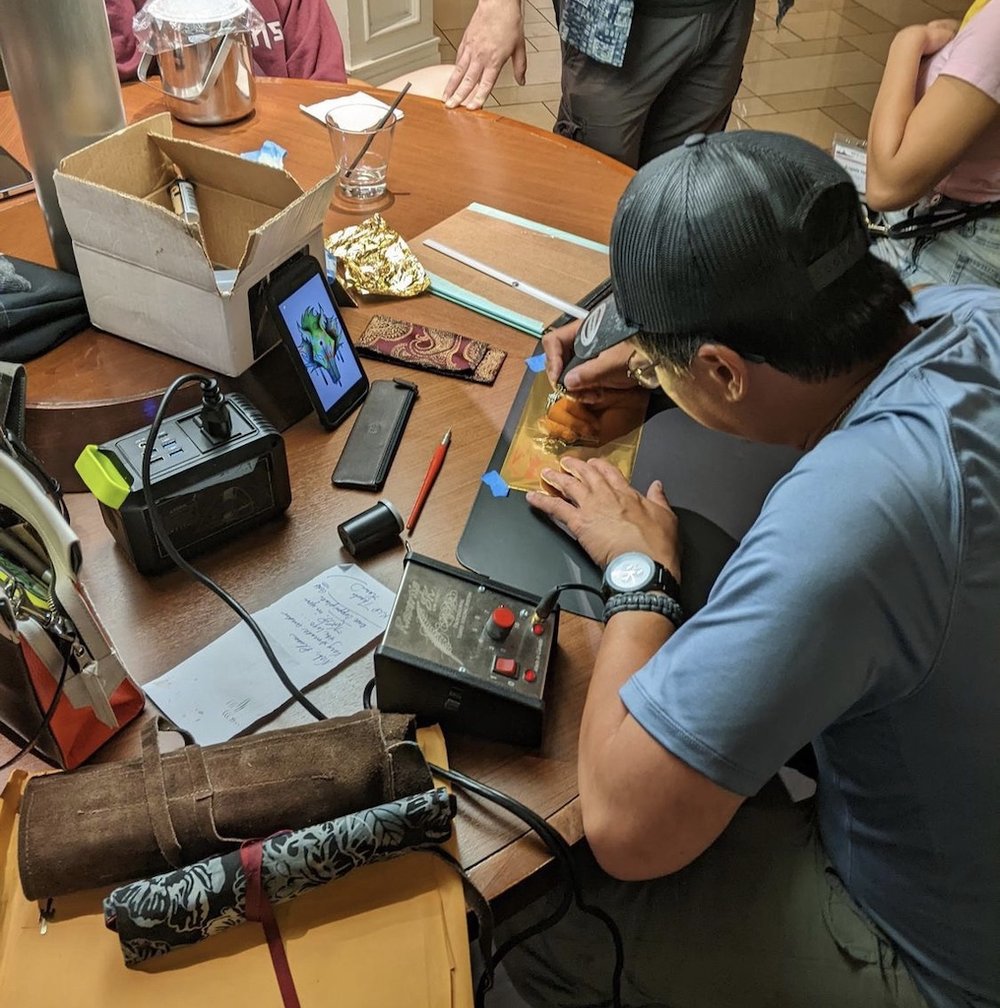 I also mentioned that there were folks that were outside/downstairs smoking, drinking and enjoying each other's company. It used to just be primarily the vintage vendors/customers but over the years, others have joined in on the fun (it's how I met my Pen Show Dad years ago!). It was great to see people hanging out at different areas until all hours of the night. This has definitely become another is one of my favorite after hours shows. Score - 9/10
Other: I've already mentioned the show being well-organized, the number and variety of vendors, as well as the plethora of classes and great after-hours scene. I also talked about the attendance which was not as high as I think it should be for a show this size. What else is there to say? Well, I should also add that most vendors saw good attendance and sales numbers in 2018 and 2019, which was why they were eager for this year's show, and also why it felt like a let-down for many of them. There were definitely vendors who were able to make the show a financial success but they were in the minority. Still, despite the less than stellar performance, everyone I spoke to had a great time. Whether or not they will return next year will probably also depend on how they do between now and next spring.
Let's also talk about the weather - the show takes place in the Midwest in the summer. It was in the high 90s with high humidity. Not great for walking around to look for food, or waiting for airport shuttles. When I came in 2019, I was about to go outside to get some lunch when it started pouring cats and dogs, with thunderbolts and lightning, very very frightening. Of course, that same weekend also had lovely days with beautiful sunsets too. So keep that in mind if you're not a hot-weather person, or if you plan to do lots of outdoor sightseeing, or just stay indoors like I did most of the time, lol.
From what I know, ticket sales skewed to one-day pass holders and many of those were new to fountain pens as well as new to pen shows. I'm hopeful that these folks discover the vibrant pen community in the STL area and come to next year's show for more days and find out how much fun they can have during and after show hours. It feels very much like how I feel about the Chicago show.
As with other recent shows, there were no mask requirements for the show (nor for airports/planes or other indoor areas). I was definitely among the very small minority of folks wearing masks (10% at best). No one told me to take my mask off or gave me any fuss for wearing mine, so I am glad for that. I still prefer to mask as much as I reasonably can, and as always, stay safe and do what works best for you, while respecting that others may not feel the same way you do. Score - 7/10
Report Card:
0-50 Oof, do not attend
51-70 Show is alright
70-80 Show is solid
80-90 Show is pretty darned good!
91-100 REALLY good show and not to be missed
The 2022 St Louis Pen Show scored 78/100, which was about what I was expecting. It reminded me a lot of the Chicago show where I had a great time, but the lower than expected numbers affected its score as well as the location (and resulting expense/difficulty of travel) didn't help. It is a well-run show that might need to scale back on the vendors/tables. There is such a thing as "too big" when it comes to pen shows, especially if you don't have the attendee numbers (and resulting sales dollars) to support it. I know that the STL Pen Show made a comeback after a 3 year hiatus due to the pandemic, so maybe the lower attendance is just indicative of a long absence. I hope that this year's first time attendees and new pen addicts will help turn that around in the coming years.

Despite all the temptation at the show, and trust me, there was A LOT of temptation, my spending was relatively restrained this time around. All the time I got to spend with pen friends is what keeps me coming back for more. My wallet is a little lighter (I do have to save for DC, after all, lol), but my heart is full. Until the next pen show, stay safe and stay inky!