(Kimberly (she/her) took the express train down the fountain pen/stationery rabbit hole and doesn't want to be rescued. She can be found on Instagram @allthehobbies because there really are many, many hobbies!.)
I've finally gotten a chance to sit down and reflect on the whirlwind weekend that is the San Francisco Pen Show, aka "The Fun Pen Show". And it is a whirlwind in the best possible way.
Let me start off by saying that the 2017 SF Pen Show was my very first pen show and it will always be where everything got started for me. I am also a member of the SF Pen Posse, who help the organizers at the show. I also worked behind the table for Franklin-Christoph at this show so my "attendee time" was limited. I mention this so that you get a sense of my perspective, but also that I intend to be as objective as possible.
The SF Pen Show is held at the Pullman Hotel in Redwood Shores, which is about 11 miles south of the airport. It is a very nice hotel and this year the show rates were significantly lower than in previous years (I don't have exact numbers since I live a whopping 4 miles away, but it was along the lines of $129 vs $180/night) and parking was free for the show days.
The show organizers originally planned for around 175 tables, but limited that number to 125 for healthy and safety reasons. This allowed for much wider aisles and a lot more room for people to move around. Mask adherence was also very high, maybe as high as 100% - I don't think I saw anyone maskless at the show unless they were eating/drinking. Hand sanitizer stations were available throughout the show areas as well as in the common areas like restrooms and lobbies.
New this year was the use of a ballroom previously used for Saturday night music/social hours. This year, it was the entrance to the atrium and housed several vendors including Franklin-Christoph, Jimmy Dolive of Total Office Products and The Pen Family.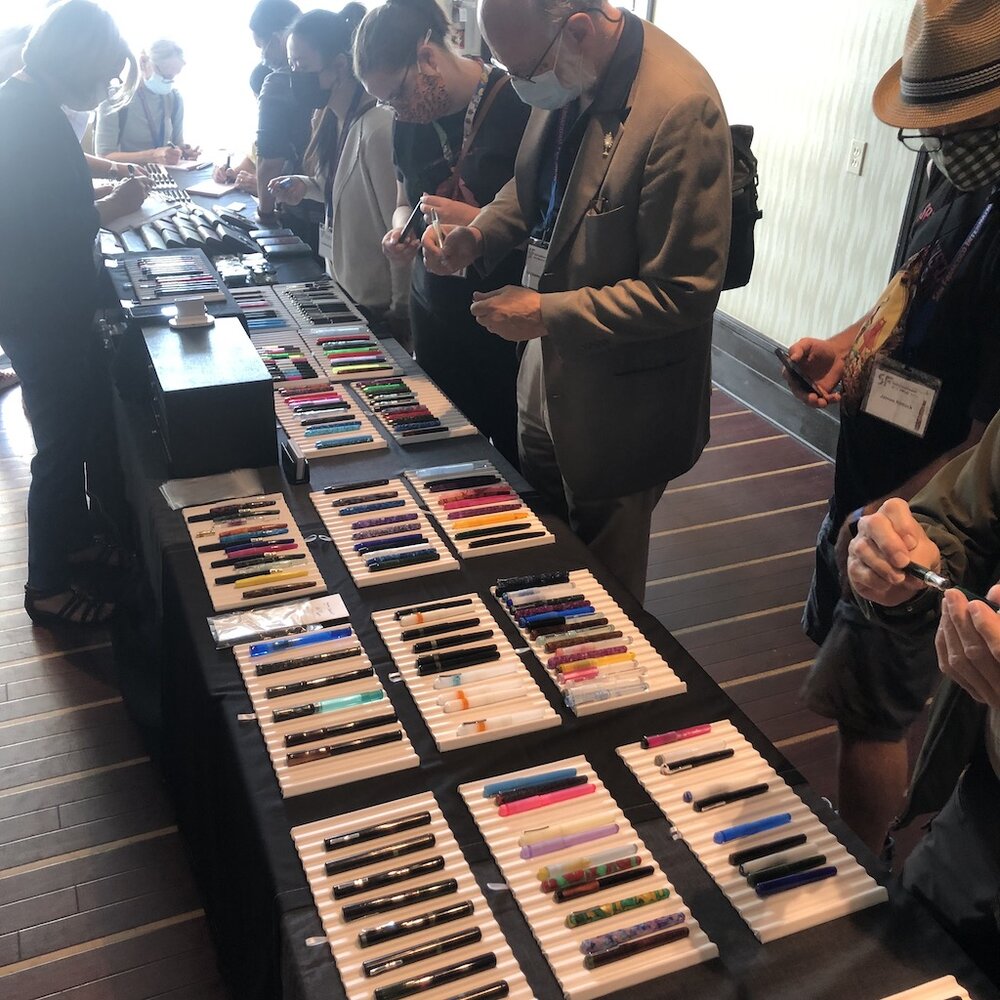 The spacious and well-lit atrium greeted you after the first ballroom. Old favorites like Curnow Bookbinding and Leather and Kenro Industries were there alongside SF newcomers like Plotter who held a pop-up event at the show (their US online site debuts later this fall).
Inside (and outside) the main ballroom, there were a wide variety of vendors. Vintage? Check. Modern? Check. Inks? Check. Wax seals? Check. Big shops? Smaller shops? Yup and yup. Plushy pen protection? Definite check! I spent a little extra time at the Luxury Brands tables because I wanted to check out the new Waldmanns and Gioia pens as well as their Dee Charles cases. Despite not having any of the paper products arrive due to a shipping snafu, Vanness Pens still had a wide variety of inks and Galen products at their table. Itoya US was there with their paper, pens and inks from Sailor, Kobe, Penlux, Portfolio and more. Mark Dwight of Rickshaw Bagworks is one of the show sponsors and there were so many goodies at his table, including the yummy fortune cookies that had prize fortunes inside, like free stickers or pen sleeves!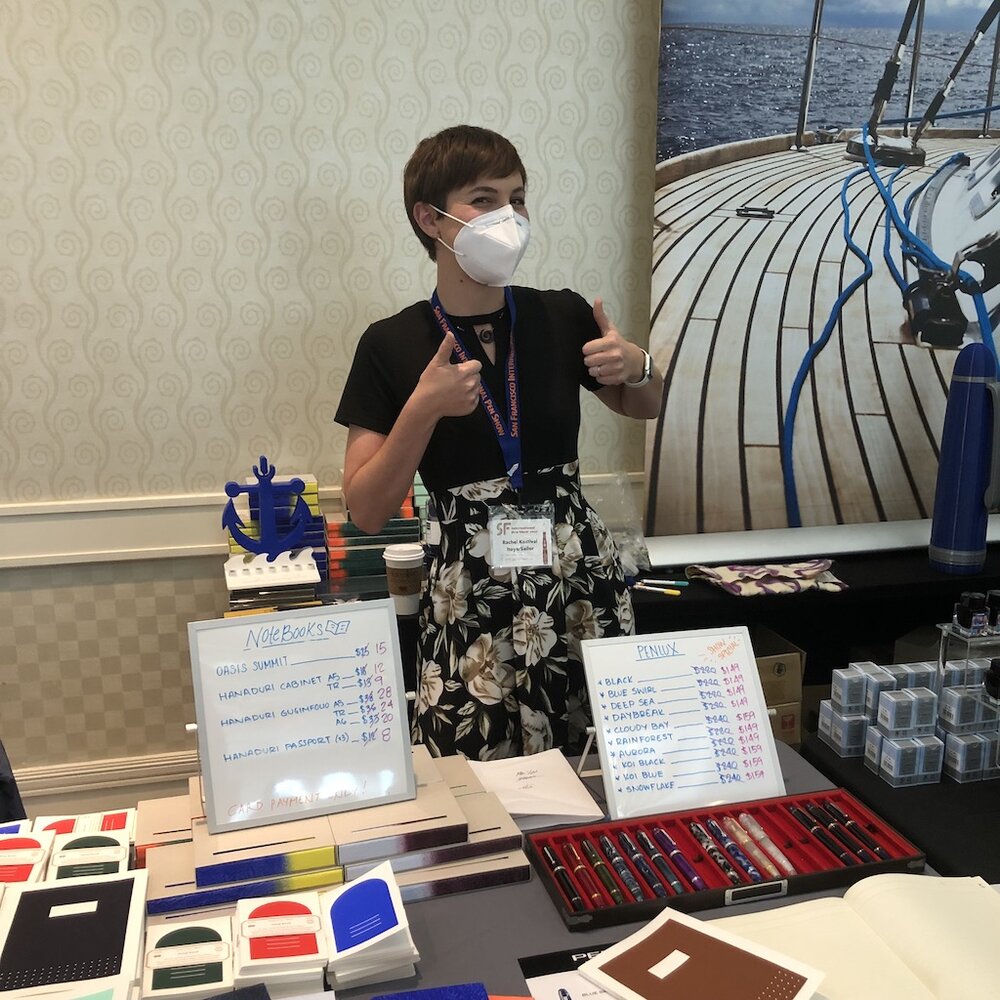 While there were plenty of vendors at the show, there were some that weren't able to make it. Some of the absences included Coles of London, Ryan Krusac Studios, Kanilea Pen and also many of our international vendors weren't able to attend. We missed folks like Sarj Minjas and Ray Walters from the UK, Letizia Iacopini from Italy and Miroslav Tischler from Croatia, and also our folks from the other side of the Pacific like Straits Pens and Musubi from Singapore, Toyooka Craft, Eboya and Stilo Art from Japan and others whose only US show is the SF Pen Show. I hope they are all able to return next year.
And wow, what an incredible number of nib grinders were here at the show! I didn't have a lot of time but I managed to get a couple of cursive italics by Mike Masuyama, and a Visconti tuned by Gena Salorino. Matthew Chen of Matthew's Nibworks, and JC Ament were also there and several companies had nib grinders working with them at the show. Among them were Scott Franklin and Dr. Audrey Matteson of Franklin-Christoph, Josh Lax with Kenro Industries, Sara Rice with The Pen Family and Kirk Speer with Dromgoole's.
These aren't the only vendors at the show, of course, and I wish I had more time to take pictures of more folks. The show's Instagram team did a great job of posting pictures and stories throughout the whole weekend, so definitely check that out. In addition to shopping, the show offered a variety of free seminars and paid classes, including a Diagnosing Nib Problems seminar by nib grinder Josh Lax and Wooden Pencils by Andy Welfle as well as classes like Gold Leaf and Fountain Pen Spencerian by Master Penman Michael Sull, Copperplate Calligraphy by Nik Pang and Jumbo Junk Journals by Michelle Morin. Even Todd Eberspacher, one of the show organizers, had a last minute free seminar on Fountain Pen Repair!
So, all this is fine and good but what makes the SF Pen Show known as "The Fun Pen Show"? In addition to a show with a variety of vendors, classes and seminars, they had ink testing stations for attendees to try out a variety of inks from Robert Oster, Colorverse and more. Each ink station holds 49 pens (yours truly inked up Station E from my own stash). In years past, there were 15+ ink stations scattered throughout the various rooms, but this year, they brought it down to 8 and had it in a side room with lots of room between the stations/tables. There was also a scavenger hunt via the Pens for Kids program, run by the Pen Collectors of America. The organizers also bring in live music on Saturday night! This year, Mitch Polzach and the Royal Deuces provided the toe-tappin' rockabilly tunes. And as with past years, the show is at a dog-friendly hotel, which means...yup, you guessed it, dogs at the show!!!
And while I was too busy enjoying myself to take pictures at the bar after hours, the hotel had ample seating areas inside and out for people to relax, grab a bite to eat, and play with pens. And even after the bar closed, folks were welcome to hang out at the tables, which is really nice because not all hotels allow this. The hotel staff were all courteous, accommodating and fully masked. There were a few hotel-related drawbacks though. One was that the Pullman's website still listed the discontinued airport shuttle service, so some folks had to scramble for transportation. Their regular full-service restaurant was closed last year but thankfully, they still had room service and a good bar menu (I highly recommend the chicken wings and the pork belly buns). Another, not Covid-related downside, is that their cafe/market is closed at noon, so anyone needing an afternoon latte or a quick bite had to go elsewhere since the bar didn't open until 5pm.
Going by what it looked like from my perspective behind the F-C table as well as from walking around, vendor and attendee numbers may have been a bit lower than in past years (especially on Sunday), but none of the folks I spoke with felt like it was a bad thing. More weekend passes were sold this year with many of them sold online ahead of time, so the lines for entry weren't too long or crowded. There was more room for people to get around, a bit more time to ask/answer questions, still plenty to shop for, and still very much worth it for vendors (and attendees) who made the trip. Everyone was respectful of the mask policy, which made me feel comfortable as someone who was on both sides of the table. All in all, if you couldn't tell already, I had a blast at the show. I had a wonderful time and can't wait until August 26-28, 2022 - hope to see you there!