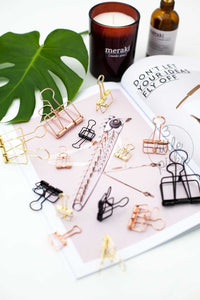 Wire Binder Clips
Regular price
$5.48
$0.00
Unique skeleton frame binder clips in assorted colours and sizes (available in 3 colours and 3 sizes). These are perfect for securing paper documents, receipts, or organise your planner! These binder clips are excellent addition to your stationary collection and they surely will stand out on your desk! 
Options:
Small: 6 pieces per set
Medium: 6 pieces per set
Large: 4 pieces per set
Size: 
Small: approx 19x15x7.5mm
Medium: 32x21x12mm
Large: 51x32x22mm
Note:
Product price only includes the item mentioned in description. It does not include display accessories.