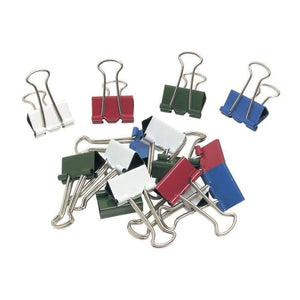 Acme United Foldback Clips (00500), Assorted Colours, 100/Tub 236380
Regular price
$23.95
Sale price
$24.99
Overview
Categories :
Office Supplies
Product :
Acme United Foldback Clips (00500), Assorted Colours, 100/Tub 236380
Description :
* Come in Tub Paks that fit in most desk drawers
* Hold important documents together with Foldback Binder Clips
* Practical, easy-to-use and reusable, they are a must-have for any office environment


Specifications
Specifications
Specifications
Brand name: Acme United
Product type: Foldback Clips
Colour: Assorted Colours
OEM Cartridge. OEM stands for the Original Equipment Manufacturer. If you own a Brother printer for instance, then the OEM cartridge is manufactured by Brother.
Compatible Cartridge. A compatible toner cartridge is made by a third party manufacturer and is made up of all new compatible parts. It has a similar quality to an OEM cartridge, but the price is much cheaper than the OEMs.
Remanufactured Cartridge. A remanufactured cartridge is when a third party manufacturer recycles an original OEM cartridge, disassembles it, tests and replaces any worn parts, fills it with ink or toner, and re-assembles.
Compatible and remanufactured cartridges will print at least the same page yield than the OEMs, and backed by our
Click anywhere to close this popup
Page Yield is an approximation of the number of standard pages that can be printed with one cartridge, usually measured at 5% page coverage.
Our new compatible and remanufactured cartridges will print at least the same amount page yield which is suggested from the original (OEM) cartridges.
Click anywhere to close this popup