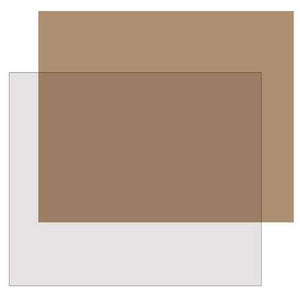 254*224*0.3mm Polyetherimide PEI Sheet for 3D Printer
Regular price
$12.52
$0.00
- 
PEI (Polyetherimide) sheets provide a 3D printing build surface that requires no tape, slurry, or adhesive. 
- 
ABS and PLA both stick extremely well to the surface, which eliminates the need for support rafts used for better adhesion.
- 
PEI (polyetherimide) is amber transparent solid, any additives of PEI particle images do not add have low inherent flame retardancy and smoke.
- 
The oxygen index of 47% combustion of UL94-V-0 grade, the density is 1.28~1.42g/cm3.
- 
High temperature stability, even if it is non reinforced PEI, it still has good toughness and strength.
- 
It has excellent mechanical properties, radiation resistance, high and low temperature resistance and wear resistance, and can also be transmitted through microwave.
- Good flame retardancy, chemical resistance and electrical insulation characteristics.
1. Material: Polyetherimide
4. Fit For: 3D Printer Build Surface
5. Color: Amber Transparent Solid
1. Special note - Please remove both sides of the teal colored protective film before using.
2. Cut the PEI sheet to size by scoring with a hobby knife. There are two methods to attaching the PEI to your print bed. The first method is to just clamp the sheet to the print bed using binder clips. We find that 2 on each side works great.
3. The second method, get 3M 468MP Transfer Tape and use it to stick the PEI to the print bed.
4. Once the PEI sheet is attached, re-level your print bed and you are ready to go!
5. It helps to wipe the surface down with isopropyl alcohol, methyl alcohol, or soap in between prints. This will ensure the PEI is clean, and help adhesion. Light sanding with 5000 grit paper will also give the PEI sheet more life.
1 x PEI Sheet1 x Adhesive