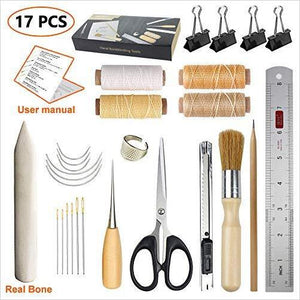 Bookbinding Kit
Regular price
$14.99
$0.00
Details: Bookbinding Starter Tools Set
This is a good basic tool to help you binding Books, I am sure you will have fun to get a start on bookbinding.
17 pieces bookbinding tools set suitable for handmade or DIY books bookbinding, while you need to make a book at home or school.

Specification:
6 x Large-eye needles
6 x Curved needles
1 x Bone folder creaser
4 x waxed thread(green and creamy white)
4 x Binder clips
1x A Metal Ruler
1 x Thimble ring
1X Glue Brushes
1 x Scissors
1 x Knife
1 x bookbinder awl

Features:
* BASIC BOOKBINDING TOOLS: Start your bookbinding studies with projects that don't require lots of equipment and tools.A video for beginner https://www.youtube.com/watch?v=2yUjWJFs9js&feature=youtu.be
* BONE FOLDER & CREASE MAKER: Smooth surface doesn't leave marks on paper, great for starters to learn bookbinding or professional use.
* DURABLE WAXED THREAD - The 4 rolls of waxed threads are in 4 different colors, beige, khaki, brown and creamy white, each is approx. 1 mm (150D) in diameter.
* NEEDLES - Large-eye needles are in 3 sizes (6.9cm, 6.2cm, 5.7cm), they packed in a clear plastic bottle, which is easy to store and carry. Wood handle awl can be used for pinpointing punching holes in paper or fabric.
* A GOOD TOOLS FOR BOOKBINDING OR REPAIRING: Make beginners excited to make their own handmade book, art journals etc, enjoy the process and achievement that they practice.
Brand: JOFAMY
Color: 17 Pcs Bookbinding Kits
Publisher: E4ulife
UPC: 712217513203
EAN: 0712217513203
Package Dimensions: 9.4 x 4.8 x 1.7 inches