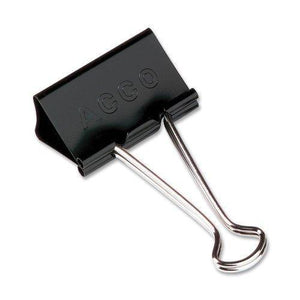 Acco Binder Clips - Large - 12 Per Box
Regular price
$1,108.00
Sale price
$1,342.00
About the product
MULTI-PURPOSE BINDER CLIPS – Tuck your important projects into these tenacious clips. They grip paper firmly and eliminate slippage. Count on them to help organize paperwork, hang posters and more.

BIG SIZE, MAX ABILITY – Large clips are 2" wide and hold 1-1/16" stacks of paper. Made of tempered steel for extra strength and durability. Designed to clamp, compress and grip without tearing.

CONVENIENT CLIPS – Made of black steel with silver arms, clips have a professional coloring that blends anywhere. They're easy to use in a pinch - literally. They release with a pinch of the arms.

REUSABLE – Binder clips are a great solution for pesky storage problems. Their prongs remain flexible for unlimited reuse and tempered steel construction ensures durability.

12 CLIPS – A box of 12 binder clips is at your disposal, helping you organize your desk and straighten your space.