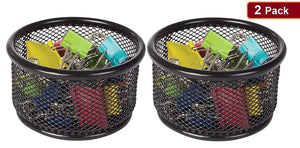 1InTheOffice Mesh Paper Clip Holder (2 Pack)
Regular price
$84.00
$0.00
1InTheOffice Mesh Paper Clip Holder (2 Pack)


Well Organized, Efficient Working

Large capacity for your paperclip, push pins, rubber bands, and small accessories.
Paper clip holder keeps your desk neatly and save space. Desktop paperclip holders makes a convenient, time-efficient alternative to rummage around in drawers searching for what you need.
Keep workspace accessories within reach and easy to find with the mesh paper clip holder for desk.
Paper clip holders will easily hold multiple boxes of jumbo paper clips or mini binder clips. Do not need to refill them frequently.
Product Features
Double-rimmed, smooth edges allow safe, secure handling Supply holder
Powder-coat finish creates durable exterior to resist wear-and-tear
Wide, circular base ensures excellent stability (Clips Not Included)
Perfect for keeping paper clips and small office supplies readily available